When it comes to social media in the West, experienced marketers know that you're not going to get very far very fast relying on organic reach alone. To give your content and campaigns any chance of being seen, you're going to need to give them a little boost with some paid tactics – i.e. advertising.
This goes doubly for China, where 95% of internet users are on social media, so the competition for users' attention is even more intense.
But navigating the Chinese social media advertising landscape can be complex – which platform are best? What formats are available? What targeting options are available?
In this quick-fire guide, we try to answer all your most pressing questions about social media advertising in China, focusing on four of the biggest platforms for brands: WeChat, Weibo, Douyin and Little Red Book.
WeChat
With a gargantuan userbase of 1.1 billion people, WeChat is a social media powerhouse. But WeChat is only one app within Tencent's all-encompassing ecosystem.
One of the largest companies in China, Tencent has a ubiquitous presence across several internet verticals. Their ecosystem encapsulates social networking, entertainment, information, software and tools, and lifestyle and everyday services, meaning Tencent plays an integral role in the lives of the average Chinese user. In fact, Chinese users spend over 47% of their mobile internet usage on Tencent products.
Because of Tencent's penetration, they have access to an unprecedented amount of user data, which marketers can in turn use to make ad targeting as accurate as possible.
The other thing to understand about the ecosystem is that it is highly connected. Via their social media apps WeChat and QQ, users are able to access entertainment products such as QQ Video and QQ Music, news products like Tencent News and payment services like WeChat Pay, all without ever leaving the platforms. Tencent therefore has an unmatched insight into user interactions, and how these interactions contribute to the overall customer journey. This means that not only can ad targeting be highly accurate, but brands can ensure they get the biggest return-on-investment.
What ad formats are available on WeChat?
1. Moments ads
WeChat Moments ads are native display ads that appear directly in users' Moments feeds, much like a sponsored post on Facebook. Users are highly active on Moments, with 750 million users viewing their feed daily, and 84% of users browsing their feeds several times a day. Users also only receive 2 ads per day, so they're far more receptive to these ads than, say, the average Facebook user, who is constantly bombarded by them. This makes Moments ads a perfect way to spread brand awareness.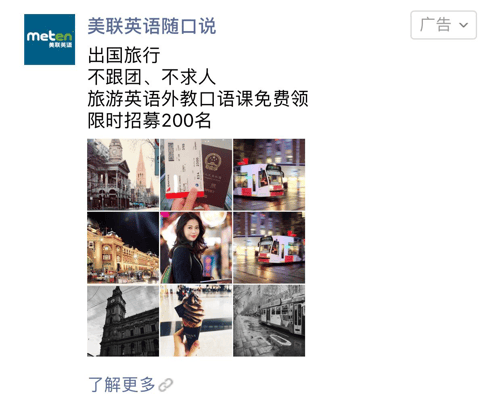 Moments ads can contain an image, or a number/series of images, or a video, along with a short description, and a link.
These ads can fulfill a variety of functions, including:
• Featuring a product or promotion
• Linking to a WeChat article or Official Account
• Linking to a WeChat mini program
• Linking to a WeChat H5 page
• Redirecting users to an external link (such as a landing page)
Users are able to interact with Moments ads by liking them and commenting on them – and their friends are able to see these interactions and view and interact with the ad too.
2. Official account banner/in-text ads
Banner ads are largely image-based ads that appear on the bottom of articles on other companies' official accounts. These can fulfil a variety of functions, including:
• Featuring a product or promotion
• Allowing users to follow your official account with just one click
• Linking to an app store or Google Play Store to download an app
• Redirecting users to an external link (such as a landing page)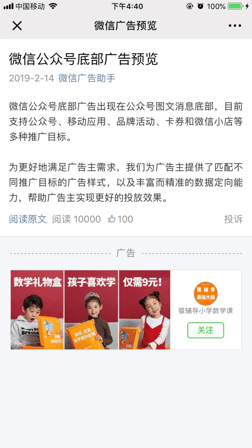 Tencent have also recently introduced in-text ads, which are very similar to banner ads except they appear in the middle of articles, where users tend to be more engaged, rather than at the bottom.
What targeting options are available on WeChat?
There are three types of users brands can target on WeChat:
• Inbound: Users in mainland China
• Outbound: Chinese users travelling overseas
• Local: Chinese residents in your region, including Australia and New Zealand
Tencent's single user ID system also means they are able to capture data about user behaviours across their entire ecosystem, from their browser history, to the articles they read on WeChat, to the types of apps they install, to the way they interact with those apps.
With this data, Tencent is able to build highly accurate profiles of users, which advertisers are able to target on their apps, including WeChat. To give you an idea of how precisely brands are able to target users on WeChat, here are just a few targeting options available to advertisers:

(Note, Interests relates more to users' long-term behaviours, while Behaviour is based on the way users have been interacting with the platform for the last 1–2 months.)
Once you've built up for followers and run a few advertising campaigns on WeChat, you can then use Tencent's lookalike and relationship expansion features to target similar users as well as your current followers' friends, families and colleagues to identify more leads.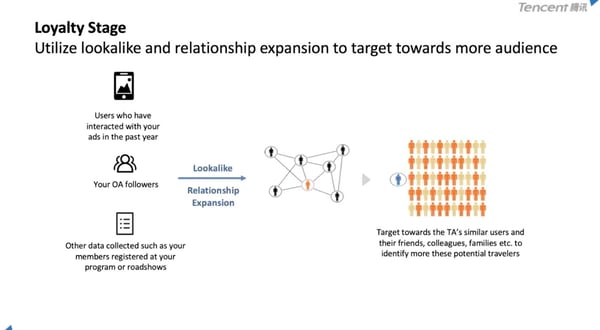 What industries are best suited to WeChat?
Just over 50% of WeChat users are between the ages of 25 and 35, so Millennials are a huge demographic for WeChat. That being said, engagement is much higher among those 36 years and older, so while this demographic is smaller, they are much more captive. Plus, it's worth remembering that just 10% of WeChat's userbase is still over 100 million people.
Because of its huge userbase and its high user engagement, therefore, WeChat should be a key part of any industry's China marketing strategy.

What do advertisers need to know about WeChat?
First of all, you must have a WeChat business account to advertise on WeChat. This is because advertising is subject to the advertising law in China and you require a business entity to run advertisements.
The minimum budget for a campaign is 1000 RMB per day. There is also a minimum threshold fee of US$10,000 required by Tencent. However, there may be additional service charges depending on who you work with.
Even though there is no time restriction in which to use this budget, our recommendation is to split it over no more than 2 campaigns. This will help generate a more optimal advertisement performance and give you the chance to analyse the results of your first campaign before running the next one.
Weibo
Often called 'China's Twitter', Weibo was once the most popular social media platform in China. Though it now sits second to WeChat, it is still used by over 30% of internet users in China, making it a key platform for advertisers.
With a monthly active user base of 497 million (as of Q3 2019), Weibo is a multimedia micro-blogging platform where users can upload their own posts (under 2000 characters), photos and videos; share content; buy and sell products; start polls; play games; and broadcast live. Many users also use Weibo to stay up to date on the latest news and their favourite celebrities, taking part in discussions on popular topics ranging from entertainment, the economy, society, sports and so on.
What ad formats are available on Weibo?
1. Display ads
Like Facebook feed ads and WeChat Moments ads, Weibo display ads are native ads that appear in users' newsfeeds, on the search page in the 'Discover' section and on the Weibo homepage. They combine an image or a series/numbers of images or a video with a short description. When clicked on, these ads typically direct users to the brand's Weibo homepage.
2. Search engine promotion
Unlike WeChat, Weibo has an in-built search function that allows users to find accounts, posts or fan pages. Similarly to Google, brands can purchase relevant keywords so that their account appears at the top of the search results when users enter that keyword. Brands also appear alongside 'hot topics/trending discussions' items, giving brands a great boost to their visibility and reputation.
Brands can also place banner ads within the search results by purchasing a keyword for a 'search promotion'. Because keywords can only be used by one brand at a time, this ensures exclusivity as well as visibility.
3. Fan tunnels
Fan tunnels are the best way to reach new users and expand your follower base, as they are like 'headlines' that appear at the top of users' newsfeeds, and can be pushed to the entire Weibo community (based on targeting options), not just your existing followers. Fan tunnels can be used to promote a specific post or your account. Costs for Fan Tunnels is typically calculated in CPM (Cost Per Mille), and pricing starts from 5 RMB per 1000 exposures.
4. Fan headlines
Like fan tunnels, these also appear at the top of users' newsfeeds, but unlike fan tunnels, fan headlines are pushed to your existing follower base and their connections, increasing the likelihood of sharing. This can also be a good way to build followers, as users are more likely to follow an account that their Weibo friend also follows.
5. Open screen ads
Open screen ads are full-screen ads that appear when the user opens the Weibo app. Because the ad is viewed by every user who opens Weibo, there are no targeting options available, as this is the widest reach possible. As a result, these types of ads lead to very strong brand exposure – but they are also very expensive and likely only within reach for big brands.
What targeting options are available on Weibo?
Display ads and fan tunnels can be targeted to audiences based on things like age, gender, region, device types and interest. For example, if you wanted to promote a fashion-related post, you could target users who follow fashion news or even target users who follow specific fashion accounts.
What industries are best suited to Weibo?
According to Weibo's vice president of marketing, the top industry sectors on Weibo are consumer products, automobiles and financial services. However, Weibo caters for many niches, so odds are you'll find a significant number of your target audience in its 500-million-strong userbase.
That being said, it's worth noting that brands' investment in Weibo ads has dropped significantly in recent time due to Weibo's low e-commerce conversion rate and a high concentration of fake data.
What do advertisers need to know about Weibo?
Just as with WeChat, brands must have a Weibo business account before they can advertise on the platform. Posts are promoted for seven days, and a post will only be shown to a user once.
Weibo determines the cost of campaigns based on the exposure of the ad and the number of interactions, including clicked links, favoured posts, new followers and favourites. To avoid overspending, brands are able to set a daily cost limit. When
Douyin
Douyin is a highly addictive video app, where users can produce and browse short videos up to 15 seconds in length. The app keeps going from strength to strength – in January 2019, the app had amassed 250 million daily active users. By January 2020, this had grown to 400 million.
What ad formats are available on Douyin?
1. Feed ads
Brands can promote 5- to 60-second videos, which are displayed natively within the user's Douyin feed. Because videos are auto-played, these ads appear seamlessly in between other users' videos, so there's a higher chance of engagement – because the videos are short, users will often just watch the ad rather than skipping to the next video. Feed ads can link to the brand's Douyin account, thereby helping the brand to acquire followers.
2. Open screen ads
Like Weibo, Douyin also offers open screen ads that play when the user opens the app. These can either be a static poster ad, which will display for 3 seconds, or a short 4- to 5-second video. They can also be full screen or split screen. These are highly impactful as they are viewed by almost every user who opens the app – but again, this can come at a hefty price.
3. Branded music/stickers
Brands also have the option of creating branded music and stickers that users can use in their own videos. Branded stickers appear in the fourth place of the first row of the Douyin sticker column, while branded music appears at the top of the search results for the first three months. While these are an engaging means of connecting with users, neither music or stickers are supported by third-party monitoring.
What options are available on Douyin?
There are various targeting options for feed ads, including gender, age, interest, keywords, geolocation, profession, mobile network operator, mobile device, phone brand, article type and online shopping behaviours.
What industries are best suited to Douyin?
Douyin's userbase skews young – as of September 2019, 82.6% of users were 35 years old or below. The majority of users are also from Tier 1 and 2 cities, and there's a male-to-female ratio of 4:6. It's therefore perfect for those targeting young affluent people, women in particular. Douyin is cross-industry fit, i.e. fit for consumer brands in industries such as cosmetics and skincare, fashion, travel, gaming and entertainment, food and beverage, automobile and IT.
What do advertisers need to know about Douyin?
While the process of applying to be an advertiser and purchasing ads on Douyin can be convoluted, Douyin is currently in the process of testing a self-service ad purchasing system for brands, which is due for release in 2020.
Little Red Book (Xiaohongshu)
Little Red Book (also known as Xiaohongshu) is a curious mix of social media crossed with e-commerce – one observer dubbed it "Instagram and Pinterest sprinkled with a dose of Taobao". It's main focus, however, is user-generated content. Users can post their tips, recommendations, how-to demonstrations and product reviews, and they can comment on and save these posts to themed boards (much like Pinterest). And yes, they can even purchase products directly from the platform. There are around 300 million monthly active users on the platform.
What ad formats are available on Little Red Book?
There is no direct advertising on Little Red Book – that is why the platform is so highly trusted by its users. The only way brands can really advertise on Little Red Book is by using key opinion leaders (KOLs), whose sponsored posts must be declared as such – more on this below.
What targeting options are available on Little Red Book?
Brands have to examine potential KOLs carefully to determine how closely the KOL's follower base aligns with the brand's target audience. It may be worth using niche or mid-level KOLs, who maybe have less followers, but whose followers are more engaged or more closely aligned to your target audience, rather than using big KOLs who may have huge followings but only a small percentage of them are your target audience.
What industries are best suited to Little Red Book?
Little Red Book users are primarily women (80%). Their users also tend to be young (around two thirds of them are 30 years old or younger), live in top-tier cities and have a high purchasing power. The platform is highly geared towards cosmetics, skincare and fashion. Food, travel and health are also popular topics – many users, for example, read and write reviews about nutritional supplements. The platform, however, is currently trying to grow their number of male users with content focused on topics like men's fashion, fitness and grooming.
What do advertisers need to know about Little Red Book?
Little Red Book has made it easier for brands to connect with KOLs through its "brand partner platform", where you can see statistics like number of followers, posts and likes; average page views, likes and comments; and cost per post. This helps marketers partner with KOLs who are a good fit not just for their brand, but also their budget.
Key opinion leaders (KOLs)
On all of these platforms, there is another option available to advertisers – working with key opinion leaders (or KOLs).
KOLs are social media influencers who have amassed significant followings by creating social media content that does some combination of the following:
• shows their expertise in a certain topic
• gives value to their audience
• is entertaining

Advertisers can work with KOLs to post branded content on their official account, which helps to publicly expose the brand to the KOLs' wide network of followers. It is a great way to market your brand because KOLs are seen as trusted sources of knowledge and advice. The key to success is to select the right influencer that is well-aligned to your business, product offering and target audience.
However, there are several issues with KOL advertising that brands should be aware of:
Difficulty of finding the right KOLs: With millions of KOLs on a given platform, it can be difficult for brands to determine which KOLs are the right fit in terms of brand values, product offering and target audience. Many platforms, however, are making it easier for brands to connect with KOLs through their platform.
Price inflation: KOLs often have agents, and agencies will often inflate the price of working with KOLs. As a result, many brands find they have spent significant amounts of money on a KOL campaign, only to receive sub-par results. It's wise to have a good idea of costs before hiring a KOL so you don't find yourself being overcharged – this KOL budget calculator may help.
Data inauthenticity: Marketers are all about data – but unfortunately this can sometimes be skewed by KOLs as well. KOLs have been known to have large numbers of fake followers, and to inflate the numbers of likes or interactions. Brands should ensure they're collecting their own data on a KOL's performance in order to get an accurate view of the value they received.

That's why it's important to set clear goals and KPIs before the start of any advertising campaign, whether it's to spread brand awareness, gain followers or increase sales of a particular product.
Social media advertising in China
While the advertising landscape in China is complex, and you may find yourself having to jump through lots of hoops in order to advertise on various platforms, social media advertising can do wonders in terms of spreading awareness and increasing engagement. We suggest starting relatively small and building on your success as you learn the ropes and gain a better feel for what resonates with your target audience.