In September 2015, the Chinese Government updated their advertising law to protect the interest, health and safety of Chinese consumers. As of 2021, these Chinese advertising regulations impact a range of industries, and limit the kinds of promotional claims brands can make. In this article, we dive deep into the implications of advertising law in China.
Why was Blackmores fined $65,000?
In 2017, Chinese authorities fined Blackmores $65,000 for misleading advertising through their WeChat official account and via in-store print advertising. What triggered the fine for Blackmores?
In their campaign, Blackmores mentioned that that they were Australia's top nutritional supplement brand and that their vitamins could be used to treat cardiovascular disease and arthritis. At the time, Blackmores was unaware of the changes that had been made to advertising law in China in 2015 and how the law changes affected their industry. Under the new advertising law, advertisements for health foods must not contain any medical-treatment claims or superlative language – and Blackmores had used both in their promotions.
Advertisements in China relating to health foods must not contain any medical-treatment claims.
In fact, Blackmores was one of 11 companies found to be in breach with Chinese advertising regulations. A list of these companies was revealed in state media reports, to coincide with China's Consumer Rights Day to signal to consumers that their safety was a top priority for Chinese government.
The Blackmores example highlights the strict penalties that apply when companies do not comply with advertising law in China. Not to mention, the potential negative effect these types of public announcements could have on a brand's reputation in a market that is extremely sensitive to potential health and safety risks.
For foreign brands looking to enter the China market, they should have a clear understanding of the Chinese regulations and laws when promoting their products and services.
What is the New Advertising Law in China?
On 1 September 2015, the amended Advertising Law came into effect. It was the first major revision of the law since the Advertising Law was first introduced in 1995.
Under the new law, the original 49 clauses were increased to 75 clauses, with advertising guidelines being enriched and refined. The advertising criteria for goods and services were also increased from 7 to 17 kinds.
Below are the main restrictions you should be aware of when advertising in China:
Restrictions on health food advertisements
Article 18: Advertisements for health food must not contain an assertion or assurance of efficacy or safety; functions relating to disease prevention or treatment; claims that the advertising commodity is necessary for health protection; comparisons with medicines and other health food products; and the use of advertising spokesperson for recommendation and certification.
Also, health food advertising should be marked "this product can not replace the drug".
Infant milk products must not claim to substitute breast milk
Article 20: Advertisements of infant milk products, beverages and other food products that claim to wholly or partially substitute breast milk in mass media or public places are prohibited.
Tobacco advertisements are banned
Article 22: Tobacco advertisements in mass media, public places, public transport or outdoors are prohibited. It is also forbidden to send any form of tobacco advertisements to minors.
It is forbidden to make use of advertisements or public service announcement of other goods or services, to advertise the name, trademarks, package etc. of tobacco products. This also applies to notices of relocation, rebranding and recruitment issued by producers or sellers of tobacco products.
Drinking actions must not appear in alcohol advertisements
Article 23: Alcohol advertisements must not contain the action of drinking; inducing and inciting drinking or promoting uncontrolled drinking; activities such as driving vehicles; and implying that drinking alcohol can have the function of eliminating tension or anxiety, or increase physical strength and other effects
Children under 10 years old must not endorse products
The advertising spokesperson's recommendation of goods and services must be based on facts, in conformity with the provisions of this law and relevant laws and administrative regulations. They must not provide recommendations for the goods they do not use or services they do not receive.
Increased penalties on 'extreme words'
With the new advertising law, penalties for the use of 'extreme words' in advertisements will be increased to at least 200,000 RMB.
Prohibited 'Extreme Words'
In Australia, we are used to seeing words such as the 'best' or 'most famous' to promote new products. However, with China's new advertising law in effect, the usage of these superlative type of wordings in advertisements is prohibited. If brands use extreme words, they will be given a penalty point and may be fined between 200,000 RMB and 1 million RMB.
Below is a summary of prohibited extreme words.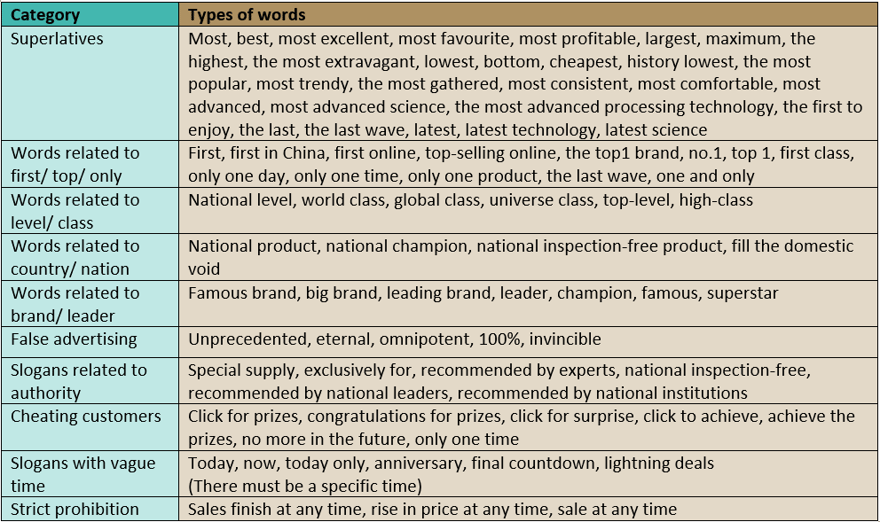 Note: This is not a comprehensive list. To avoid running into any trouble when advertising in China, it is best to avoid words that sound too definite or extreme.
WeChat New Enforcement Laws
While the advertising law in China has always applied to all advertising and marketing channels, WeChat announced in February 2018 that they would strictly punish accounts that publish vulgar and false headline and content. With tighter regulations, it is more important than ever to ensure that your WeChat content and ads meet the advertising law's requirements.
What can we learn?
To successfully advertise in China, foreign brands need to be informed and updated with Chinese laws and regulations. It can be challenging, but the rewards reaped from tapping into the China market can open a world of opportunities. Are you ready to take the leap?
Note: The digital marketing space in China is evolving at a rapid pace and this blog post is intended to provide general information only and to help you gain a better understanding of the types of things you need to consider when marketing to China. It is not to be taken as legal advice.