Since its founding in 2013, Little Red Book (or Xiaohongshu) has become one of the fastest-growing platforms in China, now boasting over 80 million active users.
And even though the platform has recently experienced some setbacks with the app reportedly being pulled from Chinese app stores due to content promoting restricted or forbidden products, we expect the platform to continue to play an important role in Chinese consumer marketing for years to come.
But exactly who's on Little Red Book? And is this a platform you should be devoting resources to?
In this go-to guide, we'll answer all your questions about Little Red Book marketing – starting with the basics.
What is Little Red Book?
Little Red Book is a curious mix of social media crossed with e-commerce – one observer dubbed it "Instagram and Pinterest sprinkled with a dose of Taobao". It's main focus, however, is user-generated content. Users can post their tips, recommendations, how-to demonstrations and product reviews, and they can comment on and save these posts to themed boards (much like Pinterest). And yes, they can even purchase products directly from the platform.
There are four key features of Little Red Book:
Explore
Here, users can explore trending content based on topics of interest. These topics include things like food, fashion and travel, but beauty and cosmetics is far and away the most popular category on the site. This is where users would go to hear about the latest must-have products, and to look through reviews before making their own purchases.
Follow
Here is where users keep up to date with their favourite influencers – and where, ideally, you'd like your brand to end up, due to its high level of engagement. To capture that precious follow, however, takes a lot of legwork, and requires regular posting of high-quality content.
Nearby
Here, users can be pointed to food, experience and shopping opportunities near their current location. This geo-targeting feature is a great way to grab the attention of highly relevant users, as users can only tag their location if they are physically there at that point in time.
Brand
If users already have a brand or product in mind, they can search directly for it under the 'Brand' section. This will show brand-related posts generated by other users on the site (e.g. product reviews), as well as links to the product in the Little Red Book Store tab. Little Red Book's goal is to allow users to research, review, recommend and purchase products, all without having to leave the platform (similar to WeChat) – indeed, Little Red Book has recently issued new rules preventing brands from inviting users to shop on other platforms and providing links to other online stores.
Who's using Little Red Book?
The 80 million users on Little Red Book are primarily women (88%), though the platform is currently trying to grow their number of male users with content focused on topics like exercise and grooming.
Their users also tend to be young (around two thirds of them are 30 years old or younger), live in top-tier cities and have a high purchasing power.
This demographic doesn't just value quality, but also social cachet. They want to be at the forefront of trends, and right behind the tastemakers – as a result, luxury brands tend to perform very well on the platform.
Is Little Red Book right for my product/brand?
With young, affluent women being the key demographic, it's no surprise that the biggest categories on the platform are fashion and beauty.
But even if you don't fall into these categories, that doesn't necessarily mean Little Red Book isn't for you. Food, travel and health are also fairly popular topics – many users, for example, read and write reviews about nutritional supplements.
As mentioned previously, Little Red Book is also trying to grow its number of male users, so while this is a much smaller market, you might find they're highly captive and much more likely to find any content geared towards them.
Even smaller categories like parenting present an opportunity for brands, as there's a lot less noise to compete with, meaning those brands who put an effort into producing high-quality content will more quickly gain loyal followers.
Here's a quick snapshot of topics of interest on Little Red Book: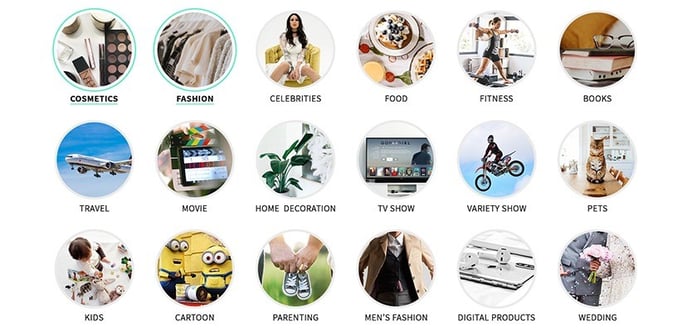 How do I succeed at Little Red Book marketing?
One of the biggest reasons that Little Red Book users are highly engaged in the platform is because of its authenticity and trustworthiness. This is partly because Little Red Book has strict rules about what brands, influencers and users can do on the platform, and how content is pushed onto users' feeds. In order to succeed in Little Red Book marketing, brands have to be across these rules.
There is, for example, no direct advertising on the platform – and don't think about trying to sneak advertising into your content either. Little Red Books looks out for descriptors like "the most …" or "the best …" or "high-end" in order to catch out brands trying to give users the hard sell.
So what can you do? Here are our 4 top tips for succeeding at Little Red Book marketing.
Content, content, content
This platform is driven by content, so this should be the central focus of any Little Red Book marketing strategy. Ensure your content is authentic and relatable – this means taking the focus off yourself, and putting it onto your customer. Ask yourself, what content would be of most benefit to them?
Perhaps it's:
a how-to video showing the best way to apply a particular product;
a top-tips article on how to address a particular pain point;
an article giving information about the ingredients found in certain products.
It's worth remembering that, as with many other Chinese social media platforms, short videos tend to be the most effective way to snatch users' attention. Just remember to be authentic and relatable. You may find a high-production-value video isn't going to gain much traction on this platform – in fact, it may even be penalised. A lower-quality user-generated video, on the other hand, while harder for the brand to control, is likely going to appeal more to Little Red Book users.
Employ SEO best practices
Because the platform is so content-focused, you can almost think of it like a search engine ­– and employ the same SEO strategies. This means being highly mindful of the keywords and hashtags you use in your content – what terms are your target audience using when they're doing their own product research? You should also ensure keywords appear multiple times throughout the content, as well as in the title.
Don't just focus on yourself
To help limit direct advertising and preserve the platform's authenticity, the platform tends to give short videos and posts that mention more than one brand greater visibility. This is certainly something to bear in mind when generating content for this platform. Could you, for example, post a video comparing the merits of several products (including yours)?
Partner with KOLs
There are many rules that govern who is allowed to deemed an "influencer", and how these influencers can behave on the platform. Brands must be across these to ensure they get the best value from any partnerships with key opinion leaders (KOLs).
Earlier this year, Little Red Book imposed a new regulation stipulating that only influencers with over 5000 people, and whose average post view of the past month exceeds 1000, are allowed to establish business relationships with brands. KOLs also have to post four organic posts for every one sponsored post, and sponsored posts must be declared as such.
On one hand, these new rules mean working with KOLs on Little Red Book is significantly more expensive than it once was. A year ago, it cost about RMB 1000 (~AUD 200) to engage a micro KOL (with less than 10,000 followers) – that figure is now over RMB 10,000. On the other hand, these rules help ensure the content is of a high calibre and that users remain highly engaged, so you can be confident about acquiring a significant reach through the partnership.
Little Red Book has also made it easier to connect with KOLs through its relatively new "brand partner platform", where you can see statistics like number of followers, posts and likes; average page views, likes and comments; and cost per post. This helps marketers partner with KOLs who are a good fit not just for their brand, but also their budget.
Case study: Pechoin
First founded in 1931, well-established Chinese beauty brand Pechoin did not exactly have the youth vote. Considered old-fashioned and outdated, they sought to rebrand their image in 2017 – and they did so with the help of Little Red Book and KOLs.
In the run-up to the 11.11 (Singles' Day) shopping festival, Pechoin worked closely with 127 beauty KOLs, who created high-quality content for Little Red Book and other platforms, sharing their experiences with Pechoin products and encouraging their followers to try the products for themselves. One post by highly influential KOL @C神SEASON of her testing out a beauty mask garnered 1.7 million views and 1000 comments.
All in all, in the week leading up to and including Singles' Day, Pechoin were able to reach 143 million followers and generate more than 160,000 engagements across Little Red Book, Weitao, Weibo, WeChat and Douyin. During the festival, they were the top-selling domestic beauty brand, with sales figures rivalling many of the top Western brands.
If one of your key demographics is young, affluent women, then it's certainly worth considering getting serious about Little Red Book marketing – not to mention your sheer presence on the site will boost your credibility and cool factor.