Since bursting onto the scene in September 2016, Douyin has become one of the fastest-growing apps in China. In 2018, the app saw explosive growth going from 150 million to 250 million daily active users in the space of just 6 months.
But with signs growth is beginning to slow, is Douyin here to stay? More importantly, should marketers be jumping onto the bandwagon?
In today's post, we'll answer your most pressing questions about Douyin: what it is, who's on it, and how marketers looking to crack the Chinese market can take advantage of it.
What is Douyin?
Douyin is an app that allows users to produce and browse short videos 15 seconds in length – not dissimilar to the once popular Vine, which limited its video length to just 6 seconds.
You may know Douyin by its English-language version Tik Tok, though it's important to note that Douyin and Tik Tok don't necessarily share all the exact same features. Douyin is often slightly more advanced than Tik Tok, as features tend to be released on Douyin before being released to its English equivalent once it has proven successful in China. Early last year, for example, Douyin released a feature allowing users to link directly to products on China's most popular online shopping sites, paving the way for social e-commerce. This feature is not available on Tik Tok (not yet at least).
Understanding what has made Douyin so popular is important for marketers who wish to tap into its allure. Here's what it boils down to:
It's plug-and-play
Unlike WeChat, users aren't required to spend time connecting with friends, influencers and brands in order to populate their feeds. Douyin uses algorithms to push content to users' feeds – meaning, as soon as you download the app, you're presented with an endless stream of videos for you to start scrolling instantly.
The app even curates content for you. The more you use the app, the more relevant the content presented – the algorithms learns about your preferences based on your engagement level with each video.
This ease of use, with just about zero effort on the part of the user, makes interacting with Douyin an incredibly frictionless experience for the user.
It's interactive and customisable
Douyin isn't just about mindless consumption – the other half of the equation is user-generated content, with users encouraged to upload their own videos via prompts such as hashtag challenges (more on this later). And with extensive tools, a huge library of background music, clips and animations, and an almost unlimited number of filters at users' disposable, the sky's the limit for content creators.
The fact that Douyin isn't about connecting with a network of 'friends' can also be very liberating – without an audience of people they know in real life, users can feel free to present themselves as they wish, without the pressure of having to conform to socially desirable ideals, and in a space free from bias and judgements – and because the videos are only 15 seconds along, it's also incredibly easy for them to do so.
In short, generating content on Douyin is fun, easy, and presents users with a world of options. What's not to love?
It's immersive and highly addictive
On Douyin, videos are full-screen and vertical, meaning they take up your entire phone screen, making the whole experience extremely immersive. The transition from one video to the next is also seamless – the next one simply starts playing automatically, or, if you can't wait the 15 seconds it takes for the video to play out, you can skip to the next one with just a swipe.
This immersion and automation has made Douyin highly addictive – so addictive, in fact, that in 2018 regulators forced the app to add a feature alerting users to when they've been watching videos for 90 minutes straight. As a result, users on Douyin tend to be highly engaged and receptive to content.
Who is on Douyin?
There is a bit of a perception that Douyin is particularly popular among teens, therefore making it less attractive to marketers as a platform, as this is not a demographic with a huge amount of disposable income. While those under the age of 20 do make up a significant percentage (around 20% of users), a closer look at the demographics also reveals that Douyin is popular with both Gen Z-ers (born between the mid-1990s and 2000s) and Millennials (born between 1980 and 1995).
According to figures from February 2018, 60% of its users are aged between 20 and 29 years old, and this is a high-spending demographic – one survey found that over half of Gen Z shoppers spend more than 50,000 yuan (around AUD 10,000) a year, compared to 32% of Millennials and 34% of Gen X-ers (born between 1960 and 1980).
Douyin is reasonably female-dominated, with women making up around two-thirds of users. That being said, Douyin has a significantly higher percentage of men compared to other platforms like Little Red Book. Douyin users are also well distributed across China, with 43% of users living in Tier 1 and Tier 2 cities, and 57% living in Tier 3 and Tier 4+ cities.
When should you use Douyin?
The first consideration should of course be your target market – if your audience are chiefly women in their 20s, then this is definitely a platform worth looking into. That being said, Douyin has such a huge user base (figures from June 2018 put Douyin's market penetration at 30%) that you may find it worthwhile targeting other demographics – particularly when the nature of this app means that users are very highly engaged.
It's also important to consider how your brand and product(s) might translate to Douyin. Products that are interactive give a lot of fodder both for marketers and users – if, for example, you sell eyeshadow palettes, you could create how-to videos of how to create certain looks, or challenge users to create their own looks using just colours from the palette. Douyin is also seen as a platform for fun, entertaining content – ideals which may not necessarily fit with your brand image if you perhaps want to come across as more serious and authoritative.
How should you use Douyin?
Despite Douyin videos only being 15 seconds long, the app presents a world of opportunities for marketers. Here are a few ways marketers can take advantage of the platform to engage users:
1. Create organic content
Just as users are able to display their creativity, so too can brands. Douyin presents the perfect opportunity for brands to show off their personality by creating short videos that inform and/or entertain users and reflect their brand values. Videos that tend to work particularly well on Douyin are comedic videos, videos featuring celebrities, and videos that help users improve their lives in some way, whether it's their lifestyle, appearance or skills.
Organic content has worked well for Adidas Neo, a sub-brand of Adidas that targets a younger audience. Their videos feature local celebrities who embody their target persona, pursuing an active and aspirational lifestyle in various places around China – while of course wearing Adidas Neo clothes and shoes.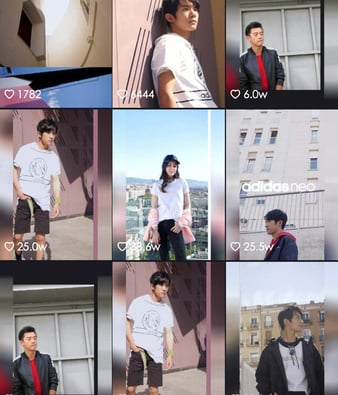 As with other platforms, consistency and regularity are crucial when it comes to building an engaged community of followers. When creating videos, it's also important not to stray too far into the realm of advertisements, which can be a bit off-putting to users. Remember, also, that videos should be shot in a vertical format in order to be compatible with the platform.
2. Start a hashtag challenge
Douyin is perfectly suited to encouraging user-generated content – as well as providing all the tools users need to create engaging videos at the press of a button, the videos are also short enough that it doesn't require that much effort on the part of the user to participate. This is why hashtag challenges are a particularly powerful way of engaging users on Douyin. Brands can further incentivise users to create content by providing prizes for the best videos.
Some examples of hashtag challenges that have proved especially successful for brands include:
City catwalk challenge
This challenge by luxury brand Michael Kors encouraged users to take videos of themselves doing catwalks in city streets around China wearing and featuring Michael Kors products. Around 30,000 users took part.
Haidilao Douyin recipe challenge
Popular hotpot chain Haidilao encouraged users to create their own DIY dishes at the restaurant and post the results on Douyin. Some of the resultant videos proved so popular that the users' dishes were actually added to Haidilao's menu. In less than a year, Haidilao was able to generate 1.8 billion views with purely organic content, and zero investment in advertising.
Answer Tea challenge
This challenge shows how well offline and online engagement can work together. In this challenge, people sent orders for their tea, along with a question they'd like answered (e.g. "Will I get married next year?" or "Will I get that job I applied for?") They then film themselves opening the lid of their cup, revealing the answer printed on the inside. Think of the tea as a consumable equivalent of a Magic 8-Ball. As a result of this challenge, in just a few short months, Answer tea's Douyin page accumulated 345,000 followers and their 30+ clips had been liked 1.1 million times.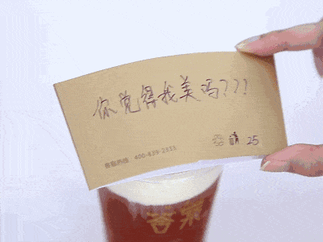 3. Use KOLs
As with other platforms, KOL marketing can work very effectively on Douyin – indeed, Douyin has contracts with hundreds of KOLs to ensure their promotional content goes through the official channels (with payment of the required fees).
While KOL marketing can be expensive, it tends to be a lot more visible, particularly if done in partnership with Douyin, as their algorithm tends to favour endorsed content, and push it to more users. This gives a campaign much more of a chance of going viral. On the other hand, attempting to bypass Douyin can result in content getting buried or even taken down altogether.
4. Purchase ads
Douyin has both in-app banner ads and native in-feed ads, which brands are able to purchase. In-feed ads can be particularly engaging compared to ads on other platforms, as they fit seamlessly in users' video feeds, capturing them at full attention. As videos are only 15 seconds long, most users will simply watch the ad rather than skipping to the next video.
Again, ads that don't really seem like ads would work best on this platform – content that is particularly pushy can seem intrusive to the user experience, and can therefore perhaps impact negatively on your brand image. Working with KOLs can be a good way to ensure the tone of the video fits with the platform so that users don't just "swipe left".
5. Link to e-commerce stores
While Douyin is built for the awareness stage of the customer journey, Douyin is looking to help brands close the conversion loop, recently including links to product pages on e-commerce sites directly on brand's pages. This feature, however, is only available to content publishers with a fan base of more than 1 million, so brands will need to put in a fair amount of work before this option becomes available to them.
While user growth might be slowing, Douyin's international ambitions show it is a platform that is looking to the long term. At the time of writing, it remains the number-one short-video app, and we expect it to continue going from strength to strength.
So is this a platform worth dedicating resources to? If your target audience are on Douyin, and your brand and/or product would translate well to the app, then we think the answer is a resounding yes.
But remember: Douyin is just a small part of China's complex digital landscape. To get the big picture, check out our free whitepaper Stoking the Dragon: Unlocking China's New Generation of Digital Consumers. Download it now.