With WeChat's growing user base and booming popularity in China, WeChat advertising is an important element for your digital strategy in China.
Having recently hosted a WeChat Marketing Live webinar, I came to the realisation that advertising on WeChat is of significant interest to many foreign companies looking to expand into China but it still lies in an area of uncertainty. In Part 1 of this blog post series, I have summarised some of the key questions that were raised during the webinar. You can read Part 2 here: How to succeed in WeChat B2B Marketing.
What is WeChat Advertising?
Advertising on WeChat provides a perfect gateway for foreign brands to connect to the Chinese digital consumer. It enables companies to display their promotional message in the user's newsfeed or at the bottom of WeChat Official Account articles. WeChat ads allows foreign brands to grow their follower base and drive qualified traffic to their Chinese website.
There are three types of WeChat advertising:
WeChat banner advertising
WeChat moments advertising
Key Opinion Leaders (KOLs) promotion
WeChat banner advertising
Banner ads appear at the bottom of WeChat Official Account articles. They drive users to either follow an official account, download an app, purchase a product, claim a coupon code or sign up to an offering via a customised landing page. The advantage of this approach is that it is performance-based, meaning that advertisers have more flexibility to test and measure the effectiveness of the ad with low upfront costs. It is great choice for e-commerce businesses because it can direct potential consumers to the correct webpage, where a conversion can be made.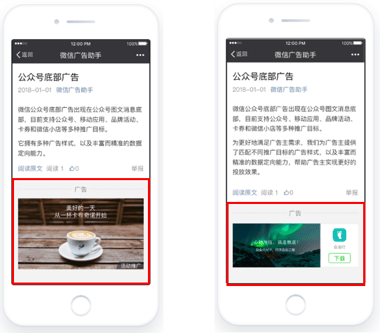 WeChat moments advertising
Moment ads appear in the Moments section, which is comparable to Facebook's Newsfeed. It is less disruptive compared to banner ads, because moment ads blend in with the usual user-generated posts. The advantage of this approach is that advertisers can choose between display or video format – both of which are highly interactive and engaging. However, with a higher comparative cost, moment ads is a better choice for more established brands with visually attractive products.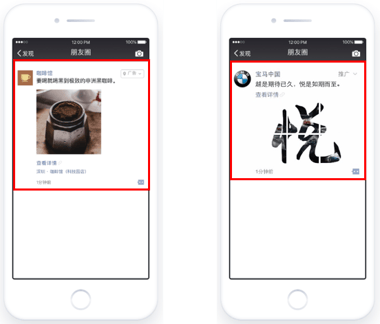 Key Opinion Leaders (KOLs) promotion
KOLs are celebrities or famous people who have the power to influence others. Advertisers usually work with KOLs to post an advertisement on their official account, which helps to publicly expose their brand to the KOLs' wide network of followers. It is a great way to market your brand on WeChat because KOLs are seen as a trusted source of knowledge and advice. The key to success is to select the right influencer that is well-aligned to your business and product offering.
Which WeChat advertising is right for my business?
Our recommendation is for international businesses to use WeChat ads (banner or moments). This is because it is highly unlikely that Tencent would partake in 'fake user clicking' to get benefit from you, as it will negatively affect their brand reputation. However, for KOLs promotion, this type of misconduct is more likely to occur. KOLs need to report back high performance to show brands they are working with that they are worth the investment. This can be a big challenge for foreign brands leveraging KOLs.
How to advertise on WeChat?
First of all, you must have a WeChat business account to advertise on WeChat. This is because advertising is subject to the advertising law in China and you require a business entity to run advertisements.
Cost to advertise on WeChat
There is a minimum threshold fee of US$10,000 required by Tencent. However, there may be additional service charges depending on who you work with. Even though there is no time restriction on when you must finish using this budget, our recommendation is to divide the advertising spend between 1-2 campaigns. This will help generate a more optimal advertisement performance and give you the chance to analyse the results of your first campaign before running the next one.
Target the right audience through WeChat
Recently WeChat has expanded its targeting capabilities to allow you to better target your ads to the Chinese audience. For example, you can select different cities, demographics, age, interest, profession, income levels and much more.
There are also some special tags relevant to Australian businesses. Last year, Tencent enabled a special tag called 'Outbound Traveller from China'. This is highly relevant to travel and retail companies outside of China, who are looking to attract outbound travellers from China to increase their sales. Another special tag is called 'Chinese Community'.
Use WeChat advertising to drive traffic to website
Within the WeChat ads you run, you can add a CTA. This can be a button to follow your official WeChat account, re-direct to any landing page or re-direct to your official Chinese website. This is a great practice to build your brand awareness in China.

Are luxury brands a perfect fit for WeChat advertising?
Chinese consumers are constantly using WeChat to find out more about luxury and high-quality products. It is one of the key reasons they buy international products, because it is something they can't easily access or trust the authenticity of the product back in their home country.
If you are looking to build your brand awareness in China, then WeChat ads are a perfect fit. Moments ads in particular are one of the top choices for advertising for luxury brands in China. It offers a more appealing and engaging way to interact with millions of WeChat users.
For example, Yves Saint Laurent (YSL) launched a Moments ad to invite viewers to buy their beauty products. After entering the ad page, viewers were promoted to watch the 15-second video and were able to click on the provided link to find out more information about the product.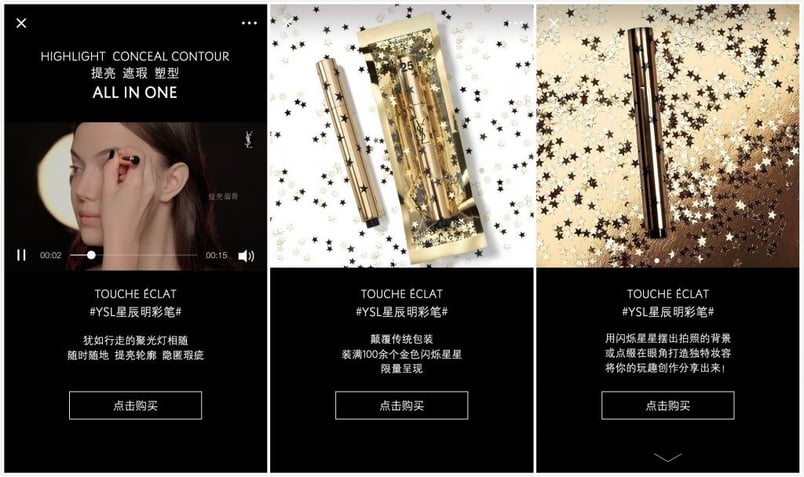 Source: Tech Node
Similarly, Miu Miu placed a multimedia ad on WeChat Moments to promote its 2017 Spring/ Summer Ready-to-Wear collection. A 6-second promotional video was shown to a targeted audience, before being able to scroll through text and visuals to learn more about the new collection.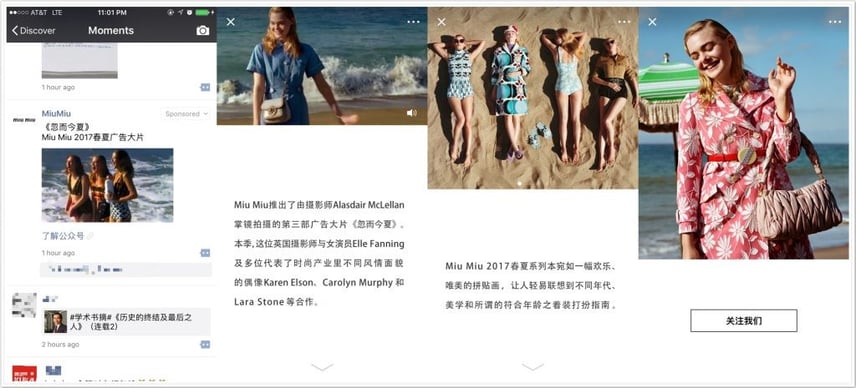 Source: Tech Node
Grow your brand presence with WeChat advertising
In general, Chinese people are more open to advertisement than Western people. Because WeChat is not yet as commercialised as Facebook (where there are many advertisement slots) it is now a good stage to invest in and leverage WeChat ads. Once it is flooded by different advertisement placements, ad effectiveness will be reduced significantly.