Each and every day, hundreds of thousands of Chinese tourists land in Australia, ready to take in the unique sights and experience that our country has to offer. China is now the second-largest source of tourists to Australia, with 859,500 visitors arriving in 2014 (according to the Australian Bureau of Statistics). During the media event in China on "Australian Preferred Partners" by the Australian Tourism Board on Nov 3, 2015, it was also announced that 951,300 visitors arrived in Australia during the 12-month period from Sep 1, 2014 to Aug 31, 2015, representing strong year-on-year growth of 21.2%. Visitors from China generated $5.7 billion in total expenditure in 2014 and the Tourism 2020 Strategy estimates that China has the potential to be worth up to $13 billion in total expenditure by 2020. "With a 10-year multiple-entry visa allowed to be issued to Chinese travellers in 2016, the growth from China outbound travel into Australia is expected to be even stronger" – said by Andrew Hogg, GM of Australia Tourism Board in Great China.
But what is attracting Chinese tourists to our shores – and how do we motivate them to keep on coming? In order to attract the Chinese outbound travel market, it's essential that we first understand who they are and what differentiates them from other tourists.
Who are they?
Whilst we welcome an impressive number of tourists from China each year, we don't have a clear understanding of the Chinese outbound travel market. That said, a survey of 3,170 tourists by the World Tourism Cities Federation found there are a few clear characteristics of the typical Chinese traveller:
They are young and have money to spend. Most are aged 26-35 years, with over 56.2% of travellers falling into this age group which is known as the "Generation of Millennium", representing their life-long value to the travel industry (50 years of travel time). The majority of these travellers are only children who have a greater amount of financial freedom thanks to support from their parents. These individuals are seeking a quality experience and aren't simply looking for options that provide value for money.
They're parents
With children at the centre of typical Chinese family life, it's no surprise that 59.3% of the Chinese outbound travel market are parents. These parents desire to provide their children with opportunities to see and experience the world and are searching for family-centric experiences which they can all enjoy together. They want to find child-friendly accommodation, age-appropriate meals and child-friendly activities that will see them heading home with lifelong memories.
They're independent
An increasing number of Chinese tourists are breaking away from the traditional group tour options and opting to head out on their own. Whilst this segment is growing, the biggest issue for these travellers is the lack of quality information for those of them planning their trip online. In order to capture this market segment, it's vital that Australian businesses localise content for Chinese people and the types of holidays they are researching.
What influences their decision-making process?
Chinese tourists are turning to the internet more and more when it comes to researching, planning and booking their trips. 90% of them (according to Tourism Queensland) are using the web to educate themselves on their travel destinations and local brands in the area before their holiday.
The web is still the most preferred way to book, however, the popularity of Apps has quickly risen; making them a possible future option to choose and compare travel products. A survey of more than 4,200 internet users and online travel bookers by Ctrip in over 30 cities in China in 2015 revealed that 52% of them would choose to use travel apps, mainly due to the convenience in browseing information, the ability to save-as-favourite at any time as well as the more attractive promotions available there. 86% of those surveyed would choose to use the web to select and compare travel products due to the comprehensive way websites are able to display information and 39% are influenced by referrals from their friends/colleagues or family/relatives. Only 18% of travellers surveyed said that they would still visit a travel agent to compare their options.
With so many consumers searching for information online, Australian companies have an incredible opportunity to attract the attention of tourists coming from China. Successfully marketing in China with an online marketing strategy will allow companies to tap into the Chinese tourism market and entice more travellers to enjoy all that Australia has to offer.
It's essential that Australian businesses create more official Chinese websites if they want to communicate effectively with these travellers and attract them to our country.
Changing tastes
Group travel has always been a popular option for tourists coming from China as it simplifies the process of securing visas, booking hotels and deciding what to do whilst in the country – but Chinese consumers are slowly breaking away from this tradition and preferring to head out on their own.
Group travel restricts flexibility and doesn't cater to individual interests or needs. A set itinerary constrains travellers to typical destinations and activities and doesn't allow them to enjoy lesser-known cultural experiences such as outdoor activities, local food and wine, museums and shopping.
These restrictions have seen travellers preferring to plan their own holidays – giving them the freedom to choose where they stay, what they see and what they do whilst in Australia. Although this market segment is still relatively new, it's growing and has great potential for development, especially as these individuals are scouring the internet for ideas and inspiration when planning their trips.
A desire to explore
Australia's natural beauty is no longer the drawcard it once was for the Chinese outbound travel market. More experienced tourists think of themselves as explorers and want control of their itineraries. They respond well to brands that make them feel special; they desire a more fulfilling holiday experience. They seek out unique experiences which are worth writing home about and which make them stand out in their social circles.
Niche tours for interest-based activities are increasingly popular amongst the Chinese. Wine or beer tasting tours, golfing getaways and ocean fishing voyages, among other tours, give these tourists the opportunity to enjoy a value-adding experience and many are choosing travel holidays which allow them to experience the food, culture and activities Australia has to offer.
A love for shopping, food and sharing their adventures
Wherever they head, tourists from China love to shop far more during their trips than tourists from any other country. Many travel destinations have picked up on this trend, launching special promotions and shopping-guide services targeting the Chinese to capitalise on this opportunity. For example, a number of department stores in Japan launched a 5% discount promotion for China Union Pay Transactions - and some even accept mobile WeChat payments during the Chinese National Holiday.
Chinese tourists also love to discover and enjoy delicious food on their travels. The difference between Chinese visitors and other diners is that their stomachs naturally prefer hot foods over cold. The majority of Chinese visitors still miss Chinese food whilst away from home and are willing to search far and wide for Chinese restaurants at least once during their trip.
Another common behaviour of Chinese travellers is sharing their adventures, which is something they love to do. Whether they're snapping a shot of the view or their food or taking a fun selfie, these tourists love to share their moments with friends during the trip through social media services such as WeChat. With this in mind, it comes as no surprise why they rank free wifi as an important service they're looking for at destinations. These travellers also make their decisions based on price, security, ease of obtaining visas and the experiences available in the country they travel to.
Time window of travel
Unlike travellers from Western countries where it's common to travel all year round, the majority of Chinese visitors will plan their trips around public holidays - particularly the 7-day public holidays such as National Holiday and Spring Festival. When two public holidays are close enough together, many Chinese will take the opportunity to travel, taking the days off between the two holidays to enjoy a longer trip. For example, travelling to long-haul destinations such as Australia, the US and Europe have increased by more than 150% YoY from late September until early October, as Mid-Autumn Day and National Holiday are very close together at this time. There has been a rising trend in recent years for travellers to avoid the crowds during this period by planning their trip either several days before or after the public holiday. Despite that trend, the Ctrip report on "2015 Chinese Travellers' Tourism and Vacation Report" found that 28% of those surveyed still chose to travel on or around the National Holiday period. This long public holiday is still the highest peak season of Chinese tourism each year.
The essentials for reaching these tourists
In order to encourage these tourists to our shores, we first need to understand them and connect with them. We not only need to talk to them in their local language – but we also need to be connecting with them using the most appropriate local media channels.
Whilst Western social media platforms such as Facebook and Twitter are banned in China, the Chinese love social media and are the most active social media population in the world. Chinese tourists want to see more travel information on their favourite Chinese social media platforms such as WeChat, Weibo and some local community sites.
A well-defined Chinese social media strategy will not only allow businesses to connect and engage with the Chinese outbound travel market, it will also provide them with a direct line of communication for consumer queries and complaints and provides the opportunity to discover more about their target market such as their needs, desires and concerns.
Australian websites need to be more accessible. We need to speak their language, on their terms and share information that interests them. The drawcard of Chinese tourists is not only their numbers, but their spending power. These visitors spend the most of all international visitors to Australia – and their visitation is helping to drive economic growth and the creation of jobs in our country.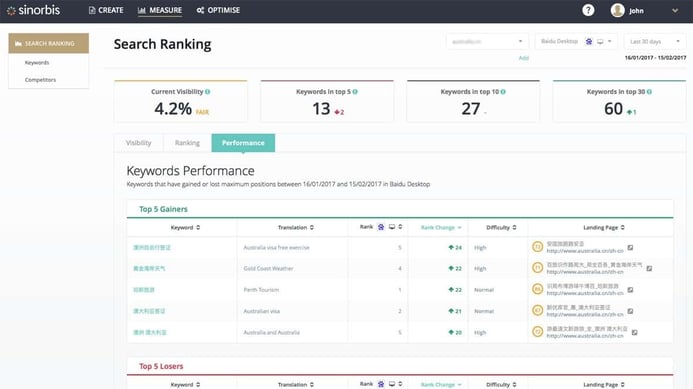 To address these 8 mistakes is a good start to optimise your website for Chinese search engines. With the help of a professional agency and tools, combined with your continuous website SEO efforts, you can avoid these mistakes whilst help your website to achieve greater authority and ranking on Chinese search engines.
UPDATE : Read the latest information from around the world as our experts present a clear picture of the Chinese traveller and show how businesses can capture the opportunity that sits in front of them. Download our free whitepaper on Chinese Tourists now.