Setting up an official WeChat account as an international business can be a somewhat confusing affair. In China, WeChat is known as Weixin and only if you have an account on Weixin will your posts be seen by consumers in China. This is due to Chinese internet regulation, also known as the Great Firewall, that Tencent needs to adhere to.
WeChat Account Creation: Simple Guide
There are two main ways for foreign businesses to set up a WeChat official account, to ensure that it can be accessed from within China.
Apply with your overseas legal entity
Apply with your own mainland Chinese legal entity
Apply with your overseas legal entity
The first option is to apply for a WeChat official account via a WeChat partner using your overseas (i.e. outside of China) legal entity. Please note that you can only apply for a Service Account through this process. Tencent decides on these whitelisting applications on a case-by-case basis. While it can take up to three months for the account application to go through, it gives you full control over your followers from the moment the account is created.
Apply with your own mainland Chinese legal entity
For international businesses that already have a local legal entity in China, this is the best option. This is because Chinese consumers often deem a WeChat account owned by a brand with a local presence as very trustworthy. The disadvantage of this approach is that you need to have your Chinese legal entity already to be eligible to apply via this route – a process that can be time-consuming and complex.
For companies that don't have legal entity in China yet, we recommend applying via option 1 as it allows you to start marketing and selling to Chinese consumers without having to jump too many regulatory hurdles in advance.
A word on 'borrowing' local legal entities
When it comes to creating a domestic WeChat account, there exists a bit of a grey area where international companies 'borrow' local legal entities from third parties. This will mean that your account will have your branding, name and content, but is technically still owned by the Chinese legal entity. If you decide to open your local Chinese presence a little later down the track, followers can be transferred to your account.
The issue with this approach is that it very often leads to disputes between the brand in whose name the account was opened and the 3rd party who owns it. What's more, this kind of setup can have a serious impact on your brand's success in China, as consumers will doubt the account's authenticity if they see a discrepancy between the account brand name and the legal entity who owns it. We recommend staying clear of this approach.
What you will need for your application process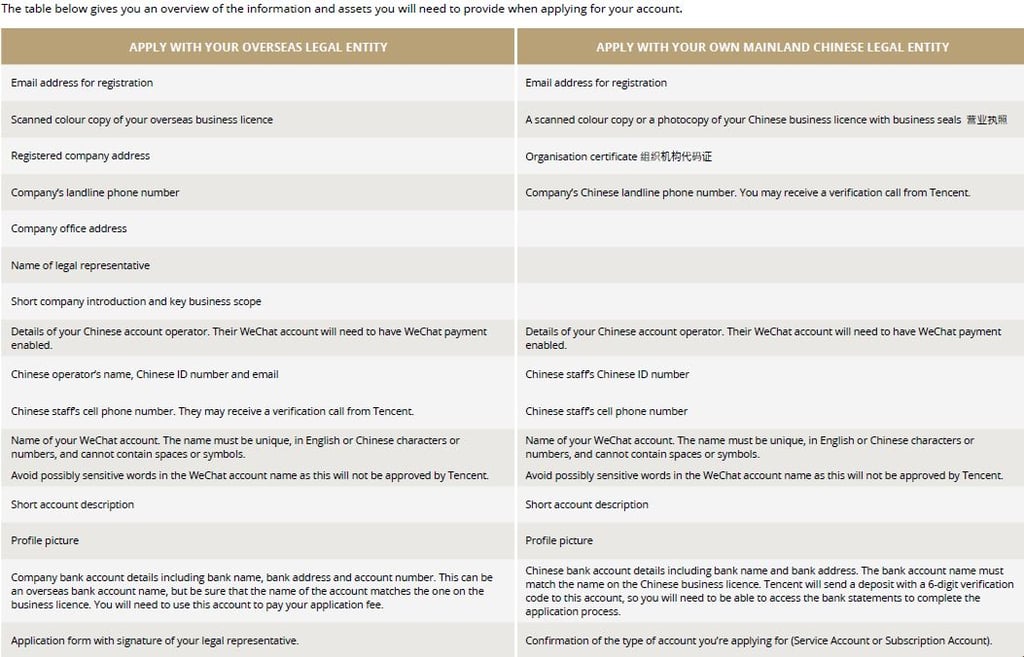 Need a little help to set up your brand on WeChat? Get in touch to learn how we can help you obtain a verified WeChat official account that gives you access to a Chinese domestic audience.