If you think you can take what you know about social media in the West and apply it to your Chinese digital marketing campaigns, think again. Due to the Great Firewall of China, common social media platforms such as Facebook and YouTube has been blocked. Therefore, the Chinese people have developed their own Chinese social media ecosystem to mirror if not exceed what the West has to offer. When it comes to understanding the Chinese social media landscape, it is important to understand and apply those key practices in order to succeed. WeChat, the multi-purpose messaging app owned by tech giant Tencent, is one of the most popular and unique social media hybrids in China. Often dubbed the super app, WeChat can be an effective tool for foreign businesses to connect with Chinese audiences if leveraged properly.
How to create an Official WeChat account
Setting up an official WeChat account is important in starting a business as an international entity. Getting started may seem complicated but we created a simple guide for you to follow to ensure you don't miss any necessary steps:
Step 1: Applying for an account
As a foreign business, you will need to apply for an Official WeChat account. There are 2 way you can do this:
1. Applying with your overseas legal entity
You can only apply for a service account
Up to three months for approval
Full control over followers on the account
2. Applying with your overseas legal entity
Account is owned by the brand which adds credibility
Chinese legal entity needs to be already eligible (time consuming & complex)
For the application process, you will need documentation and information in order to be successful. Here is a full list of necessary information for this process.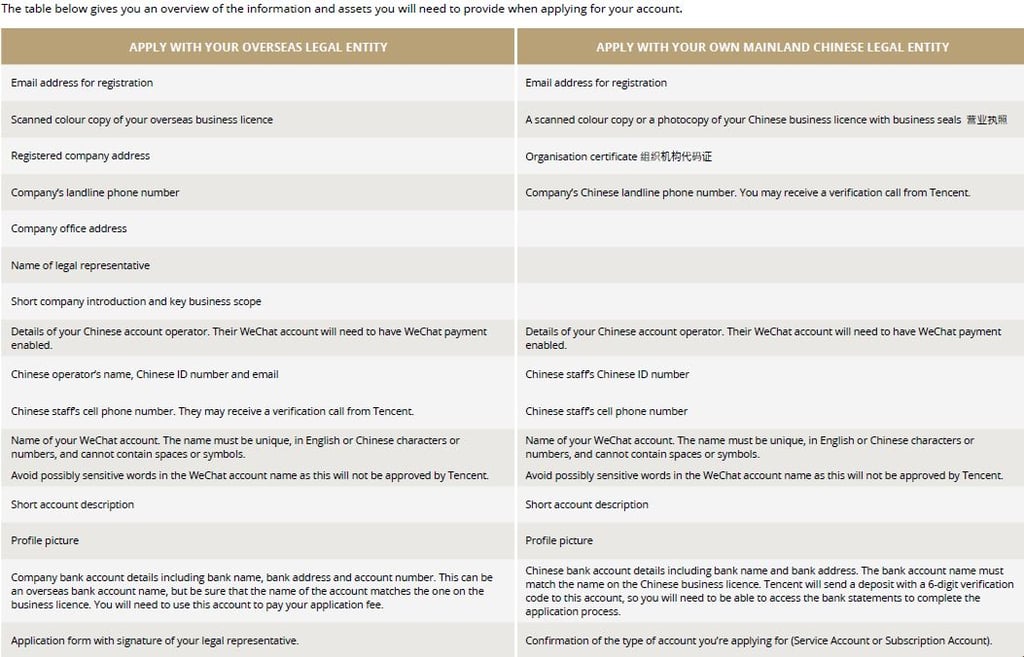 WeChat features that can benefit Western businesses
WeChat mini programs are small apps within the WeChat ecosystem that perform the same functionalities, similar to a standalone application downloaded through an app store. WeChat mini programs are highly accessible and can be shared by users through QR codes or via an official link.
Here are some examples on how you can leverage a WeChat mini program in each sector:
E-commerce: Online store for your brand products
Entertainment: Create an online game to act as an extra touchpoint
Communication: Create a
WeChat mini program for content distribution
Utility: An application for accessible online services
Livestreaming has grown significantly in the last couple years making it an important part of digital marketing for businesses. WeChat livestreaming is seamlessly integrated within WeChat's mini program. This allows for users to view livestreams without leaving the WeChat ecosystem at all. There are many benefits in integrating WeChat livestreaming into your digital marketing campaign list this includes:
Enhanced e-commerce capabilities: brands can use their livestreams as a way to market their products. Viewers can then directly click on a "buy now" link and purchase the product without the need to leave the application
There are over 60 entry points for users to access mini programs. Users are able to subscribe share and revisit a channel through direct messages or group chats.
WeChat livestream is also beneficial due to the existing user base. International brands marketing to a Chinese audience would already have an existing user base. Therefore, the content you create on WeChat livestream will already have an audience!
WeChat video accounts or WeChat channels is basically Tencent's version of Douyin. WeChat video allows users to create and share short 90 second videos or up to 9 images in this space. Brands today are using short form video content to capture the attention of some of the most valuable customers in the online economy.
How to develop and optimise your WeChat content to focus more on organic strategies
Using WeChat, you can use organic strategies to develop your content. This can help you grow your audience naturally while not spending too much of your marketing budget on purchasing ad space. What are some good ways to develop and optimise your content using organic strategies?
1. Gamification
Gamification allows you to engage with users and increase interaction organically. Creating a simple and visually appealing game with an incentive at the end can be a simple way to increase your audience.
2. Personal messages or group chats
WeChat creates opportunities to engage directly with potential customers who are enquiring about your business. It is ideal to build a strong business to customer relationship in the long run. Creating groups is also another ideal way to build relationships on a larger scale. Group tend to be highly engaged, and messages are visible to a larger audience.
3. Promotion and conversion
Offering brand promotions, giveaways or discounts can be highly effective in the WeChat ecosystem. Customers are quick to respond and share the deals your business has to offer garnering a large audience in a short period of time.
4. WeChat store
Creating a service account can allow your business to create a WeChat for customers. This allows them to make quick purchases without leaving the WeChat ecosystem. Not only that, but the user experience on the app is also as good if not better than the experience on your website simplifying the process for your customers.
Advertising on WeChat provides the perfect getaway for foreign brands to connect to Chinese digital consumers. It enables companies to display their promotional message in the user's newsfeed and allows businesses to grow their follower base and drive traffic.
Three types of WeChat advertisings:
1. WeChat banner advertising
WeChat banner advertising is where banner ads appear at the bottom of WeChat Official Accounts. They drive users to either follow an official account, download an application, or purchase a product. There are advantages to using this method as advertisers have the flexibility to test and measure the effectiveness of their ads.
2. WeChat moments advertising
Moment ads appear in the moments section of WeChat similar to Facebook's newsfeed. This method of advertising is less disruptive and blends in with general user generated posts. With a higher comparative cost, this method is a better option for more well established brands.
3. Key Opinion Leader (KOLs) promotion
KOL promotions are promotion made through celebrities, famous users or WeChat influencers that have the power to influence prospective customers. The benefits of collaborating with KOLs include being able to expose your brand to the KOL's wide network of followers.