WeChat is a popular marketing and social messaging app with over 1.1 billion registered accounts and 846 million monthly active users, according to Tencent's Q3 results for 2016. Known as Weixin which is translated as 'micro message', the communication service was designed by the Chinese based company Tencent in 2011 achieving instant popularity.
WeChat gives users the opportunity to send text messages, video conferencing, hold to talk messaging in the style of a walkie talkie, broadcast messaging and sharing of moments, photographs and videos. WeChat personal accounts can have up to 5,000 friends at any given time.
With the strong features on wallet and mobile-commerce, WeChat marketing has also become a popular tool for businesses trying to reach their ideal clients.
It is suitable for new customer acquisition, engagement with existing customers, direct marketing of products/services, generation of transactions, collection of payments and even as an online customer service tool.
Special Features of WeChat
There are many exciting features about WeChat that make it so popular, but of course, it's the instant message service that is the real purpose of the app. It brings all of your social communication tools into the one space.
Video Call: WeChat allows users to make face-to-face video calls at the push of a button.
Group Chat: Users can create a group of up to 500 people and chat to the entire group all at once.
Voice Chat: If you're not fond of video calls, you can instead send voice messages or chat with friends in a walkie-talkie style session.
WeChat Moments: Share pictures, micro videos or memorable moments with WeChat friends.
WeChat Stickers: Users can send a wide range of stickers and GIF animations that are provided by WeChat as well as add their own emoticons or images.
WeChat is a Chinese social media platform, so it's natural that it provides ways for users to extend their social networks. The app does this in some really inventive ways.
Shake: 'Shake' a phone is a fun gimmick where users can shake their phone and instantly see who else is doing it at that exact moment in time, both locally and internationally.
Look Around: This feature enables users to find friends by searching for their real-time location and sending messages through a simple one-click.
Drift Bottle: Drift Bottle lets users throw a virtual 'bottle' into a virtual 'sea' via text or voice message. Anyone can choose to pick it up and read the message. The whole event is anonymous unless either party decides to reveal themselves.
WeChat is designed for fun, too. Many of the features are there to add enjoyment to your messaging experience.
Images: Users can send images or animated pictures through WeChat.
Games: WeChat provides a choice of online games for users to enjoy.
Red Packets: China has a tradition of distributing red packet as a gift to the elder or the kids. WeChat moved this culture online and enables users to send red packet to a specific person, or send multiple red packets in a WeChat group all at once in a rule of first-click-first-get. The amount received in red packet will stay in recipient's online wallet. This feature has become so popular that people widely adopt it to distribute red packets to family members, friends, colleagues and people in other business relations, doubling up the red packet tradition in China.
However, it has many practical features too. Users can make mobile payments through a debit bank account linked to the user's WeChat account or balance. The WeChat store and WeChat payment can be developed and enhanced by the company in its WeChat account so users can directly do their online shopping and finalise the payment transactions using their WeChat account.
WeChat Public Accounts
WeChat public accounts are official accounts that allow brands and organisations to share their messages and interact with users who follow their account. There are many wonderful features that you can utilise.
Your company can create a personalised navigation bar which acts like a mini-mobile site directing traffic to various corporate web pages. You can also set up an automated response for keywords so relevant content can be forwarded to a follower's account based on their inquiries. Corporate's account can also receive individual subscriber messages and respond accordingly within 48 hours. Due to the popularity of the app, WeChat marketing has become a powerful tool when used correctly.
There are three types of WeChat business accounts you can sign up for:
Service Accounts

Subscription Accounts

Enterprise or Company Accounts
From the WeChat marketing perspective, we only need to consider the first two types, because the third is used only internally within a company.
Let's look at these WeChat business accounts in more detail.
Service Accounts
A Service Account sits in the default screen of WeChat and the message goes straight to the top of conversation list every time it is updated. This ensures that you are highly visible. With a Service Account you can send messages to your subscribers up to four times a month. Every time you publish new content, your followers will receive an obvious alert via push notification. A Service Account also enables a number of API functions for seamless integration between your WeChat official account and your official website or mobile app.
You can also develop a WeChat store directly in your Service Account. This allows users to browse through the content feed and make purchases, enabling you to achieve both better brand reach and new customer acquisition.
Subscription Account
Compared to a Service Account, Subscription Accounts allow brands to send messages more frequently – one piece of content per day in a Facebook-style feed.
However, the downside to this type of account is that subscribers will not notice when there is new content available. All Subscription Accounts are grouped together in the one place and the alert will appear in the Subscription Accounts folder. It is much less apparent and subscribers will need to actively look for the new content update in the one folder. Subscription Accounts also has less functionality. For example, it is not possible to link directly to a WeChat Store.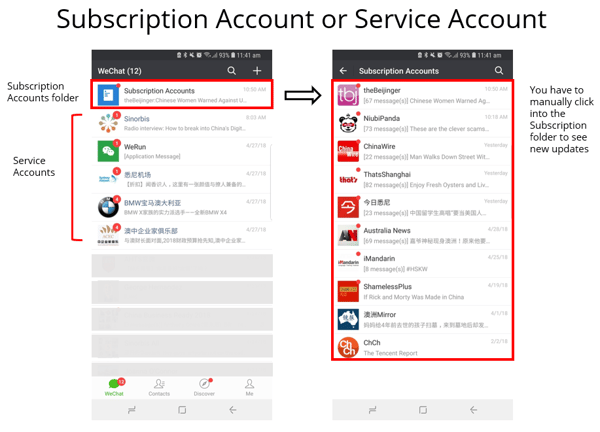 A summary of difference between subscription and service accounts

Which WeChat Marketing Account Should Your Business Choose?
Both accounts have their pros and cons, and marketers will need to focus on viable campaigns to make the most of the limited options available. Businesses need to consider their ultimate goal, and how WeChat marketing ties in with their other marketing strategies.
If the aim is to ultimately encourage sales, then the service account might be the best choice for your business. You can place your store right inside the hugely popular app, and immediately in front of your market enabling instant transactions and payments. Also, the notification on new content feed is more visible. Moreover, the advantage is that more development functions are supported to nurture customer acquisition and engagement.
If the nature of your business is to communicate and engage with your customers on a very frequent basis, then the subscription account is relevant as it gives you more opportunity to communicate to your market. It is most suited to bloggers, KOLs and media sites who tend to push content more frequently. However, this account needs to be sustained long-term to be effective, and you will need to make the content worthwhile to encourage users to proactively come and read your content on a regular basis.
You have one chance to change your subscription account to service account, but it is not allowed for the other way around. Therefore, you will need to decide which one will suit your individual purposes before you set up the WeChat business account. Do your research beforehand.
How to use WeChat As a Marketing Tool
WeChat is perfectly positioned to connect with the majority of the huge Chinese market and is an important and worthwhile core marketing tool. It is an exciting gateway to the Chinese economy that non-Chinese marketers should consider using.
Once you open an official WeChat business account, you will need to come up with the follower acquisition plan to start building your follower base. Unlike in Facebook, the contents posted from your account will only be visible to those who choose to follow you. At initial stage, it's very effective and critical to leverage the power of KOLs (Key Opinion Leaders) for the acquisition of your own followers due to the size of their existing follower base and their influence. Be careful when selecting the KOLs. You will need to select those KOLs with the number and activities of their followers as you desire. Also, their followers need to fit for the customer segments your business target at.
Typically, you can engage an experienced digital marketing agency from China to help you design and execute series of creative campaigns, and engage KOLs carefully selected.
After building up initial follower base, you can start your sustainable journey by engaging your followers, converting them to customers, nurturing them to be the advocates to your brand, and of course continuously acquiring new followers.
Direct conversation ability
Like many social networking platforms, making the most of direct relationships is important on WeChat. In addition to setting up an official WeChat public account, digital marketers can create a group for brand discussion and product information sharing. As messages may be sent in the form of individual and group texts, videos, photo sharing and voice notes, engagement needs to be particularly high. For best results, your messages must be refined to target specific sectors of your market. As an example, a recent McKinsey & Co. report says "thousands of merchants carried China's popular direct-sales model to mobile platforms by starting semi-private WeChat groups of 50 – 100 people each, bringing the friends and friends of friends to sell everything from organic vegetables to the latest fashions."
That's a clever way to use the Customer Relationship Management (CRM) one to one conversation ability between brands and followers to enhance brand loyalty and nurture the conversion.
WeChat Scanner
WeChat also has an inbuilt QR scanner which can be utilised for creative marketing campaigns. When used on packaging, in-store promotion or online on social media accounts and websites, QR codes make the perfect branding tool to enhance your reputation and engagement. It is an excellent way of implementing discount coupons, prizes, promotions and VIP bonuses and encourages interaction. Followers will be keen to scan the QR code to reap the rewards. Building the bridge between the offline and online world, this code option provides many fun and creative opportunities for companies and subscribers alike and will assist in customer and subscriber growth.
WeChat as CRM
One of the biggest advantages offered to marketers by WeChat is the CRM function. Customers can opt into a database where they can receive communication from their favorite brands. This is a personal and private communication that no-one else can see, and it offers customers a level of service and experience they won't find elsewhere. For marketers, this is an exciting way to build a following of loyal, brand-loving customers.
WeChat also offers payment + member card function to brands for in-store transactions, which makes it easier for merchants to recognise consumers by their WeChat ID, and to communicate with them after a sale is made in the offline store. Customers are automatically enrolled as members through the WeChat payment/wallet process and added as a follower to the official account. Campaigns can then be created to suit the customer, including membership benefits and accrual of credit points per purchase. It also benefits existing members as benefits can be applied during and after the payment process. This all happens automatically and does much of the brand's customer engagement work for them.
WeChat Official Account Transfer
It is possible for companies to switch official account ownership. By account transfer, WeChat official accounts can transfer WeChat followers, Tencent terms of use violation records and article materials from one company to another.
This generally occurs when companies open a WeChat Official Account through a third-party agency rather than going through the formal Tencent application and whitelisting process. This means that the account is not actually owned by the company under whose name it is run. While this may seem like a shortcut to opening up a WeChat official account, going down this path is not recommended.
In the past it has often led to disputes between the third party agency who officially owns the account and the brand name under which the account is operated when the latter decided to set up their own WeChat official account. In many cases, hard earned followers and content were not transferred and the brand had to start all over again. Moreover, this type of setup can have a serious impact on the brand's success in China. Consumers will doubt the account's authenticity if they see a discrepancy between the account name and the legal entity who owns it.
The two options we recommend for setting up an official WeChat Account:
Apply with your overseas legal entity
Apply with your own Mainland Chinese legal entity