How can businesses leverage WeChat's new video accounts?
With staggering year-on-year growth, the value of the Chinese short video market is expected to reach 200 billion RMB in 2021. So there is no denying that the short-form video trend is here to stay.
Many people are seeing Channels as a feature on their WeChat accounts, so are of course wondering how they can use it for their own marketing. This article gives the lowdown on the latest WeChat feature, who has access to it, and how you can use it as part of your WeChat marketing mix. Complementary to our guide on how to use WeChat for business, this post aims to cover everything you need to know about WeChat's new video accounts and Channel feature.
What are WeChat Channels or video accounts?
WeChat video accounts are Tencent's answer to Douyin, Kuaishou and other popular short-form video platforms. But while WeChat may currently lag behind these powerhouses in the short-video space, WeChat has the competitive advantage of a huge user base of 1.2 billion monthly active users. Should WeChat Channels and video accounts catch on, it could really open up video streaming to an enormous captive audience. Easily digestible content of short (60 seconds or less) videos, or up to 9 images can be posted to WeChat Channels.
Short-form content and video-streaming platforms like Douyin are extremely popular among young social media users, with 60% of all Douyin users being between 25-44 years of age – a high-spending demographic. It's no wonder, then, that many brands are using short videos and other short-form content to capture the attention of some of the most valuable customers in the online economy.
Why are WeChat's new video accounts so exciting?
What has got brands and marketers most excited is the ability for WeChat accounts to broadcast videos via their new video accounts to users outside of their existing contact lists to grow their following. This makes it possible for any WeChat user to more easily discover, like and share new content, as well as follow and engage with new users and brands within the WeChat ecosystem. Essentially, the goal is to facilitate the development of more closed-loop environments for businesses to engage with customers at every stage, without them ever having to leave the WeChat ecosystem. And you don't necessarily even need users to follow you in order to engage with your content!
Tencent already has an established dominance in the Chinese social media and e-commerce spaces – with 1.2 billion active monthly WeChat users in December 2020 – so its move into Douyin's and Kuaishou's territory should be followed closely by any business vying for their patch in the Chinese marketplace.
This increased discoverability for brands within WeChat's highly integrated social and e-commerce ecosystem represents a massive opportunity for companies who already have a handle on WeChat marketing.
Weixin Mini Programs facilitated an estimated total sales of 1.7 trillion RMB in 2020 to their 400 million active daily users of these Mini Programs. Now with the ability to engage and advertise to WeChat users through the increasingly popular short-form video format and link them directly to Mini Programs, such as a WeChat store, marketers and content creators should prepare for the increasing importance of producing high-quality, meaningful and impactful short-form content.
Who can use WeChat video accounts?
Well, that depends on how much influence you already have in the Chinese socialsphere. Tencent Weixin founder Allen Zhang (Zhang Xiaolong) first launched WeChat video accounts in early 2020, but this feature was highly restricted to professional accounts and brands that already held strong social media influence and regularly produced high-quality content. Features were iteratively rolled out and the new video accounts were gradually opened up to a wider user base as beta testing continued throughout 2020.
If you have a domestic WeChat account, you can activate your video account by going to "Discover" > "Channels", then clicking on the account profile in the top-right corner. However, at the time of writing, the certification requirements for video accounts still represent substantial barriers to entry and indicate that Tencent Weixin is preferencing established and professional content creators such as Key Opinion Leaders (KOLs) and entertainment companies who want to spread their high-quality content on this valuable new channel. The video account feature is not currently available for international accounts.
After the Channel feature is enabled, you can publish, record or livestream video and other short form content directly in WeChat to have your channel be discovered by a potential ocean of new users. Presently there are two types of verification for WeChat video accounts: personal and enterprise.
What are the main differences in account types for Channels certification?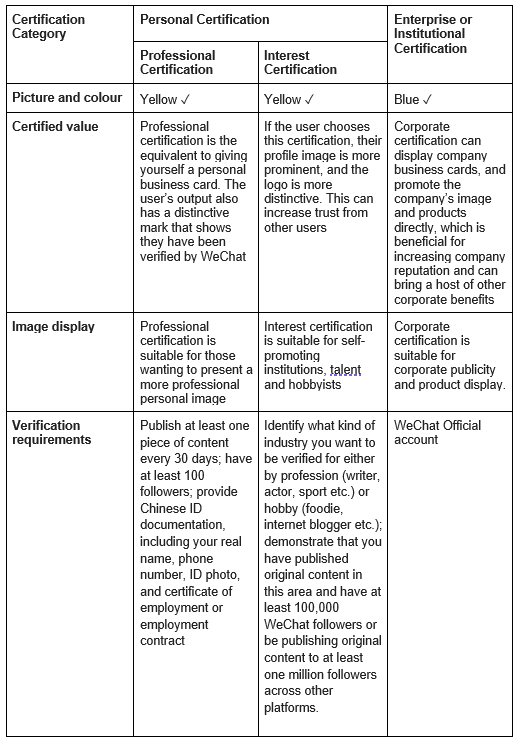 When a WeChat video channel is linked to a WeChat Official account to achieve Enterprise or Institutional verification, the account name needs to be exactly the same as the company account you want to link. But again this is only available to domestic personal and domestic Official account holders right now. Also, the administrator needs to be the same between the WeChat official account and personal account. Quite a few corporations who produce a lot of high quality content and have a domestic presence in China are doing this already – the likes of McDonald's and entertainment companies.
WeChat Official account?
For those fortunate enough to have already passed successfully through the somewhat onerous WeChat Official (Domestic) Account application, registration and verification process, having the ability to publish content to your Channel will be easy – just navigate to Channels, click the [⋮] button, then 'Verify'. Select 'Corporate verification' and have a verified Official Account Administrator scan the QR code.
A similar process can be followed to apply for a Channel linked to a Personal account too, but only if you can see a camera icon at the top-right of your WeChat home screen and only if it is a domestic account. If you can't see the camera icon then WeChat probably doesn't want your content yet. But if you still really want to submit your application and are confident that you can meet all of the requirements you can request it by getting in touch with WeChat Customer Service.
Our China marketing specialists can help you navigate every aspect of your WeChat marketing strategy and account management, so get in touch to learn how we can help your discoverability on this new frontier.
Our take on WeChat's new video accounts and Channels
The careful testing and selective rollout of Channels throughout 2020 makes us think that Tencent is taking a long-term view of the importance of short-form video content, which is why they are placing an emphasis on publishing only high-quality content on Channels. Having such high barriers to entry makes us think that WeChat is really looking to limit this function to only the top content producers at the moment, perhaps as a strategy to draw users away from other short-form video platforms while giving them the opportunity to meet their favourite top content creators, KOLs and brands conveniently within WeChat – right under the all-important Memories tab. This prime positioning of Channels is another indication of Tencent's strong bet that short-form video content is the next big piece of the puzzle of total customer engagement.
We have some serious doubts about whether WeChat Channels will ever be opened to international companies as live-streaming in particular will be difficult to manage from a content regulation perspective. But with Bytedance's recent launch of Douyin Pay, available to all of Douyin's 600 million daily active users, not to mention Tik Tok's interstellar growth in recent years – only to break new ground again, topping the most downloaded app charts in 2020 – the race is clearly still on to build the most enticing, convenient and complete social and e-commerce ecosystem for both Chinese and global online customers.
Since WeChat's video initiative is led by the Tencent founder himself, though, it's worth keeping an eye on how this develops and how it might be leveraged for international businesses a bit further down the track. In the meantime, help your business make the most of its potential within the ever-growing WeChat ecosystem.
Get ready for videos
Before you dive into the exciting world of short-form videos in WeChat, it's important to first ensure you have your WeChat foundations set up properly, so you can capitalise on this exciting opportunity.
Not sure whether you're getting the most out of WeChat? We can help. Contact us today.