China's live-streaming industry has grown in leaps and bounds over the past few years, led primarily by e-commerce giant Alibaba. Data released during Alibaba's Taobao Ecosystem Summit in late March 2018 shows the number of live-streaming sessions grew 238 percent on a yearly basis, while the sales transactions increased 755 percent in 2017. As of May 2018, the platform's live-streaming channel had over 68 million monthly active users, with one out of two viewers visiting the related store while watching a livestream, representing a significant conversion rate. And live streaming on Taobao looks set to continue to break records – last Singles' Day (11 November 2019), Taobao live streaming increased its daily active users by 130% to 41.33 million users.
And it's not just Alibaba. Short video sites Douyin (also known as TikTok outside China) and Tencent-backed Kuaishou have both leveraged live-streaming as a way to boost e-commerce.
Kuaishou said goods worth more than 100 million yuan were sold via its platform between 28 August and 30 August 2019, adding that videos related to these goods were viewed more than 200 million times during a three-day promotion called "Kaopu Haohuojie", which means "Trustworthy Goods Festival".
It's no surprise, then, that WeChat has its sights set on live streaming as a means of boosting its e-commerce capabilities. As a relative latecomer, though, it has some catching up to do. While live-streaming via WeChat official accounts has been available for some time, the user experience was somewhat clunky, with users having to link up with Tencent Live, a separate platform, in order to make this functionality available.
Last year, however, Tencent was busy beta-testing the integration of live-streaming features into its WeChat mini program platform, and earlier this month it announced this feature would be available to all businesses.
In these times of social distancing, with businesses relying more than ever on e-commerce revenue, WeChat mini program live streaming could be an essential tool to help build and maintain relationships with consumers. So what does WeChat mini program live streaming mean for your business? In this article, we look at what it is, why it's beneficial, how to get started, and how you might integrate it into your digital marketing strategy.
What is WeChat mini program live streaming?
While live streaming on WeChat isn't exactly new, the key difference with this update is the seamless integration with WeChat's mini programs. Rather than relying on another platform to provide live streaming capabilities, as they have done in the past, Tencent's solution is an H5 page embedded in a brand's WeChat mini program. This means viewers can click directly on links in the live-streamed video, which will direct them to the brand's mini program.
This clearly has huge implications for WeChat's – and brands' – e-commerce capabilities. Brands often use mini programs as online stores, where users can complete closed-loop transactions – from browsing, to checking out, to paying for items – all within one app. With seamless live streaming within online stores, brands will now be able to feature their products in a direct and engaging way to consumers, while also allowing viewers to purchase the product immediately via a 'Buy now' button, all without having to leave the store.
What are the benefits of WeChat mini program live streaming?
1. The traffic is entirely yours
The coronavirus crisis has put into sharp relief the importance of "private" (or "owned") traffic – that is, traffic that involves the direct communication between brands and consumers without a heavy reliance on third parties such as social platforms and e-commerce sites. On WeChat, this has included group chats and WeChat moments posts – and now brands can add mini program live streaming to their private traffic arsenal. Not only does this provide a key way for brands to communicate directly with the consumers, but the seamless integration means they can keep this traffic within their own mini program.
2. There is a low barrier to entry
Brands do need to apply to use the mini program live streaming feature, but applications are typically processed quickly, often being approved within a day. Once approved, brands then have access to the mini program live-streaming suite – a raft of easy-to-use tools that make live streaming a breeze, including interactive functions such as liking, sharing, lucky draws, comments and coupons. Depending on your WeChat proficiency, you may be able to start live streaming after as little as a half-hour self-tutorial.
3. Live streaming videos are highly accessible and will likely have a high conversion rate
Just as there are 60+ user access points to WeChat mini programs, there are also many user access points for WeChat mini program live streaming, including:
a subscribe button, so users can easily revisit a mini program live streaming channel
a share button, so users can share links to live streaming videos to WeChat messages, group chats or moments
brands can also share links to a mini program live streaming video via their WeChat official accounts
As mentioned earlier, Taobao has previously reported that one out of every two viewers watching a product-related live stream went on to visit the associated store. While it's obviously very early days for WeChat mini program live streaming, there's no reason not to expect similarly high conversion rates.
How do I start using WeChat mini program live streaming?
At this stage, brands have to be invited to apply for the mini program live streaming capability. Currently, only brands that meet the following criteria will have the opportunity to be invited. Of the following criteria, brands must meet numbers 1, 2 and 3, as well as at least one of the other criteria.
Brands must fit within one of the following categories:
E-commerce platform
Self-operated merchants – general merchandise
Food
Primary edible agricultural products
Alcohol/salt
Books/newspapers/audio/video/movies/games/animation
Accessories of automobiles and/or other means of transport
Apparel/shoes/luggage
Toys/mother and infant products (excluding food)
Household appliances/digital products/mobile phones
Beauty/makeup/skin and hair products
Jewellery/personal accessories/glasses/clocks
Sports/outdoor/musical instruments
Flowers/gardening/handicrafts
Household/home décor/home textiles
Interior and exterior décor of automobiles
Office/stationery
Machinery/electronic parts and devices
There has been no misconduct by the brand's mini program over the past 6 months.
There have been payment activities on the brand's mini program over the past 90 days.
The total number of followers on the brand's WeChat official account is over 100.
The number of daily active users on the brand's mini program is over 100 for 7 consecutive days.
The brand's WeChat advertising investment over the past 12 months is higher than 10,000 yuan.
How do I integrate WeChat mini program live streaming into my digital marketing strategy?
Many brands have already been using WeChat mini program live streaming to successfully attract and engage consumers. Here are just some of the ways you could do the same:
1. Feature your products
One of the most obvious ways to use your new live streaming capabilities is by featuring your products. Many luxury brands already have sales assistants on WeChat who give product sneak peeks to and address direct inquiries from valued customers. Brands could take a similar approach, having someone highly knowledgeable about the products (like an in-store sales assistant) feature them online and field responses and answer questions in real time.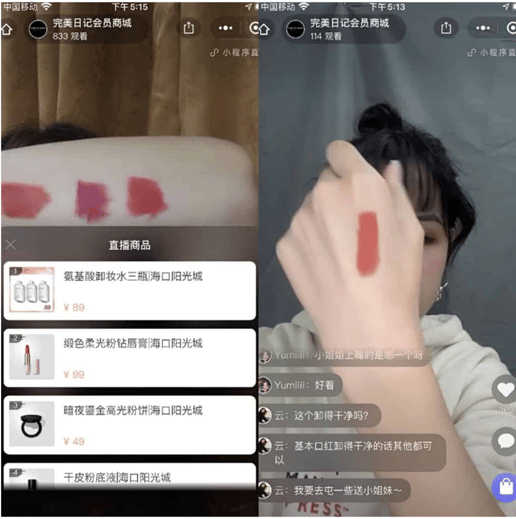 2. Live stream events
With the coronavirus crisis necessitating the shutdown of major events around the world, many are finding new audiences online by live streaming events. Camera Della Moda (National Chamber of Italian Fashion), for example, partnered with Tencent to live stream all of the runway shows during Milan Fashion Week. They even opened the week with a solidarity event called "China, We Are With You", directly targeting Chinese consumers affected by the lockdown. More than 30 brands garnered 16 million views on Tencent Video.
With lockdowns and social distancing likely to put a dampener on public gatherings for at least the next several months, brands will need to think of creative ways to move such events online. WeChat mini program live streaming could be one way to do so.
3. Use KOLs/celebrities
A proven way to spark engagement online is through the use of key opinion leaders (KOLs) or (if your budget allows it) celebrities. This has several benefits:
KOLs will often bring their own highly engaged audiences with them to your channel
KOLs spend a lot of time building close relationships with their followers, so audiences will trust any recommendations or endorsements they make
As professional content creators, they have the skills and personality needed to create interesting and entertaining videos that will captivate your existing audience too.
They do, of course, come with a (sometimes hefty) price, so it's important to weigh the cost with the potential gains.
4. Interact directly with consumers
One key advantage of live streaming is its immediacy, with users consuming the content while you're producing it. Use this immediacy to interact with consumers, by perhaps asking them what they would like to know about your brand or a product and answering their questions in real time, or doing a live demonstration and answering questions about the process as you go.
You could also ask for feedback about new products, helping users feel like they're on the inside track and privy to the latest information.
All of these questions and feedback can of course also be used to gauge customers' preferences and behaviours, which can be applied to future product development.
5. Take advantage of one of the mini program live streaming's functions
Brands can also take advantage of some of the mini program live streaming's functions to further engage users and encourage subscriptions. You could, for example, do a regular lucky draw where one subscriber wins a prize each week, or you could provide discounts or special offers by way of coupons that are only available to live stream viewers or subscribers.
6. Do a mix of the above
None of these techniques have to be done in isolation – in fact, you will probably have more success by combining two or three of these techniques. As this is a relatively new feature, brands will need to experiment with what works best for them.
WeChat may be a latecomer in the live streaming/e-commerce game, but as the biggest social media platform in China, they will be a formidable player. Brands who make the most of mini program live streaming now stand to have a huge advantage over competitors who are late to jump on the trend.
Still trying to wrap your head around WeChat mini programs, let alone mini program live streaming? Our free WeChat mini program webinar will tell you everything you need to know to get your mini program rolling. Download it now.