China's internet usage is the highest at the world, with 731 million people having access to the world wide web. Of that 731 million, a staggering 95% access the internet through their mobile.
What's more: this is only about half of China's total population, meaning there is still plenty of room for growth as more citizens get their hands on a smartphone.
That's why adopting a mobile-first approach should be a key consideration for any businesses looking to reach Chinese consumers. Yet, to get mobile marketing in China right, you need to adapt your approach to the local digital ecosystem. In this blog post, we have summarised key considerations for mobile marketing in China.
Reaching your audience through WeChat marketing
WeChat is an all-in-one mobile application, which allows users to do everything you could imagine, and more. From instant messaging to booking doctor appointments to making purchases in an online store or restaurant, WeChat does it all. It's fair to say that they dominate the social media space in China with over a billion users and controlling 30% of total mobile traffic in China.
Almost three quarters of users are on the app for over 90 minutes a day and 61% visit WeChat at least ten times a day. As the population pays so much attention to WeChat, it's only natural that marketers should too.
To leverage the immense potential of the super app and create successful WeChat marketing campaigns, there first needs to be an understanding to how audiences use and engage with the platform.
WeChat's main goal is to connect users on their social network through instant messaging and moment sharing. In terms of business, WeChat creates avenues to reach followers through one-to-many interactions, providing the opportunity to nurture a consumer from awareness all the way to loyal customer. Brands can also leverage WeChat advertising to reach a wider audience and increase the number of followers on their WeChat official account faster.
The interaction between businesses and their customers on WeChat primarily happens through content marketing. To keep followers engaged, posts should be published on a regular basis and cover each stage of the customer journey.
A 2016 WeChat Impact Report found that useful, interesting or emotionally touching posts were shared most frequently – so when developing your editorial calendar, your posts should address at least one of those criteria to make the most of the potential viral effects WeChat can trigger for your brand.
Integrating social media with your mobile website
Most Chinese consumers access websites through their mobile, usually first learning about them through social media apps like WeChat or Weibo.
Therefore, having a mobile-responsive Chinese website that is integrated with your WeChat account and other social media accounts is a must for a seamless user experience.
A website that lacks mobile optimisation may mean that your traffic generation efforts are a wasted as mobile visitors leave again straight away due to a poor experience.
You can learn more about this in our post on designing a mobile-friendly Chinese website
QR codes and mobile payments
QR codes play a huge role in everyday life in China and are used for pretty much anything – from applying for jobs to being used as business card and promotions. Yet one of the most common applications for QR codes is to allow for easy mobile payments. WeChat Pay and Alipay are the two biggest players in this field and have no doubt driven the adoption of mobile payments by creating a seamless user experience.
China is comfortably the fastest adopter of mobile payments, with US$12.8 trillion worth of mobile transactions made between January and October 2017. And mobile transactions don't just happen within China. They are also the preferred method of payment when overseas, with 91% of Chinese travellers surveyed saying they were more likely to purchase from a retailer if they supported mobile payments.
As a payment form, it is particularly popular with the younger generation who are reluctant to carry any cash and mobile transactions allow for a frictionless purchasing experience.
This means that tourism, hospitality and retail businesses that offer mobile payments are at a clear advantage when it comes to attracting and selling to Chinese consumers abroad.
Mobile-first for SEO
Search engines in China enjoy more competition than in the western world where Google is the dominant player. In China, there are the likes of Baidu, Sogou and Shenma which all generate significant search volume each month.
Interestingly, Shenma is a "mobile-first" search engine which doesn't even facilitate desktop searches.
Shenma reportedly has about 15% of the search market share, emphasising how much Chinese users value mobile search.
Chinese search algorithms do use similar ranking signals to Google even though there are some key differences and optimising for mobile search in China comes with its own set of rules.
The differences between mobile and desktop SEO mainly revolve around the specific and unique user experience expected when browsing through mobile. An effective mobile-responsive design is therefore a must – not only from a user experience perspective, but also to ensure high rankings on mobile search engines.
Learning from China's Fastest Growing App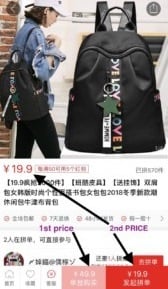 Pinduoduo is still fairly new, but it's China's fastest growing mobile app with over 300 million active buyers.
The app has grown rapidly as people are lured by the inexpensive prices available in high quantities, which has made the app particularly successful in third tier cities. In fact, being laser focused on this target audience is why Pinduoduo has been able to grow so quickly.
More generally, Pinduoduo illustrates a purchasing behaviour that is uniquely Chinese. Users are happy to share brands and products with their groups to achieve a greater benefit for themselves – another strategic consideration for your approach to mobile marketing in China.
Source: DMB-Shanghai