For a while, video live streaming seemed to go from strength to strength, as more users tuned into live videos, and more live streamers and platforms attempted to capitalise on its rising popularity. Then it seemed like the trend had reached its peak – with the market saturated, numbers in 2018 started to decline slightly.
Then COVID-19 hit.
It's no wonder that, with people confined to their homes and more businesses moving online, video live streaming has become an integral means of being entertained and getting some degree of personal connection. According to iiMedia Research, the total number of video live streaming users in China is projected to reach 526 million this year, up from 504 million in 2019. Taobao said the number of new merchants using the site's livestreaming platform surged by more than eight times in one month – from January to February – while transactions grew more than 160% year-over-year in March. Even as the lockdown in China has eased, its popularity remains at an all-time high.
So how can you incorporate video live streaming into your China marketing strategy? In this article, we'll take a closer look at some of the biggest players in market, and how you might be able to incorporate video live streaming at various stages of the sales funnel.
Key video live streaming platforms for brands in China
In late 2016 and early 2017 there were over 200 mobile apps in China that had live streaming features, and there are likely many more than that now. With so many platforms competing for users' attention, it can be difficult to work out where to focus your video live streaming efforts. Here are some of the key platforms you should be aware of:
Taobao Live
Taobao Live is the video live streaming arm of e-commerce giant Alibaba, which users can access within Alibaba retail apps Taobao and Tmall. With Taobao Live, users can browse and shop while watching hosts review and recommend products – think QVC or the shopping segments on breakfast TV programs. If users decide to click a link in a video to a product page, the live-stream video continues playing in the corner of the screen, so users don't miss a second. Its slogan: "See now, buy now".
An early adopter and now indisputable leader in the e-commerce video live streaming space, Taobao Live continues to dominate. According to Taobao Live's latest figures, the gross merchandise volume generated by the platform grew by 150% per year for three years in a row. By the end of 2019, consumers were spending over 350,000 hours each day combined watching programs on the platform. Meanwhile, newly registered livestreaming accounts nearly doubled year-on-year in 2019.
And Taobao Live shows no signs of slowing. In response to the COVID-19 lockdown, Taobao Live removed barriers and waived service fees for brick-and-mortar merchants to join its platform. As a result, the number of merchants using Taobao Live for the first time increased by 719% compared to the previous month.
That means, of course, that is an extremely crowded marketplace. Taobao hosts more than 4,000 live streamers, who generate 150,000 hours of content daily. Potential buyers watching these live streams can select from more than 600,000 products every day. Trying to be heard above this noise, therefore, could be a challenge for lesser-known brands. That being said, unlike entertainment platforms like Douyin and Kuaishou, users on Taobao Live are there to shop, so they will likely be far more receptive to brand messaging.
Taobao Live is doing all they can to keep their number-one spot in the live-streaming e-commerce market, recently announcing new features to enhance services for livestream hosts on the platform, including personalised operations support and new digital technologies, such as 5G and AR-powered features, as well as short videos and audience analytics to help hosts better engage their followers.
Douyin
Having taken China, and then the world, by storm, Douyin (known in the West as TikTok) is China's hottest short video app, with more than 400 million daily users. Live streaming is a relatively small but steadily growing element of the platform, and COVID-19 has made the feature even more popular, as people look for ways to occupy themselves during the downtime. According to a report by QuestMobile, livestreaming consumed 28.2% of Douyin's traffic in February, up from 24% in January.
Live streaming is not a feature open to all users, however – a user has to have at least 10,000 followers to unlock the feature. Live-stream videos are also less accessible to users, who have to dig into the 'Following' tab in order to find them.
Douyin is looking to take on Taobao Live in the live streaming e-commerce space – according to a survey of 5333 users by the Consumer Association, 70% said they used Taobao for shopping, while Douyin was the second-most-preferred platform, at 57.8%. Douyin is disadvantaged, though, in that its e-commerce capabilities are not quite as seamless as its competitors. While on Douyin users can include e-commerce links and product banners in their videos, and they can have product pages within the app, to complete the transaction, users need to be directed to another retailer, whether that's Taobao, Tmall or JD.com. By contrast, on Taobao Live and, as of recently, Kuaishou, users are able to complete the transaction and purchase products within the app.
That being said, Douyin are clearly looking to improve their e-commerce capabilities, and their huge userbase make them a formidable player. Almost half their userbase is also from Tier 1 and 2 cities, so if this is where your target demographic lives, you should certainly consider adding this platform to your marketing strategy.
Kuaishou
Kuaishou is Douyin's biggest rival in China, with 300 million daily active users, compared with Douyin's 400 million. Already, 20 billion videos have been uploaded to Kuaishou, making it the largest short-video content platform by the number of videos in the world.
Like Douyin, Kuaishou is a short-video app, though its userbase differs to Douyin in that it is more popular in lower-tier cities, small towns and rural villages, with only 10% of its userbase coming from Tier 1 cities.
Another key difference is the way in which the platforms push content to users. Douyin prioritises virality, meaning that 80–90% of the content Douyin users see is popular content from unknown accounts, recommended by its algorithms. Kuaishou, however, is more focused on building relationships, with 40–50% of the content users see being from accounts the user is already following. This means content is less skewed towards KOLs with the largest number of followers, giving users and smaller KOLs a better chance of being seen and going viral.
They also have much more live-streaming content in its Local Content section (50% compared to Douyin's 25%), with the top-ranking videos not necessarily being the most-popular ones – you may find yourself in a live stream with only 5 other viewers, allowing to engage with the host on a much more personal level.
This relationship-building has been shown to translate to sales – according to a report by Frees Fund, Kuaishou's e-commerce conversion rate is 5 to 10 times higher than Douyin's, and that's likely because customers feel more connected to the sellers on the other side of the screen. That's not to say all products will do well on Kuaishou – the top 3 categories of products sold on the platform are low-price cosmetics, clothing and food.
Recently, Kuaishou have also announced a strategic partnership with JD.com, allowing Kuaishou users to purchase JD products without having to leave the app. This is a big leap from Kuaishou's previous arrangements with retailers, in which users would be redirected to the e-commerce apps to complete the transaction, and signals a huge expansion of their e-commerce capabilities. Though it currently trails behind Taobao Live and Douyin in terms of live-streaming e-commerce market share, it is definitely one to watch.
WeChat
Earlier this year, WeChat integrated video live streaming features into its mini program platform and made this feature available to all businesses. This integration means viewers can click directly on links in the live-streamed video, which will direct them to the brand's mini program – not dissimilarly to Taobao Live. Though WeChat are relative latecomers to the live-streaming game, their enormous userbase makes them serious contenders. There may also be scope for brands who jump early on the trend to gain a bigger following quickly due to the relative lack of competition.
Enhanced e-commerce capabilities:

Brands often use mini programs as online stores, which means that users will be able to watch a video, click on a 'Buy now' link and purchase a product all without ever having to leave WeChat.

Lots of entry points:

There are 60+ user access points to mini programs, and several for mini program live-streamed videos too – users can subscribe, so they can easily revisit a channel; users can share the links to live-streaming videos through direct messages, group chats or Moments posts; and brands can share the links through their official account too.

An existing follower base: Most brands looking to enter the Chinese market will have a WeChat account (and if you don't, you should), which means there's an existing follower base on which you can build. Experimenting with new platforms often means starting from scratch.
Other players to watch
While these four are some of the biggest players in the game, there are other live streaming platforms that are also worth keeping an eye on. Here's some you should be paying attention to:
Pinduoduo: An e-commerce platform that became the fastest-growing app in China's history due to its "group buy" model, Pinduoduo is looking to video live streaming to help grow its market share. In January 2020, they launched a live streaming tool called Duoduo Livestreaming, allowing users to become live streaming "partners" to promote goods on the platform, and earn themselves a commission in the process. Though their userbase is largely from Tier 3 and lower cities, there are signs Pinduoduo is looking to target users in Tier 1 and 2 cities by investing heavily in cross-border e-commerce. There could potentially be a chance for sellers to benefit from superior commercial terms as Pinduoduo tries to attract international brands to its platform.
JD Live: Like Taobao, Tencent-backed JD.com pioneered the combination of live streaming and e-commerce, though in recent years they have been well and truly outstripped by Alibaba's Taobao in terms of sales. Last Singles' Day, for example, Alibaba captured 66% of sales, while JD.com had a share of 17%. JD Live works very similarly to Taobao Live, allowing a seamless integration of video live streaming and e-commerce.
Baidu: In May 2020, tech giant Baidu announced they would be investing $70.3 million into the live-streaming sector. Though it lags quite far behind rivals like Douyin and Kuaishou, they hope to catch up by using data from its search engine to better target consumers. Watch this space.
How to incorporate video live streaming into your China marketing strategy
Looking for ways to incorporate video live streaming into your China marketing strategy? Here are just some of things you can do:
1. Showcase your product
One reason shoppers love video live streaming is the sense of trust and authenticity they get from it. There is a proliferation of fake and poor-quality goods in China, and unscrupulous sellers have even been known to find stock photos online and pass these off as items for sale. With video live streaming, however, shoppers can feel confident they're getting what they pay for.

Brands can use video live streaming to demonstrate how the product should be used, and show the results in real time, so customers have no qualms about pressing the "Buy now" button.

And don't be afraid to have a bit of fun with it too, particularly if you're on a platform like Douyin or Kuaishou, which is more geared towards entertainment than commerce. These farmers, for example, are showing off how fresh their produce is while making users laugh at the same time.
2. Turn sales assistants into live streaming hosts
In the wake of COVID-19, you may have had to suspend or let go of many of your sales staff, losing years of expertise about your products in the process?
Instead, why not leverage that expertise and turn your sales staff into live-streaming hosts?
That's exactly what Chinese shoe retailer Red Dragonfly did. After being forced to close almost all of their 4000 stores, they had to take their operations digital, and trained all their employees on how to sell products online. On 8 March, the brand broadcasted a live-stream session, featuring its founder Qian Jinbo, which drew over 435,300 views and helped boost its flagship stores' sales by 114% year-over-year. It also enlisted about 100 shop attendants to stream to consumers during the campaign. This proved to be such a success that the brand mobilised nearly 1000 stores for another live-stream campaign in April.
3. Get product feedback
Westerners tend to think of live-streamed videos as being akin to webinars, where the host talks to viewers without interruption, then perhaps invites questions at the end. But when you watch a video from a Chinese live streamer, you'll see it is far more interactive, with the hosts continuously reading viewers' comments and responding to their questions.

This real-time dialogue with customers can be highly beneficial to brands, allowing them to solicit honest opinions and feedback, and gauge exactly what consumers are looking for in their product.

Zhang Dayi, one of the most business-savvy KOLs in China, does this to great effect. For her clothing business, Ruhan, she uses live-stream videos to dress in different outfits and get fans to vote on which items they like best. She also asks them which materials they prefer and what price they'd be willing to pay. All this information is collated to figure out exactly which items will be most profitable to her business.

In this video, you can see how the Chufei Churan Twins, who are regulars on Taobao Live, continuously interact with their viewers and answer questions about the products they're using.

4. Partner with KOLs
One of the fastest ways to get traction with video live streaming is to partner with a KOL with a significant following.
Viya is the top-ranked live streamer on Taobao, with nearly 6.5 million followers. In October 2019, she broke her own sales record, driving US$49.7 million (35 million RMB) in Taobao sales in a single day.
A few months prior, Viya visited New Zealand to promote a selection of trusted New Zealand products. In just over 4 hours, she sold US$20 million (137 million RMB) worth of goods, facilitating the sales of tens of millions of products from more than 40 New Zealand and Australian brands. One of the 40 brands, Richora Honey, said that thanks to Viya, 377,000 units of Richora products were sold during her live stream – with 10,000 units sold in the first 5 seconds.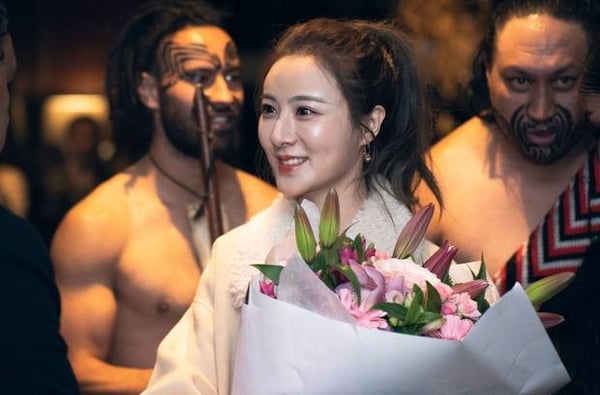 This example shows the power that KOLs can have – though be aware that using KOLs can be quite an expensive tactic.
5. Replicate offline events online
Even though COVID-19 restrictions are easing in many places, people still have to exercise caution when they go out, and large offline events and gatherings will likely be off the cards for a while. Video live streaming is a great way to take events, such as product launches or open days, online.
JD Live, for example, decided to take the nightlife into people's homes with their "online clubbing" initiative. Partnering with multiple international liquor brands including Budweiser, Remy Martin, Carlsberg and Pernod Ricard, JD invites musicians and DJs to perform on live-streamed videos, while also getting sellers to spruik different kinds of liquors. The show typically lasts around three hours, during which shoppers are able to purchase the corresponding products directly from the live-streaming page.
"Forty-five brands joined the first 'online clubbing', but by the third show, there were over 200 brands joined," said Guowei Zhang, head of JD Live. "We now host such shows twice a week, and the schedule has been booked by brands to August."
6. Tap into gamification
On platforms where you're competing with thousands of other live streamers at the same time, brands have to do everything they can to engage users, and gamification can be a great way to keep viewers tuned in. Live-streaming hosts can employ a range of rewards, discount battles and play-along games to connect with consumers and influence their shopping behaviour.