China's super app WeChat is continuing to make waves in Western media. The life-encompassing nature of its features such as making payments, ordering taxis, catching up with news and connecting with friends and family have firmly established WeChat as a social media platform that's unlike anything else in the world.
The New York Times recognised the game-changing potential of WeChat in 2016 and dedicated a now famous video feature to it. What's a little less well-known is that the paper also maintains its own WeChat official account. With over 889 million active monthly users at the end of 2016, there's no doubt that the platform is full of potential for international brands and organisations looking to market to Chinese consumers - both inside and outside of China. This post explores how to reach, engage with and sell to your target audience on WeChat.
Here are the five main ways to attract Chinese consumers:
Set up and optimise your WeChat official account for a seamless user experience

Understand WeChat user demographics and behaviour

Share quality and useful content
Grow WeChat user base with H5 games and Key Opinion Leaders (KOLs)
Target consumers through WeChat ads
Optimise your WeChat account for a seamless user experience
Before you add the social media channel to your China digital marketing mix, it's important to get an overview of WeChat's different features and account types to ensure you can leverage it to your full advantage. Once you have your account ready, you can create a personalised navigation bar (this is what we call the WeChat menu) to link to your official Chinese website.
Your official website and official WeChat account are the most important digital assets for your brand in China. You want your website to be mobile responsive and integrated with your WeChat account to provide a seamless customer experiences. The image below shows how L'Oréal Paris masters the user transition from WeChat to their own website seamlessly.

Understand WeChat user demographics and behaviour
To run an effective campaign, you also need to develop an understanding of the WeChat user demographic and their typical behaviour. According to WeChat's 2016 data report, 55% of all WeChat users are male, 45% are female. Most users are between 22-54 years old which is the age group driving China's growth in consumption.

In 2016, 35% percent of all WeChat users spent over four hours in their WeChat App every day. The number is expected to be even higher now.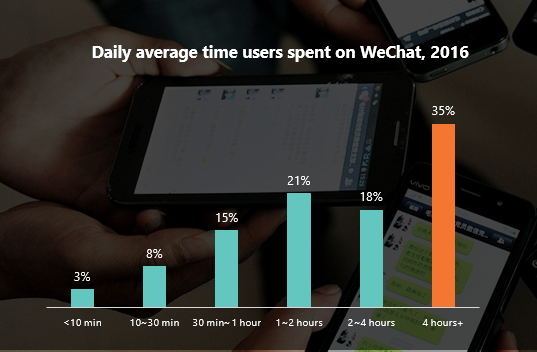 For marketers, this level of attention to one single medium is of immense value – that is if they understand how users prefer to spend their time on the platform. The favourite WeChat activity remains browsing and posting on WeChat moment. 84% of users spend time with this feature several times per day. This activity is closely followed by sharing information with friends and reading articles on public accounts.
This behaviour pattern shows that content consumption and social sharing is still one of the key function for this app. Social media listening should therefore be a key objective for marketers - to ensure that your business effectively manages and protects their online reputation in China.
Share quality and useful content
With over 10 million official WeChat accounts in 2016, users have a lot of content to choose from. To achieve cut-through and engagement, the most important rule of WeChat content creation is to make it useful and high quality. Otherwise you are running at risk at losing followers to your service account or people will simply stop opening your subscription account.

What's more, investing in quality content will also increase your chance of reaching a wider audience due to the viral effects of the platform. In fact, a recent WeChat survey found that 'useful' was the number one factor making users share articles.
Visual content - such as WeChat posters - is also highly popular and is likely to lead to better follower engagement. Below are some examples of WeChat posters Sinorbis has designed for a theme park. Don't be afraid to use bright colours and cute designs to appeal to Chinese creative preferences.

Regarding the timing of your posts, 11am to 1pm and 6pm to 10pm are considered the best time to post WeChat articles. However, we do recommend for brands to do their own testing around this as the most effective times for posting may vary depending on your target audience and the type of product or service you're offering.
Grow WeChat user base with H5 games and Key Opinion Leaders (KOLs)
As with social media marketing in the West, simply opening an account and having good content is not enough to drive effective brand awareness and boost follower numbers for your WeChat account. You need to run a follower acquisition campaign, which typically consists of two elements: a H5 page and KOLs.
The H5 format is a HTML5 page build inside WeChat. These types of pages are usually very visual and enable user interaction through gamification. Incentives can work well to further increase WeChat user participation. The screenshot below shows an example of a popular H5 game during the Chinese New Year. This simple flash-style game challenges you to score as many points as possible by helping a chicken jump from one platform to the next. It's a basic principle, but extremely addictive.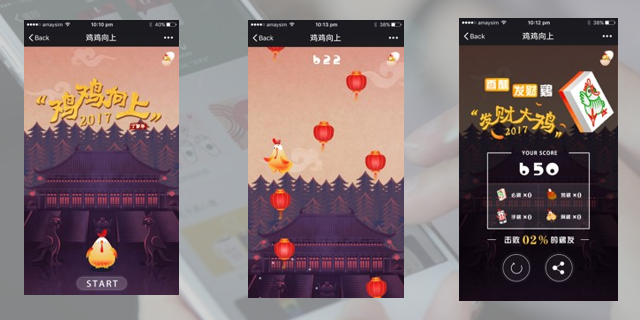 No matter what kind of product or services you're offering, KOLs can be a great way to attract Chinese consumers. KOLs exist in every niche market. For instance, there are diversified KOLs who have usually come to fame online and tend to be highly entertaining. Celebrity KOLs work a lot in cooperation with brands while industry KOLs share their professional or in-depth knowledge on subjects such as fashion, technology and much more. Community KOLs have built a highly engaged follower base around a specific theme. So, how do you work with them?
Advertorials (or native advertising) are the most common way to promote your brand via WeChat KOLs. For this, KOLs write articles in their usual style, focusing on the product within a larger feature or just a review of the one product featuring lots of images. For many brands, this is the most straightforward option to introduce their products or services to Chinese consumers. Many WeChat KOLs are experts in their field and produce informative and reliable product reviews and comparisons so their followers consider them trustworthy.
Campaigns structured around the principle of user-generated content have huge influence and can lead to a big boost in brand awareness in China. However, it can be difficult to get users to actively participate and contribute high quality content, especially if your brand is still new to the market. KOLs can leverage their influence to increase user participation within the audience segment you're trying to reach.
KOLs can also work with brands to directly boost sales. For this, they'd create sponsored content and add purchasing links in the articles, so users can buy the product immediately with a few clicks.
Target consumers through WeChat ads
There are two type of WeChat ads:
Moments ads are native display ads that appear seamlessly in a user's feed alongside other user generated content, enabling a non-disruptive experience. Moments ads support both banner and video formats and WeChat users and their family and friends can interact with the ads through likes and comments.
WeChat banner ads will display at the bottom of the article, allowing users to a click and redirect to an external URL, follow your official account or download an app.
Like Facebook ads, WeChat gives you different targeting options for advertising. You can select labels for different demographics such as age, income, gender and location, but also a user's network, interest and behaviours. This year WeChat has also added a label enabling you to target Chinese outbound traveller coming to Australia, which means that it's now easier than ever before to reach Chinese outbound travellers via WeChat ads.
Want to set up your brand on WeChat, but are not sure where to start or how to develop a campaign that will attract Chinese consumers? Get in touch for an informal chat to learn how we can help you leverage China's super app.