There's no denying it's been a tough year – and we're only halfway through.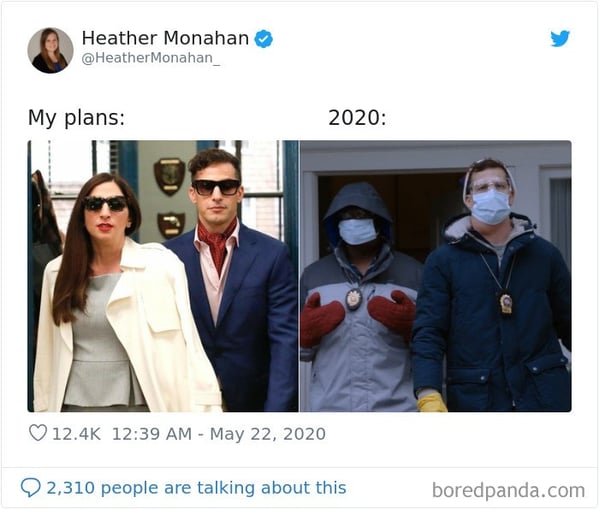 Hopefully some of our coronavirus-related content (see here, here, and here, for example) has been helpful, but we appreciate it can be a bit of a downer to be confronted by doom and gloom all the time.
That's why we decided to scour the net to find some of the positive, funny and surprising ways digital China has responded to the coronavirus crisis. Enjoy!
Can't go outside? Just dance
With millions of Chinese suddenly confined to their homes, people have been forced to find creative ways to stay active, fight boredom and connect socially. And for many, the solution was dancing.
Livestreamed dance classes have surged in popularity, with many people finding that dancing isn't just a fun way to pass the time but also a great stress reliever.
The Chinese swing community banded together to create this delightful video, to the tune of 'On the sunny side of the street', featuring dancers from all over China and the world performing a swing routine from the safety of their homes. The video clearly struck a chord, and went viral internationally.
Venues have also jumped on the trend, with nightclubs livestreaming DJ sets on video platforms like Douyin, allowing at-home clubbers to participate in 'cloud raves'. These have proven to be extremely popular – according to Vice, almost 2.3 million people tuned into Beijing club SIR TEEN's cloud rave on 10 February, with more than 100,000 viewers joining within the first 30 minutes.
It's not surprising, therefore, that Douyin (known overseas as TikTok) dance challenges have been another extremely popular way to pass the time. Some recent challenges include #danceAwesome, based on a dance video by Kpop group BlackPink; #anysongchallenge, using music from Zico's 'Any Song'; and #babyshark, using earworm 'Baby Shark'.

Tradition goes high-tech
The Qingming Festival, or Tomb-Sweeping Day, is one of the most important days in the Chinese calendar, where people commemorate their loved ones who have passed.
Typically, people pay their respects by visiting their ancestors' graves and cleaning the gravesites and burning items like joss sticks and paper offerings as a means of transmitting money and other goods to the afterlife.
But during this year's Qingming festival, in early April, as China battled to control the coronavirus outbreak, the government advised people to stay away from cemeteries and maintain social distancing. This made paying respects in the usual ways simply out of the question.
In light of these restrictions, many companies and burial grounds have turned to technology as a means of allowing people to pay their respects, taking centuries-old traditions digital. The site Heavenly Cemetery, for example, provides 'cloud tomb sweeping', where people can virtually clean graves, make offerings (including money, Chinese rice wine and beer) and create memorial halls that friends and family can join.
Some burial spots also offered livestreamed tomb-cleaning, where a staff member films themselves physically cleaning the tomb so that friends and family can watch.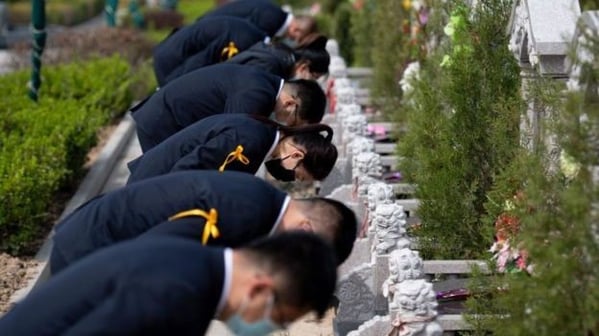 Cemetery staff perform a tomb-sweeping ceremony on behalf of customers
This is one just example of the ways in which people can use technology in highly innovative and surprising ways – even in circumstances you would never expect.
All dressed up with nowhere to go
On 20 March, Nintendo released its widely anticipated Switch console game Animal Crossing: New Horizons, where players can escape to a deserted island and create their own paradise. With so many people feeling trapped at home, it's no wonder this game has become extremely popular, with the Switch console selling out days after its release.
The popularity of the game is in large part due to how customisable it is. Players create everything from buildings, to tools, to memorabilia, to, of course, fashion. It's perhaps not surprising that, with very few places to go, and little need to dress up in real life, people are turning to Animal Crossing to scratch their fashion itch.
Users began creating luxury fashion replicas, designing outfits sporting well-known logos like Fendi's FF, Chanel's CC and Louis Vuitton's LV monograms.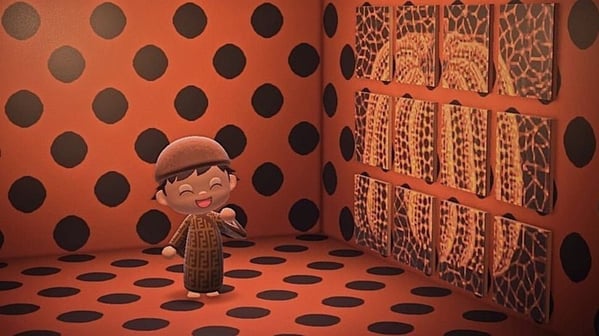 Fendi logo on Animal Crossing. Photo: @animalcrossingfashionarchive/Instagram
As these designs started flooding social media, fashion brands decided to get in on the trend. Net-a-Porter partnered with an impressive line of contemporary Chinese fashion designers, including Shushu/Tong, Calvin Luo and Short Sentence, to create avatar skins inspired by their spring/summer 2020 collections, available to buy via Tmall.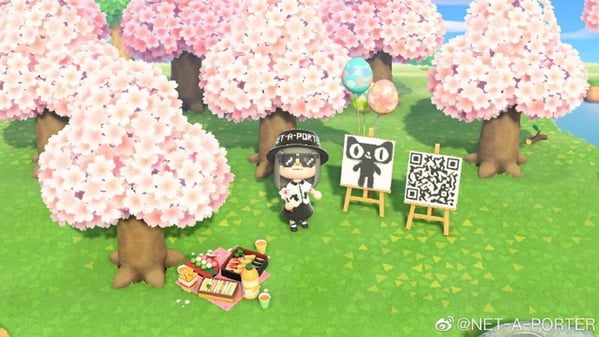 Net-a-Porter on Animal Crossing
While this intersection between fashion and gaming isn't new – in October 2019, Louis Vuitton designed an avatar skin for multiplayer online battle game League of Legends – it's another example of how businesses have found creative ways to reach users during the COVID-19 crisis.
Are virtual KOLs the wave of the future?
While selling products via livestreaming is nothing new in China, with everyone from celebrities to tech founders and news anchors all trying their hand at it, Tmall have decided totake it a step further. On 1 May, they introduced two of China's most popular anime idols, Luo Tianyi and Yuezheng Ling, to a livestreaming e-commerce event, reportedly attracting 2.7 million viewers.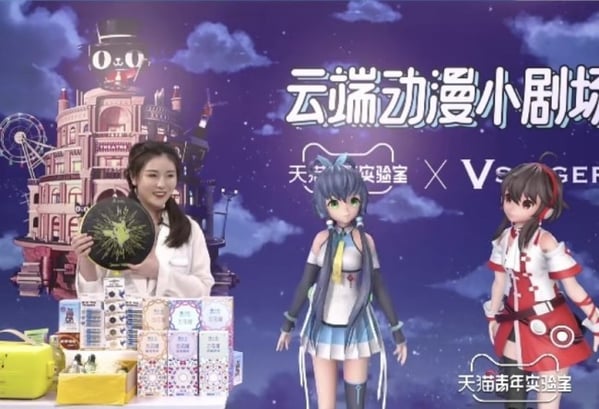 Virtual singers Luo Tianyi and Yuezheng Ling help sell a Pikachu-themed rice cooker
During the session, which lasted roughly an hour, the anime singers helped a human livestreamer describe products like coloured contact lenses, electric cookers and body wash. While the viewer numbers weren't too shabby, they pale in comparison to other livestream events with high-profile influencers – in the previous month, for example, tech personality Luo Yonghao drew in 48 million viewers. Still, it's certainly an interesting experiment, with virtual KOLs potentially giving brands far more control over their messaging.
What better way to say 'I love you' than with ... a vaccine?
Valentine's Day is not the only day for lovers in China. A relatively recent invention, 20 May has become another day for people to express their love. This is because the numerals 520 (wu er ling) is phonetically similar to the phrase 'I love you' in Mandarin (wo ai ni).
Though the holiday is unofficial, many brands and companies have been taking advantage of it, using the opportunity to promote flowers and romantic dinners.
Some, though, have been promoting less conventional fare.
Social e-commerce company Pinduoduo is offering discounted vaccine packages to protect users against the human papillomavirus (HPV) – a common sexually transmitted infection that can cause cervical cancer – in 30 cities, including Beijing, Shanghai, Guangzhou and Shenzhen.
'We can't think of a better show of love than to want your loved ones to be in the best of health,' a Pinduoduo spokeswoman said. 'On this day, as we celebrate love, we also want to raise awareness of cervical cancer by providing information from qualified medical experts and by making the HPV vaccine more affordable and accessible to all.'
In other love-related news, couples in Xian will soon be able to register their marriages by scanning their faces. By the end of September, all marriage registries in Xian will have automated AI-powered terminals where couples can obtain their marriage certificates by scanning their faces or identification card, making the whole registration process entirely electronic. As well as improving efficiency and eliminating errors, this will also help to reduce human-to-human contact, thereby helping to prevent the spread of COVID-19.
Keep calm and carry on
These stories largely reflect the ingenuity and resilience of human beings, with China finding innovative digital solutions to connect with their customers and each other.
We hope they will inspire you to flex your own creative muscles and find interesting and positive ways to reach out to your China customer base using digital marketing.