Snapshot

Learn how Sinorbis helped the University of Tasmania (UTAS) transform their digital marketing presence in China and assisted lifting Chinese student recruitment by 44% in just one year.
UTAS Digital Marketing Challenge in China
When it comes to marketing, UTAS has long adopted a digital mindset. "Our attitude is web first, everything else next", says International Manager of Marketing and Communications, George Hernandez. That's why the need for a stronger direct channel in China was immediately clear to him when the university announced their ambitious goal of doubling Chinese student intake by 2018.
In 2014, UTAS was in a unique position of heightened brand awareness due to president Xi Jinping's visit to the university during the G20 Summit. However, they required a Chinese website that could successfully convince curious visitors to submit an application and accept a place at one of Australia's oldest learning institutions. "We needed a website that is hosted in China so we can present our brand better there. But we wanted to stay in control of our brand, because no one else can manage this", explains George.
UTAS needed a partner to help them implement their vision effectively and efficiently. "Sinorbis didn't only have the digital marketing expertise, but also experience in international student recruitment which helped a lot in the process," says George.
Together UTAS and Sinorbis set out to transform a passable Chinese web presence into a digital destination that delivers tangible results.
Making first impressions count
When it comes to selecting an international university, the study destination is just as important as the course offering itself. That's why Sinorbis placed great emphasis on creating a bespoke and inspirational website for UTAS that would do justice to the beautiful sandstone campus, modern facilities and Tasmania's unparalleled natural environment.
The former text heavy original website was replaced with a highly visual experience featuring imagery that would help prospective students picture their life at UTAS.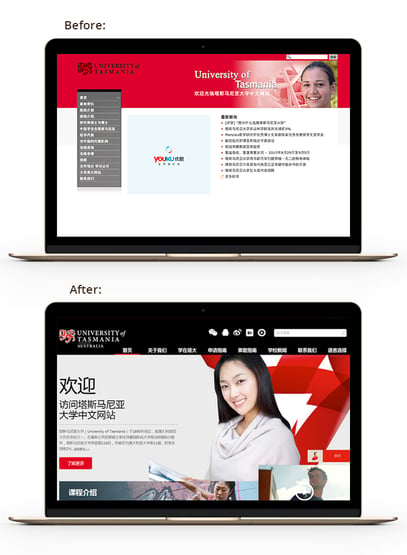 What's more, engaging digital content formats such as videos and 360 degree panoramic pictures allow for a truly immersive online experience.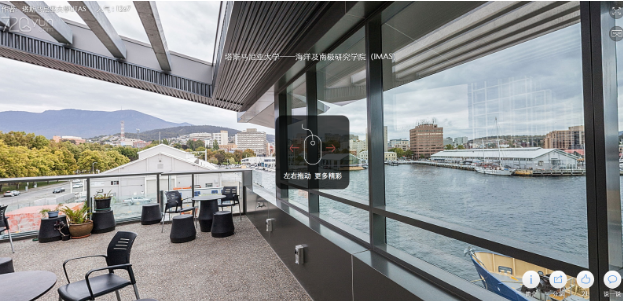 Creating a seamless user experience
Sinorbis reviewed and revised the structure of UTAS' website in light of the complete Chinese student recruitment journey to ensure prospective students and their parents could easily find information relevant to their stage in the decision making process.
The site navigation was simplified from a long sidebar menu to a concise horizontal text based menu that helps the user click to the right website page at a glance. In addition to this, website pages have been grouped and named with specific goals in mind so that users could easily dive into interest areas such as offered courses, admission guides and information about Tasmania as a study destination. In light of ever decreasing attention spans of digital consumers worldwide, making the navigation as intuitive as possible is paramount for effective conversion.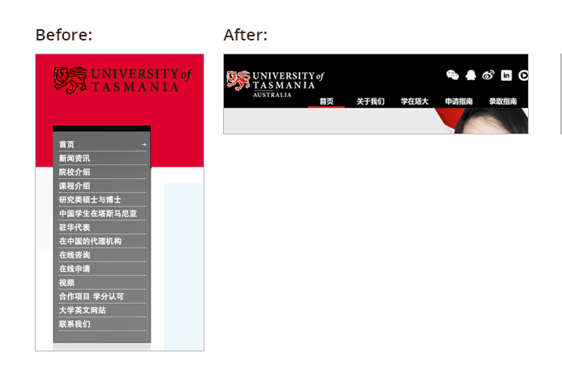 Focus on audience engagement
Deciding on an international study destination is a big life decision for Chinese students with long term implications for their career prospects. UTAS' new Chinese website allows prospective students to make their decision with confidence due to highly engaging content that addresses their needs and pain points. It features alumni stories, answers relevant questions about campus life and the cost of living, and integrates with social media channels such as Weibo.
Live chat functionality means that website visitors can get their questions answered much quicker than through traditional contact request forms.
Mobile-friendly design
As smartphone penetration among consumers in China continues to grow and play an increasingly important role in the decision making process, creating a mobile-responsive website was a must for UTAS.
Features such as a hamburger menu and visually-clear, distinguished CTA buttons ensure a pleasant mobile browsing experience that's easy on the eye - and the thumbs.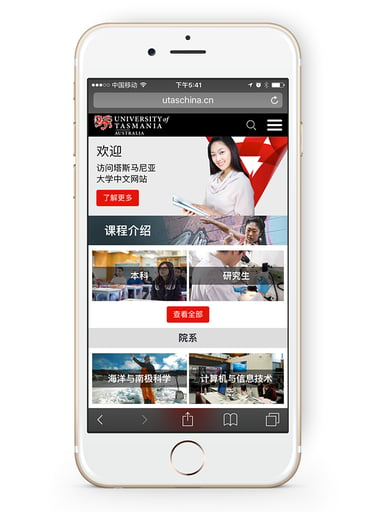 Developed with the Chinese digital ecosystem in mind
Creating a beautifully designed website is one thing, ensuring that it attracts relevant traffic and is optimised for conversion is quite another.
UTAS' new website has been developed with the Chinese digital ecosystem in mind. Sinorbis incorporated on- and off-page optimisation so that it can be effectively crawled and indexed by Baidu, Sogou and 360, China's most popular search engines. Accessible links to UTAS' WeChat, Weibo, QQ and Youku accounts make it easy for Chinese visitors to follow UTAS on their favourite Chinese social media platform, keeping the brand front of mind throughout the entire student recruitment journey from awareness right through to advocacy.
UTAS on track to reaching their recruitment goals
Over the course of 12 months, the new website delivered impressive results for UTAS through organic traffic alone.
During the period 25 October 2015 to 9 October 2016 the new website resulted in +45% increase in sessions, -62% bounce rate, +100% average session duration, and +64% pages per session.
More importantly, the number of commencing onshore international students rose by 44% in 2016, meaning that they are well on track to reach their goal of doubling their intake by 2018. Given the success of the website relaunch, UTAS is continuing to look into other digital marketing opportunities - such as PPC - with Sinorbis to further grow UTAS' brand in China and further increase Chinese student recruitment.