Recently, we were lucky enough to receive a visit from Silvia Zeng, Tencent's Senior Business Development Manager for New Markets. Silvia was kind enough to spend some time giving us a comprehensive overview of the Tencent ecosystem and how education marketers can get the most out of Tencent advertising to reach Chinese international students.
This webinar is absolutely chock full of useful information, so we highly recommend taking an hour out of your day to check it out. In the meantime, though, we've condensed her most important points into this post for you to easily refer back to any time you like.
Introduction to the Tencent ecosystem
One of the largest companies in China, Tencent has a ubiquitous presence across several internet verticals. Their ecosystem encapsulates social networking, entertainment, information, software and tools, and lifestyle and everyday services, meaning Tencent plays an integral role in the lives of the average Chinese user. In fact, Chinese users spend over 47% of their mobile internet usage on Tencent products.

Because of Tencent's penetration, they have access to an unprecedented amount of user data, which marketers can in turn use to make ad targeting as accurate as possible.
The other thing to understand about the ecosystem is that it is highly connected. Via Tencent's flagship products, social media behemoths WeChat and QQ, users are able to access entertainment products such as QQ Video and QQ Music, news products like Tencent News and payment services like WeChat Pay, all without ever leaving the platforms. Tencent therefore has an unmatched insight into user transactions, and how these transactions contribute to the overall customer journey.
WeChat, QQ and other products in Tencent's ecosystem
Most would be familiar with Tencent's biggest product, WeChat. With over 1.1 billion active users, WeChat is China's most popular social media platform, with 50% of users spending more than 90 minutes a day on the platform. Of those users, says Zeng, around 65% were born in the 1980s and 1990s, making it a key platform for reaching university-age students.
One of the most important features relevant to education providers is WeChat official accounts, which Zeng describes as a powerful "marketing or CRM window" that can deliver messaging and updates directly to followers. It's therefore critical for education marketers hoping to reach Chinese international students to ensure their official accounts are properly set up and verified. It's also important to note that, unlike Facebook, followers are unable to see how many followers an account has, but they can see how many of their friends follow that account. In this way, followers can often spread through networks.
QQ is another major social networking platform under the Tencent umbrella. While it doesn't have quite as many users as WeChat, its userbase is still significant, with 807 million monthly active users, and a 90% penetration rate in China's Tier 1–4 cities. QQ is China's no. 1 instant messenger app, and is particularly popular among youth – 58% of users are 18–29 years old. Qzone is a popular social feed within the QQ platform, with 650 million monthly active users, 69% of whom are between 26–35 years old, making this another key platform for education providers wishing to communicate with postgraduate students. QQ Browser is also China's no. 1 mobile browser, with 280 million monthly active users, who on average open the browser 8 times and spend 37 minutes a day on it.
Other key products in Tencent's ecosystem that education marketers in particular should be aware of are Tencent Video and Tencent News. With 72% of Tencent News's users having a degree in higher education, these are key platforms for reaching students' parents.
Tencent advertising: targeting
There are three types of users universities can target on the Tencent ecosystem:
Inbound
Users in mainland China
Outbound
Chinese users travelling overseas
Local
Chinese residents in your region, including Australia and New Zealand
This means you can use Tencent advertising to target prospective students and alumni living in China, prospective students travelling overseas to visit educational institutions, and current students already enrolled at your institution.
Tencent's single user ID system also means they are able to capture data about user behaviours across the entire platform, from their browser history, to the articles they read on WeChat, to the types of apps they install, to the way they interact with those apps. With this data, Tencent is able to build highly accurate profiles of users, which advertisers are able to target. Tencent's targeting options are so precise that universities are even able to target students who have shown an interest in international education.
Here are just a few targeting options available to advertisers:

(Note, Interests relates more to users' long-term behaviours, while Behaviour is based on the way users have been interacting with the platform for the last 1–2 months.)
There are also advanced targeting options available to education providers looking to target inbound users:

Targeting users throughout the student journey
As you can see, Tencent's targeting capabilities are extremely powerful, meaning you can also precisely target users at each stage of the student journey:
Awareness
Prospective students begin to explore the option of overseas study, and becoming aware of your institution
Engagement/Familiarity
Prospective students start following and showing sustained interest in your institution
Conversion
Students apply and enrol in your institution
Advocacy
Students and alumni endorse your institution
Here's how Zeng suggests institutions use Tencent's advertising features to target users at each stage of their journey.
Awareness
Moments ads
One of the best tools for targeting users at this stage is WeChat Moments ads, which are native display ads that appear directly in users' Moments feeds. Users are highly active on Moments, with 750 million users viewing their feed daily, and 84% of users browsing their feeds several times a day. Users also only receive 2 ads per day, so they're far more receptive to ads than, say, the average Facebook user, who is constantly bombarded by them. This makes Moments ads a perfect way to spread brand awareness.
Users are able to interact with Moments ads by liking them and commenting on them – and their friends are able to see these interactions and view and interact with the ad too.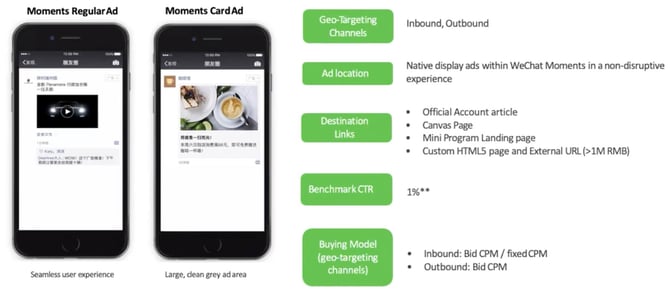 A recent Stanford University case study, where they were advertising a postgraduate scholarship, compared the effectiveness of Moments ads with a single image to Moments ads with six images (a relatively new format), and found the six-image ads performed much better. They also used advanced targeting to compare targeting college students with targeting graduating college students, and found that targeting college students was much more effective, as the graduating college students tended to already have established plans for what they were going to do after their studies.
Tencent Video pre-roll ads and pause ads
With 590 million users on Tencent Video, over 70% of whom are 18–34 years old, Tencent Video is a great way to reach young students as well as middle-aged parents. It's also a highly captive audience – the average visit is over 75 minutes long – meaning ads are being placed in front of users who are particularly receptive to your message.
Advertisers have two great options on this platform: pre-roll ads, which are 15-second videos that users see before a video starts, and pause ads, which are static images that users see whenever they pause a video.
Engagement/Familiarity
WeChat Official Account banner ads
At this stage, institutions are looking to build relationships with prospective students, and one of the best ways of doing so is having them follow your Official Account. Advertisers should therefore look to WeChat Official Account banner ads, which appear at the bottom of the articles on other brands' Official Accounts. With just one click on these ads, users are able to follow your Official Account.
These types of ads tend to perform well, with a higher-than-average click-through rate (CTR) of 1–2%. Zeng estimates the cost per follower for this method to be around USD 4–6.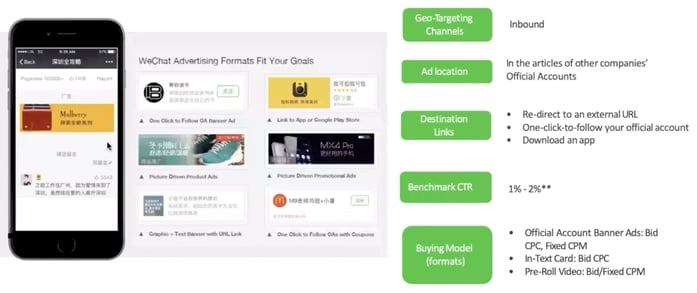 Conversion
WeChat Official Account in-text ads
Tencent has recently released a new ad format, the WeChat Official Account in-text ad. This is similar to the WeChat Official Account banner ads, but rather than appearing at the bottom of articles, they appear in the middle, where users tend to be more engaged. According to Zeng, this ad format is performing well and they have observed a very positive benchmark CTR, which is why she thinks they could be particularly suited to targeting students at the conversion stage.
Tencent News video ads
While students play a significant role in the decision to study overseas – research for our whitepaper The Learning Dragon shows 76% of students make the decision either alone or with their parents – parents are also very important, being involved in the decision in 68% of cases. This is not surprising, especially when you consider that parents often pay partially or wholly for the extensive costs related to international study. That's why it's especially crucial to ensure parents are on board at the conversion stage.
Tencent News video ads are a key way of targeting parents of prospective students, as the Tencent News userbase tends to be older and highly educated – around 72% of users have higher education qualifications.
Optimisation tips
Based on the performance of an ad campaign by the University of New South Wales, Zeng shared some tips for optimising campaigns at this stage:
Focus on the students rather than the destination
Ads featuring students and showing campus life performed better than those featuring scenery, buildings, landscapes or icons like the Sydney Harbour Bridge.
Focus on your USP
Taglines that reflect what sets you apart, and focus on cold hard facts, rather than taglines that could apply to just about any university, do much better with students. One tagline that worked particularly well for UNSW touted the fact that UNSW is one of the top 8 universities in Australia.
Take advantage of Tencent's machine learning technology
Once you've come to the limit of A/B testing, and the cost per lead has stabilised, machine learning can be enabled. With Tencent's optimised cost per action (OPAC), you can set a controlled cost per lead, and the machine sets up a placement model to find more of your target audience automatically.
Streamline your landing page
Long landing pages with lots of questions that require users to click through several pages will result in a lot of churn. Ensure your landing page is ideally on a single page, or at the most two pages, with no more than 5 fields that users have to fill in. You should also ensure the benefit is clearly displayed at the top – what exactly can the user expect to gain from parting with their details?
Advocacy
This stage is about building deeper relationships with your Chinese international students and alumni, while also making the most of all the data you have collected so far to take your marketing to the next level.
Analyse your Official Account followers, users who have interacted with your ads in the past year, and data collected from landing pages and roadshows to create detailed personas to help you further refine your messaging.
You could also use Tencent's lookalike and relationship expansion features to target similar users as well as your current followers' friends, families and colleagues to identify more leads.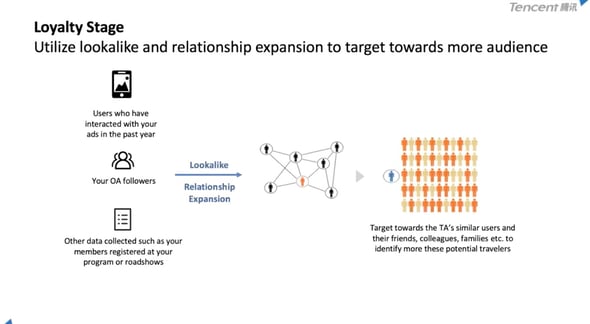 The jewel in the Tencent crown is without a doubt WeChat, China's biggest social media platform, so if you're thinking of getting acquainted with the Tencent ecosystem, then WeChat is the obvious place to start. Our WeChat Marketing 101 guide has everything you need to kick off your first campaign with a bang. Download it now.