Alibaba blows last year's record out of the water
On 11 November 2016, Alibaba sold a record breaking ¥120.7 Bn (A$23.2 Bn) total GMV (Gross Merchandise Value) in 24 hours, 32% more than last year's figures of ¥91.2 Bn (A$17.5 Bn).
At the nationwide shopping spree's peak, Alipay processed 120,000 transactions per second and Alibaba Cloud processed 175,000 orders per second. Other interesting statistics:
82% of all purchases were completed on mobile devices compared to 70% of all purchases last year.
Users from 235 countries participated in the mega sales. 37% of buyers purchased from international brands.
30 million Chinese consumers bought from cross-border overseas, mostly from Japan, United States, South Korea, Australia and Germany.
The most popular imports categories (by GMV) are: baby formula, beauty supplies, dietary supplements, food and personal care. Baby formula and beauty supplies alone account for 55% of the total imported GMV.
The flagship store Chemist Warehouse was the 1st international merchant on T-mall to exceed ¥100 Mn GMV on that day. The total GMV, at the end of the day, was over 4 times that of last year.
In 52 seconds after the start of the sale, ¥1 Bn worth of goods was sold. Customers pre-ordered products during the preparation period and immediately queued their orders when the sale began.

China Singles Day started as a student event at Nanjing University in 1993. In 2009, Alibaba revolutionized the holiday with their B2C online shopping platform in China, Tmall. Originally, 40 different businesses came together to market their goods on the holiday. This year, nearly 100,000 merchants from all over the globe participated. This holiday generates an unprecedented amount of internet traffic. The impact of Tmall mega sales were so great, both competitor online stores and offline stores also began holding sales. For this Singles Day sale, close to ¥200 Bn (A$38.5 Bn) worth of goods was sold online.
This Year's Highlights
Top-selling Brands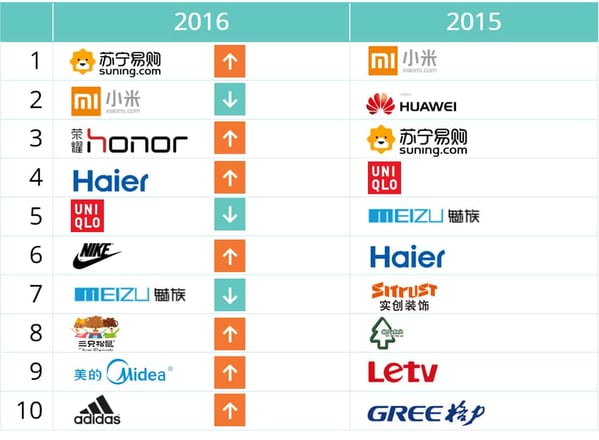 Exciting Marketing
This year, preparations for the mega sale started more than a month in advance. Advertisements and promotions took the media by storm to attract as many customers as possible. This is the first year that Alibaba actively tried to push their marketing outside of China. To promote the sale, a variety of new technologies were employed and greatly encouraged customer involvement. Alibaba published an AR game similar in nature to Pokémon Go where players were led to real world retailers to catch the Tmall mascot cat for rewards like coupons. Alibaba also released a VR shopping program complete with a cardboard VR headset. App users could view and interact with accurate 3D models of products.
Live-streaming has become one of the biggest internet trends in China today. More than 600 international brands held livestreams on Tmall to guide and excite customers. Some brands also leveraged popular internet personalities to endorse their products in videos and streams on sites like Inke and Huajiao.
Faster Deliveries
The first door-to-door parcel shipping took 13 minutes to be delivered. The first international door-to-door delivery was completed in 28 minutes, including time spent clearing customs. The swiftness of these deliveries is likely due to very short distances and the presence of bonded warehouses in China. Last year, due to the incredible volume of sales, product deliveries took a long time. Some customers reported packages arriving more than a month later than expected. Delivery times significantly improved this year. Cainiao processed more than 657 million delivery orders on Alibaba's Chinese and international markets this year.
The Gala
Media coverage of the Single's Day gala was far more extensive than in previous years. Celebrities, both Chinese and foreign, like the Beckhams and Tony Leung, were invited to attend. Shows by pop stars, renowned musicians and other performers were televised. Hollywood producer David Hill directed the event. Popular video websites like Youku were used to live broadcast the gala.
Anecdotes
Other companies are also taking advantage of the mega sales day that Alibaba pioneered. This November 11th coincided with the 18th birthday of Tencent. CEO Ponny Ma and other executives held a livestreaming where company stocks were given to lucky employees in traditional red envelopes. ¥30 Mn (A$5.8 Mn) was also given away in cash. JD.com's CEO, Richard Liu, held another livestream for cooking with premium foods.
This Year's Concerns
Customer Protection
Counterfeit products and scams continue to plague consumers. Due to the sheer volume of purchases, inquiries and returns cannot be processed in a timely manner. Customers expressed concerns regarding disputes, suggesting that Alibaba adopt a buyer protection policy similar to the one used by eBay (i.e. Alibaba would refund the customers first and then solve the dispute with merchants).
Slowing Growth
Alibaba reported a growth of 32% (net ¥29.5 Bn / A$5.7 Bn) from last year. Growth last year was 60% (net ¥34.1 Bn / A$6.6 Bn). The wild growth seen in previous years is starting to slow down. This is likely due to the smart phone market reaching the limits of its penetration and the online shopping market reaching its maturity. However, new technologies do stimulate the market and create demand. The VR and AR applications can be seen as a trial run for a proper introduction in the future.
Conflict of Interests
Merchants also expressed concerns at the apparent conflict of interests between them and Alibaba. Merchants feel that they do not get enough profit due to heavy discounts while Alibaba benefits solely from the volume of traffic and transactions. Alibaba requires that listed products are less than 90% of the lowest price in the 30 days before the mega sales. To deal with the participation rule, Merchants typically increase their prices during this time so that their profits remain reasonable on Single's Day.
Future Prospects
China's e-commerce market has exploded in the recent years. But it may have reached its maturity. Outside of China, in the rest of the world, many e-commerce markets are still less developed and smaller. However, international consumers and merchants are sure to take advantage of this potential for growth after Alibaba's attempts to expand globally. Now that the mobile device market is reaching its limit of its penetration, growth in China is stabilizing. The introduction of new and innovative ways of shopping and marketing along with a robust foundation based on quality products and sophisticated service will be key for strong future growth.
Many international companies believe that having a store on Tmall is enough. They often don't truly realize how much time and effort they must invest to market their goods appropriately. Considering the number of merchants, competition nowadays is fierce. Companies need to take advantage of effective methods when marketing in China for good results.
At Sinorbis, we know how to develop strategy for digital marketing in China to suit your target market and optimise your site accordingly in order to achieve top rankings and business results.