Successfully launching a Chinese eCommerce store starts with understanding Tmall and its ecosystem. Why Tmall?
With a market share of 30% Tmall, formerly known as Taobao Mall, is China's largest B2C eCommerce platform. As the B2C arm of the Alibaba Group, it not only has over 400 million active users posting 20 million comments and reviews on the platform daily, but also changes the way Chinese customers shop and engage with local and international brands.
Tmall's focus is on offering authentic, quality goods and as such, the requirements for operating a store on Tmall are quite stringent. The first thing aspiring Tmall store operators need to know is that there are two different ways to host a store on the platform. It can be set up on Tmall China or Tmall Global.
Tmall China
Tmall China is for businesses that have a physical presence in China. These businesses need to be registered in China and have a merchant trading licence from China. The cost, administrative hurdles and logistics of setting up a physical store are prohibitive for the majority of international companies looking to start selling to Chinese consumers - which is where Tmall Global comes into play.
Tmall Global
Tmall Global was launched in 2014 as a way for international businesses to easily reach Chinese consumer. For an international business (and their products) to be accepted by Tmall Global, it must meet the following criteria:
the products must have a certificate of origin

the merchant must have a foreign licence
the products must be able to pass through Chinese customs
all products sold must be approved by Tmall
products must include a label with product information (in Chinese)
delivery must start within 72 hours of the order being placed
retailers must include a return address in China.
Choosing the right store type on Tmall Global
Store types on Tmall are further categorised into three different store types. The type of store international retailers are able to open is determined by their trademark status.
Flagship Stores can only be opened by brands who hold a trademark. In order to set up a Flagship Store, the store owner must be the formal representative of the brand or provide documents that proof authorisation to set up a Tmall flagship store from formal representative of the brand.
Specialty Stores can be launched by merchants who hold brand authorisation documents giving them distribution rights without geographical restrictions in the Greater China region.
Franchise Stores on Tmall can be opened by merchants who hold brand licensing goods. This store type means that sellers can offer goods in several different product categories. This is provided the merchant is authorised to sell goods of certain brand or multiple sub-brands.
Understanding the cost of running a Tmall Global store
One important consideration for retailers wanting to enter the Chinese eCommerce market is the ongoing cost of running the operation. Tmall Global charges three types of fees to store owners.
One-off Security Deposit
Tmall Global requires store owners to place a deposit between US$8,000 to US$25,000 upon opening, depending on the chosen store type. The funds are held to refund customers in the case of breaches against Tmall's Service Agreement. An example of such a breach is selling fake or counterfeit products via the Tmall Global store.
Annual Service Fee
Tmall Global determines its annual service fee based on the product category. The charges are usually between US$5,000 and US$10,000 per annum, but offer powerful incentives. Retailers who meet their sales targets can redeem part or all of their Annual Service Fee.
Commission
The reason why Tmall Global incentivises retailers who meet their sales target is that they make the majority of their revenue through sales commission. The commission fee is dependent on the product category. It's in Tmall's best interest that their retailers succeed which is one of the reasons why they offer such powerful promotional tools.
In addition to managing the actual store set up, international retailers need to ensure that their goods can be shipped effectively to China once an order has been placed. Tmall Global allows sellers to opt for a bonded warehouse or a carrier postal solution.
Bonded warehouse versus carrier postal solution
Determining the best logistical solution to operate a Tmall Global store very much depends on how much of an upfront investment a retailer is willing to make. A bonded warehouse offers many advantages and a better customer experience, but may seem financially riskier to retailers first launching their Chinese operations. The table below highlights the pros and cons of each solution to simplify the decision-making process.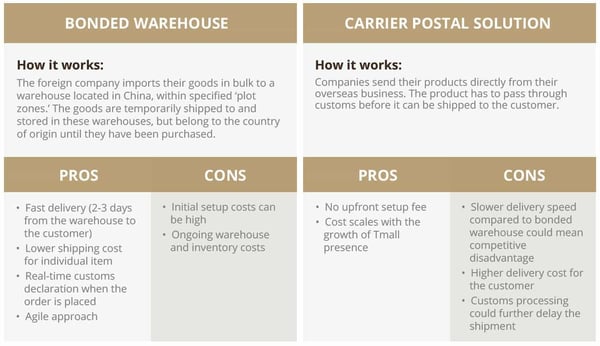 Understanding the Tmall ecosystem is step one to launching a successful online store in China. But to build a sustainable Chinese eCommerce presence to reach Chinese digital consumers more is needed; it requires applying the right tools on Tmall in the context of a dedicated China digital marketing strategy and integrating them with digital channels on and off Tmall such as WeChat marketing platforms.