It's an ongoing journey and continuous efforts are needed to build your brand identity and reputation online, especially when you are entering a new and unfamiliar marketplace. First you must have your business noticed and then you need to get people talking about it, but it must be the right kind of conversation.
In China, your brand reputation is critical because Chinese consumers research brands and products in much greater detail than westerners do, before making a purchase. What are your potential buyers hearing about your business? A survey by McKinsey showed that "on average a Chinese consumer will make 10 to 12 visits to online and offline touch points – including search engines, product sites, and physical store – before buying an expensive item such as consumer electronics."
Online reputation management should now be a key part of your online business strategy.
What is Online Reputation Management?
There are people talking about you from the moment you open your business doors. Chinese people may know and search for a brand even before it taps into China market. It's essential to build up your positive brand asset online so your target customers will find you.
At a basic level, Online Reputation Management (ORM) is the process of creating and spreading positive information about your brand/products and suppressing the negative voices in various digital channels. Our expert team will also discover what people are saying about your brand/products, and how they're responding to the messages you're putting out. Our goal is to create a 360-degree proactive brand-fence and maintain your positive brand image, encouraging your potential buyers to buy from you and increasing overall sales.
Advanced ORM builds up content around the generic search keywords and competitor keywords; for example, "which brand is better for wealth management?" (投资理财哪家好) if for peer-to-peer crowdfunding brands. When this content is optimised for search engines and takes the visible positions in the first 2 search result pages around these search keywords, it typically attracts attention to the brand and helps drive new traffic and customers into the top of acquisition funnel.
If you are not controlling your own online reputation, it's possible someone else will.
Why is it important?
The moment a negative comment or review appears, your brand reputation is at risk. To make it worse, your business is at risk of losing potential customers among those who see the negative comment.
You want your brand to be known for quality and professionalism – all the positives. Unfortunately, some brands become known because of complaints or negative media coverage.
One single negative comment posted online has the power to change the way people regard your brand. It spreads through the power of digital spaces such as social media, forums, blogs and vertical sites, shared far more quickly than any positive comment will ever be.
Chinese online buyers research products in depth, and they make their purchasing decisions based on the reviews of others, and through word of mouth.
They search online and they look to search engines to find out what others are saying. They trust these independent reviews more than the information they read on your official website or social accounts.
Now, imagine how much business you will lose if a negative review comes up on the first pages of Baidu or Sogou.
As a new brand, there may be no negative comments, but to tap into the Chinese market and build up the brand image, you will still need to proactively manage your online reputation. If potential customers search your brand/products on Chinese search engines, well-organised positive search results on 1st and 2nd SERP will encourage them to consider the brand and finally make the purchase. These positive search results can be managed proactively by the brands, telling the brand story, introducing the star products from both official and user positions, and identifying the key differentiators of your brand from your competitors.
That's why ORM is so important. It's not just about removing or limiting negative information about your brand; it's about promoting the positive and boosting your reputation. If it's done well, your business has the best chance to succeed in China.
How do we manage your online reputation in China?
We approach online reputation management through three key methods.

Promote the positive
By creating and publishing positive content across digital channels such as Baidu Baike (a Wikipedia equivalent), Baidu Wenku (an online library), and Baidu Q&A, we boost your brand reputation in China. Because the Chinese search engine Baidu is one of the most powerful, content published on its own channels is likely to rank highly in the search results, putting you straight in front of your prospective customers.
In addition to Baidu, ORM will also promote the positive on other digital channels, such as Zhihu, high-authority news portals, vertical websites, forums, and social media, etc. These popular channels are very helpful in building awareness among your potential customers and influencing their buying decisions. For example, if you are a mother and searching for information about infant products, then you won't have missed the vertical site,"Babytree".
When Sinorbis manages an ORM project for our client, we not only publish content with positive information about the brand, but our expert team will also analyse and further optimise that content with targeted keywords to maximum its visibility in Chinese search engines.
Clean up the negative
We help to clean up negative voices by using SEO techniques and content creation to sink the negative comments, shifting them further down the search results. We also communicate directly with the original sources to reduce negative content or have it removed when the information published is not true.
Social listening
By listening to what is being said about your brand (positive, negative and neutral) on various digital channels, such as social media, forums, vertical website, etc, we alert you to potential issues so you can manage them and avoid a crisis. We also provide analysis on your brand sensitivity for you to track your brand voices.
Entering the China Market
The difficulty for businesses wishing to enter the market in China is their lack of reputation. While the business might rank well in Google, Chinese websites and search engines may never have heard of you. That means your potential customers won't find you. It also leaves your brand exposed to possible malicious attacks from competing brands.
If you plan on entering the China market, or releasing a new product line, you can use ORM to build a reputation. By creating and sharing positive content across the search engines and key digital platforms, customers will find the positive information they need to help them make a purchase decision.
For example, Sinorbis helped a famous international milk powder brand in China launch a new product on the Chinese market. Although the brand was well known, their new product had no online reputation. During 2015-2016 we created over 2,800 pieces of positive content, published over 15,000 URLs across all digital channels, and reached media coverage of over 5,000. After one year of producing optimised and positive content, the product was ranked on the top of organic search results. Sinorbis helped our client successfully establish the new brand image and reputation on various digital channels, generating a high volume of traffic to the new product.
Protect Your Online Reputation
Your brand's reputation can make or break the business. The Chinese people buy based on trust, so prove yourself to them as trustworthy. This is crucial to succeeding in the Chinese market.
The expert team at Sinorbis will help you maximise your business opportunities through their online reputation management services. Contact Sinorbis today and start building your positive brand reputation so your customers can find you.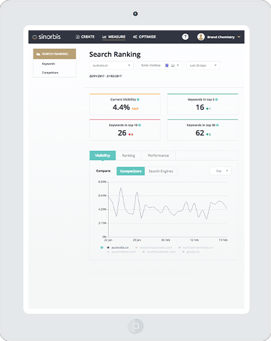 Our artificially intelligent algorithms:
Analyse each page of your website, highlighting critical issues and opportunities for improvements such as missing headings, various errors, density of keywords and optimisation score.
Extract and analyse ranking data from every major Chinese search engine (Baidu, Sogou, So.com and Shenma) across desktop and mobile devices and provides evolving recommendations to improve your site's visibility against your major competitors.