If Weibo is the Twitter of China, Weibo's latest venture, Oasis, is the Instagram of China. Indeed, Instagram users may find the layout of Oasis eerily similar.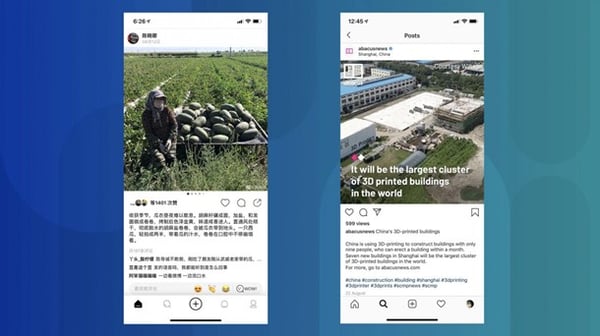 Oasis' layout (left) compared with Instagram
With the weight of social media giant Weibo behind it, Oasis garnered widespread attention immediately after its launch in September 2019, leaping straight to the number-one spot on China's Apple App Store top free apps list. Oasis was also the only app in the social media category to make Leitech's '10 best apps in 2019' list.
Here's how Oasis describes itself:
"If you are tired by the outside world, we provide you with an oasis, which not only allows you to discover interesting things but also share the beautiful world as seen in your eyes. We welcome you to this oasis. Release your stress and find a better self!"
Sounds great – but what exactly does this mean for marketers? Could Oasis be your key to capturing the social market in China?
Here is everything you need to know about this new player in the social field.
What is Oasis?
Launched in 2019 by Weibo, Oasis is a fashion and lifestyle social platform targeted at young middle-class and affluent consumers, mostly women. So far, Oasis has proven to be popular with young females with higher disposable incomes, living mainly in first and second tier cities. 62% of Oasis users are born in the 1990s and 20% of users are born after the year 2000.
As mentioned, it shares many similarities with Instagram, allowing users to browse, share and edit images and videos, with a variety of filters at users' disposal. Users can also curate their feed by following other users, and they can interact with posts by liking and commenting.
It also bears a somewhat striking similarity to Chinese social commerce app RED (Xiaohongshu), not just in its appearance but also in that it relies heavily on user-generated content. Unlike RED, though, Oasis does not have e-commerce functions – yet.
Why was Oasis developed and how is it positioned?
There are several reasons behind Weibo's move to create Oasis.
Over the 11 years Weibo has been in the market, the platform has gradually turned into a publishing platform for information and breaking news. Users on the platform are more inclined to consume than create content. On Oasis, however, it is all about user-generated content, which means double the amount of engagement with the app – and therefore more opportunities to generate revenue. This is particularly important to Weibo, as Weibo's ads and marketing revenue growth has been slowing in recent years.
The increasingly fierce competition in the Chinese social media landscape was another reason for Weibo to launch Oasis, especially given the rapid user adoption RED and Douyin have seen. One key thing to note is that, although the layout of the application is similar to RED, Oasis is not currently designed to be an e-commerce destination. Oasis is Weibo's effort to capture market in the social and lifestyle realm.
Not only does Oasis provide Weibo with a social commerce platform to rival RED, but Oasis also feeds directly into Weibo, giving Weibo a much-needed boost in content variety and user engagement. Posts can be published simultaneously on both platforms, and likes on a single post are combined from both platforms (so the number of likes are exactly the same on both Weibo and Oasis).
Another reason to develop Oasis is that there is so much content constantly added to Weibo that people are reluctant to socialise on the platform. Weibo has deliberately developed Oasis to be much a simpler and less noisy environment to complement its information publishing platform.
What key features does Oasis have?
As a social media platform focused on providing a high-quality experience for its users, Oasis contains many features that make it simple for users to discover new creators and their content. Oasis uses artificial intelligence to track user habits and frequent searches to surface other relevant content. Not only that, frequent feed updates keep users engaged and coming back for more. Below are some Oasis features that set the app apart from others:
Again, travel companies could consider what deals and experiences might draw a younger crowd, whether that's Instagram-worthy scenery or exciting/fun/adrenaline-inducing experiences like scuba diving or paragliding. Many in the travel industry are also shifting their marketing focus to emerging social media platforms and experimenting with new content forms in order to engage this demographic – more on this below.
1. "WOW" function
When users come across a post that they enjoy, they are able to comment and like the post, just as on Instagram. But if users are perhaps not quite sure what to say, they can show their approval with a quick tap on the "WOW" button. This button allows users to generate unique phrases that they can use to comment on the post, such as, "You unified the universe with your face," or "We're all successors of socialism, how come you are so excellent?". If you often have trouble coming up with the perfect response, this is a great tool to have at your disposal.
2. Content sharing
The publishing function of Oasis supports three forms of content: photo, photo album and video. It also has 27 different kinds of filters and effects. Users can upload videos with a maximum length of 60 seconds. Because Oasis is a developed by Weibo, users have the choice to simultaneously share their post to Weibo when publishing.
3. Discover page
Similar to Instagram's "Explore" page, Oasis has a Discover page where users can browse popular content from users they aren't yet following. Here users can search for content related to their niche interests, with channels for fashion, food, travel, beauty, sports – and even good-looking people. (Seriously.)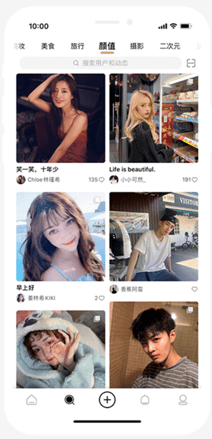 4. Water drops scoring system
One particularly unique feature of Oasis is its "Water Drops" scoring system on the user's homepage. This is a system where users can accumulate points, or "water drops", by performing certain tasks on the platform, such as liking or commenting on other posts, posting updates or inviting other users to the platform. Water drops can be used to "level up" users' profiles so that they can access more functions, and they can also be exchanged with products in the "Water Drop Mall". Users can also reward their favourite bloggers with water drops to vote him/her to the "Top Bloggers" rank.
One clever aspect about water drops is that they are generated every 4 hours, but they disappear every 3 days – this means users have to log into the app frequently in order to collect the drops, thereby helping to boost engagement.
How can marketers use Oasis?
As of yet, Oasis does not have any e-commerce capabilities, so at this stage marketing on Oasis is about building awareness, engagement and trust with consumers. That being said, we expect these capabilities will be added as its userbase grows, so it's worth jumping on the platform and building a following early, so that you're poised to make the most of e-commerce features when they arrive.
Here are a few ways marketers can take advantage of Oasis:
1. Showcase not just your product, but your brand
Like Instagram, Oasis is a highly aesthetic platform, and for the time being, while ecommerce capabilities are not yet available, your presence on Oasis is all about branding. To borrow a phrase from Instagram's blog, you need to "show how your company sees the world and make it meaningful to people".
This does not mean posting a million product shots; rather, it's about showing your brand values, the lifestyle your target consumer aspires to, your company culture – think outside the box and be highly mindful of your target audience and what type of content they respond to.
2. Work with KOLs
Many brands are gaining exposure on the platform through celebrity and KOL endorsements. This is partly because Weibo does not want Oasis to be highly commercialised and seen as a marketing tool for brands, much like Weibo itself has become. Because Oasis is positioned as a social app, brands will need to market themselves more subtly – and if there's anyone who knows how to strike exactly the right tone with a particular audience, without being too pushy or sales-y, it's KOLs.
Working with KOLs can be quite powerful – not only are you tapping into a well-established audience, but you also have a figure that that audience trusts endorsing your product and brand.
3. Engage and interact with others to grow your following
As a highly social app, simply posting images is only going to get you so far in terms of followers. To really accelerate your growth, you need to also engage and interact with other users. If people start liking and commenting on your posts, like and comment on theirs – this doesn't just encourage future engagement from that follower, but also exposes your brand to all their followers too.
Another way to engage with users is to share any users' posts that are relevant to your brand on your own account (known as "regramming" on Instagram), such as video reviews or photos of themselves using one of your products. (Don't forget to credit and tag the original poster!) Audiences typically prefer user-generated content as it's more authentic and unpredictable – plus the user who originally posted the content often gets a few extra followers out of it as well. You could even start a weekly competition where you feature the best post on a particular day.
Time to involve Oasis in your marketing strategy?
With all this activity happening on Oasis, it's safe to say Oasis may well be the new go-to social media application for international brands to reach their target audience.
Overall, Oasis is a beautifully developed social media application for users in China. Because Instagram is not available in China, users are excited to now have access to a similar experience. It will be exciting to see how Oasis evolves over the next couple of years. It's certainly an app to watch!