If there is one thing that living in the digital age has proved - almost anyone can become a digital celebrity or influencer.
Look no further than Liu Mama.
Who would have thought a middle-aged, hard working farmer from the Dongbei district of Guangdong could become a live-streaming superstar?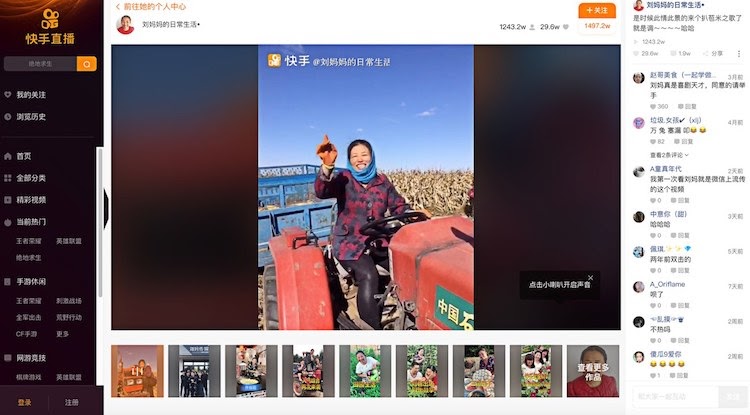 Liu Mama is one of any number of ordinary Chinese citizens who have essentially become Key Opinion Leaders (KOLs) by merely doing what they do best.
There is, of course, more to it than this, but the specific phenomenon of live streaming Chinese farmers is worth examining in terms of its implications for your China digital marketing strategy.
What are KOLs?
A KOL or Key Opinion Leader, is China's equivalent of the Western "influencer". KOLs are most often connected with being brand ambassadors but can also be spokespeople or thought leaders. The reason they are considered so valuable for China digital marketing is because their authenticity and relatability enables them to connect more personally with their audiences.
Li Jiaqi is one of China's leading KOLs. Known as the 'Lipstick King', this 27-year-old has 40 million fans on Douyin. As an example of how much influence he wields, he once sold 15,000 lipsticks in five minutes via Taobao's livestream services.
The extraordinary marketing power of KOLS means their monetary value is massive: According to Weibo big data, in 2018 the annual KOL market value was 102 billion yuan. And a survey conducted at the end of 2018 found 49% of China consumers look to KOLs for brand alignment and purchase recommendations, with numbers even higher among Millennials and Gen-Z.
KOLs work across different platforms depending on the content they produce: blogging via Weibo and WeChat; producing short videos via TikTok/Douyin; and live streaming through DouYu (Fighting Fish), Kuaishou (Quick Hand) and Douyin.
What is the live streaming trend in China?
Live streaming is gaining great momentum as the content platform of choice for many Chinese netizens.
China started live streaming in 2014, and while traditionally it has been predominantly in the format of a KOL demonstrating a product and taking questions from the audience, the broad appeal of TikTok has opened up new possibilities for how live streaming can be used by Western businesses marketing to China.
With estimates of more than 100 million monthly viewers engaging with live streaming, it has a captive Chinese audience. The global pandemic also added momentum to the popularity of live streaming. While pre-COVID-19 live streaming was already becoming a powerful engagement tool in China, the huge number of people stuck at home during the pandemic meant brands had a captive audience, with estimates of as much as a 730% rise in brand live streaming in February 2020 alone.
How did live streaming Chinese farmers start?
While China's rural population has been steadily declining in line with the worldwide phenomenon of a shift from rural to urban living, China still has a massive rural population - in 2019, it sat at just over 551 million.
In many ways, Chinese farmers are no different to their Western counterparts, living simpler lives dedicated to making a living from the land. However, this does not mean they are luddites or technophobes! China's population has embraced tech and digital like no other, with its netizens much more active on social networks and digital platforms than those of the West. The Chinese are particularly active via their mobile devices: there were around 882 million smartphone users in 2019, which is predicted to grow to up to 75% of the population by 2025.
With mobile phones so ubiquitous, it stands to reason that Chinese farmers would be regular consumers of digital content and might also enter the digital fray at some point as content producers.
Which is precisely what has happened.
What are live streaming Chinese farmers doing?
Chinese farmer learns to sell oranges via live-streaming
Liu Mama.
Li Jinxing.
Wu Zhifang (WeiWei).
All names Chinese netizens would not have linked to as being KOLs primarily because KOLs so often hold a more glitzy, celebrity kind of status and are linked to big brands.
However, a combination of curiosity, chance and, more recently, needing to keep their commercial heads above water during the COVID-19 pandemic, has launched live streaming Chinese farmers into the world of KOLs.
Admittedly, there has been some rural live streaming in the past decade, but so popular has been its rise, both JD.com and Alibaba-owned Taobao launched rural live-streaming initiatives to help farmers and merchants set up online stores. From fruit-picking to flower arranging to tours of produce farms, live streaming Chinese farmers have been taking live streaming platforms by storm. These rural KOLs have both improved their financial lots through increased sales and become digital superstars, albeit maybe a little more "down to earth" (literally!) than their other KOL counterparts.
These farmers are also benefiting from the revenue generated from being a KOL. According to the head of Taobao Rural Livestreaming, Zhu Xi, around 2,000 rural participants generate up to eight times the rural average monthly income from their live streaming, bringing in RMB10,000 (roughly US$1,400) per month.
It's not just the more canny enterprising types who are engaging in live streaming: Consider Cui Shuxia, the 80-year-old grandmother of Taipingbao village in Shaanxi province.
Appearing in her grandson's live streaming video, her dip into the KOLs world was quite simple: she ate one of her grandson's apricots as she talked in the local Shaanxi dialect.
"Within three hours we received more than 3,000 orders from consumers," Cui's grandson, Wang Yalou, told CCTV.
Cui Shuxia's video has been viewed over two million times on Sina Weibo, with fans impressed by Cui's sincerity and her humorous, natural way of talking
What does it mean for digital marketing?
It is this authenticity and "real-life" aspect of rural streaming that speaks to part of the appeal of why Chinese living in urban places have become fascinated with it. While the urbanites may also be looking for a produce bargain, they get the value-add of entertainment and information via this live streamed peek into rural life.
In terms of a China digital marketing strategy, the main takeaway from this for businesses is to be creative and open to fresh ideas and formats. Always being attentive to rising trends in the chinese digital ecosystem will ensure you don't miss out on new markets and opportunities.
But the biggest lesson from live streaming Chinese farmers?
This new cohort of KOLs has proven beyond doubt that being authentic as a brand and personally engaging with your audience will enhance reputation, conversion and brand building opportunities.