On Monday evening I caught a cab home after a conference dinner in Sydney. It was one of those Maxi Taxis clearly designed to transport families and their luggage to and from the airport. I struck up a conversation with the driver. And inevitably the travel ban the Australian government had just imposed on travellers from – or who had recently visited mainland China – came up.
"I bought this cab to be able to cater for Chinese families travelling to Australia," he said. "If you go to the international airport now there's hardly anyone there."
As the Chief Executive of a business that enables others to connect with audiences in mainland China, I was fully aware of the pressure and strain the novel coronavirus and the associated travel ban would put on our clients and the local and global economy. But it was this casual chat that really hit home for me how quickly the impact of all this would be felt through all layers of society.
At the time of writing, more than 100,000 Chinese international students (56% of the total cohort) are prevented from resuming or commencing their studies. The situation is likely to look similar for the US where 369,000 students from China were enrolled in the 2018/19 academic year. Depending on how long the travel ban will be in place – and whether or not universities will be able to quickly come up with online study options – many young Chinese may be forced to take an involuntary gap year.
The tourism industry is facing a double-hit with the still ongoing bushfire season and the virus coinciding with the Chinese New Year holiday, one of the biggest travel seasons for many Chinese.
Meanwhile, exporting businesses have reported demand from China virtually dropping to zero overnight and Australian retailers are bracing for a product shortage. While making less headlines, the B2B sector is no doubt equally affected with all non-essential business activity in China currently on hold.
The crisis highlights how connected we all are in a global economy and that the shockwaves of any event in China can be felt in every corner of the world. Unfortunately, it also highlighted that many businesses and organisations are not adequately prepared to respond to a crisis like this.
I have been watching the reaction of businesses on- and offline quite closely. Based on my observations, I'd like to share a few recommendations on how international organisations can navigate the situation.
Communicate clearly on how the coronavirus and travel ban are impacting your audience
The most useful thing brands and organisations can do right now is to communicate clearly and openly with their Chinese audience on how the virus and associated lockdown might affect them and the way they interact with you. For instance, as a university you may want to add a page to your Chinese website explaining:
What students should expect when they come back;
What students can do if they currently can't come back (online study options etc.);
The current self-quarantine requirements;
Who to contact including the phone number and email address.
The University of South Australia has done a great job of keeping their Chinese students informed via their Chinese website and WeChat account.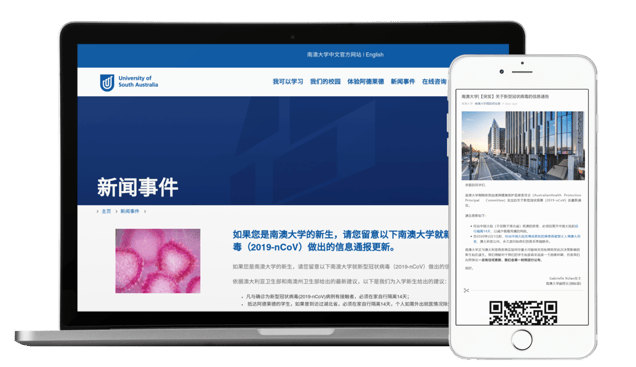 Similarly, in the travel and tourism sector you may want to update your website with information on self-quarantine and your refund policy for travellers affected by the virus.
If you're dealing with a large number of enquiries or simply want to offer the reassurance of an immediate response, you may also want to consider setting up auto-responses for relevant keywords on your WeChat official account.
Remember that the coronavirus doesn't discriminate
While I do believe that the majority of organisations are well-intentioned and are acting with their client's and staff's best interest at heart, there have been a few cases of unfortunate communication blunders, singling out people based on their ethnicity rather than their likelihood of being infected with the coronavirus.
When you're proof-reading your communication and incident response policy, remember that the virus doesn't discriminate. Anyone who has travelled through China recently - and more specifically the Hubei province - or has been in contact with an infected person is at risk. Your choice of language matters.
Consider if your organisation can provide a moment of light distraction
In an effort to prevent the virus to spread further, millions of Chinese are currently on government mandated leave. This means that people are confined to their homes, waiting for the crisis to pass.
If it aligns with your brand, you may want to consider creating WeChat content that offers some light distraction. For example, sports brand Under Armour has been running a series of indoor exercises people can do while at home. It may seem trivial but your Chinese audience will certainly appreciate the empathy you're showing during this difficult time.
Reach out to your business partners in China
Finally, if you have business partners in China, offer a few words of support and reassurance – even if the coronavirus and travel ban are not impacting any current projects. This can be as simple as sending a brief WeChat message. Small gestures can go a long way in helping people look more positively into the future.