Chinese New Year is a highly lucrative time for brands targeting the Chinese market. It is a time of unrivalled spending, as consumers dine out, put on lavish banquets, purchase new clothes, invest in new furnishings and give each other valuable gifts and hongbao (red packets). In 2018, Chinese consumers spent a record-breaking 926 billion yuan ($146 billion) shopping and in restaurants during the Lunar New Year holidays.
When it comes to Chinese New Year marketing campaigns, however, they have become very predictable over the years. While it has become de rigueur to simply make assets red and gold, and slap on an image of that year's zodiac animal, increasingly sophisticated Chinese consumers are quickly fatiguing over such designs, finding them tacky, gaudy, and reflecting a fundamental lack of understanding on the part of the brand.
That's not to say that Chinese New Year symbols cannot be used in special-edition products or marketing campaigns – indeed, Chinese consumers appreciate custom New Year items that are tastefully designed, and show a deep respect for Chinese traditions and aesthetics.
To make sure you get it right this Chinese New Year, here's a quick guide on how to use Chinese New Year symbols – and how not to use them.
Chinese New Year 2019: Year of the Pig
Zodiac symbols are typically used liberally in Chinese New Year marketing, but when their symbolism is misunderstood, this can be embarrassing, and potentially even damaging, for the brand.
Nike, for example, severely overestimated the Chinese' love for dogs, plastering the character on special-edition Chinese New Year sneakers released in 2018. Unfortunately, however, there are many derogatory sayings and curse words in Chinese that also include the word "dog". It's not, therefore, a word people want emblazoned on their brand-new festive clothing. (Not to mention the fake fur might also have been a little much.)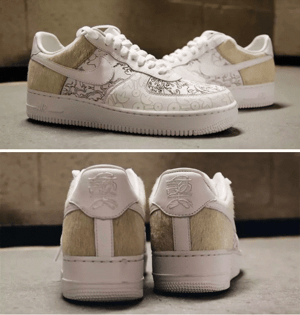 Chinese New Year 2019 (beginning 5 February) heralds the Year of the Pig, the last animal in the Chinese zodiac. The pig is seen as a symbol of wealth and prosperity, with those born under this zodiac seen as being very fortunate. It is also a sign of fertility and virility – in fact, the character for "family" (家) is a pig under a roof. The pig was also linked in ancient times to bravery, as men who hunted wild boar were considered particularly courageous – the character for "brave" (敢) depicts a man catching a pig with his bare hands.
However, like the word "dog", the word "pig" is also often used in conversation in a derogatory way, with connotations of greed, laziness, slovenliness and clumsiness.
Marketers, therefore, need to be particular careful about how they use this symbol in their campaigns, making sure to draw on the zodiac's positive characteristics, so as to avoid any negative stigma becoming attached to their brand.
5 tips on how to use Chinese New Year symbols tastefully and respectfully
1. Focus on beautiful design
Every year, fashion bloggers take great delight in deriding poorly designed special-edition products that brands release to commemorate Chinese New Year.
For example, this bag from Louis Vuitton, released earlier this year, was called "childish and overdone", with many saying it looked counterfeit.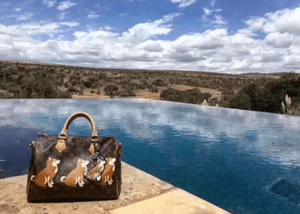 Brands, however, that focus on beautiful design will reap the rewards. This effort from Giorgio Armani, for example, is chic and understated, drawing on traditional depictions of the dog in Chinese art, but using the styling to make it seem fresh.
(As a side note, it is highly recommended to hire Chinese artists to design marketing materials, as they will have a deeper appreciation for the many cultural subtleties inherent in Chinese New Year symbols.)
2. Be very careful when using Chinese characters
A single Chinese character can carry multiple meanings, and, when combined, they can often mean something else entirely. This is what Nike discovered in 2016, when they released shoes with the characters fa (發) and fu (福) on the heel. While fa means "to become wealthy" and fu means "fortune", together they mean "to get fat".
Brands, therefore, need to make doubly sure they're not printing their collateral with something that could come back to bite them later.
3. Draw on tradition for inspiration
While red and gold are considered lucky colours for the Chinese New Year, there are many other aspects of Chinese culture that can be used as inspiration when designing marketing material, and drawing on these could make your brand stand out from the crowd.
It has become a trend, for example, for young girls to use decorative tape from the Forbidden City's Palace Museum, to self-style their cosmetics. The designs of the tapes are drawn from elements within the museum, such as paintings, seals, calligraphy, porcelain and furnishings – and, as you can see, it extends well beyond just red and gold. The fact that this has become a big social media trend in China also shows that consumers are hankering after well-designed products that show a true understanding of Chinese aesthetics.
4. Give symbols a fresh, modern take
While showing reverence for Chinese traditions is great, it can also pay off to give symbols a new spin – it's 2019, after all.
Apple managed to do this to great effect in 2017, when it enlisted local artists to create folk art paintings known as nianhua, using Apple products. Apple then released the winning designs as downloadable wallpaper. This campaign cleverly combined tradition and modernity, bringing old symbols to life in an entirely novel way.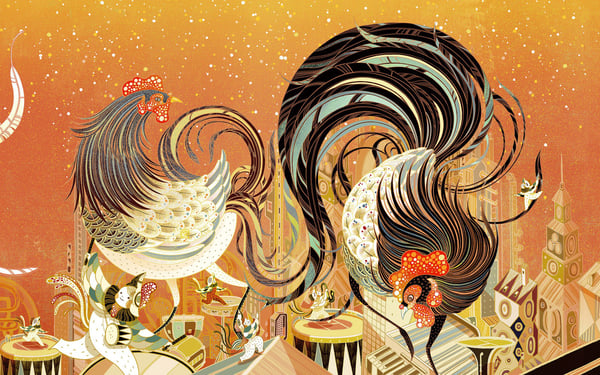 5. Don't forget your brand
Chinese New Year symbols are most effective when they are used in a way that resonates with your brand.
Johnnie Walker, for example, released a limited-edition Year of the Dog design of its Blue Label whisky. The four dogs (all of which originate from different regions in Asia) are shown as loyal companions, following Johnnie Walker's familiar Striding Man as he journeys around the world. The design cleverly combines Western and Eastern drawing styles, giving a nod to both the brand's origin in Scotland, as well as to the Chinese market – and, of course, it is entirely blue.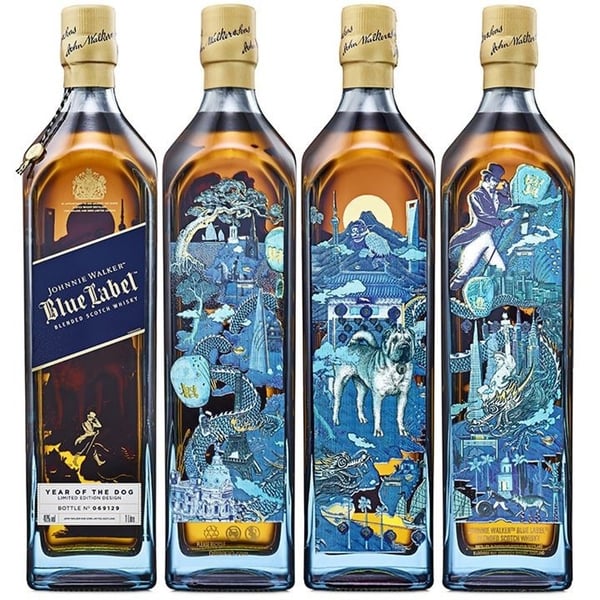 This Year of the Pig, don't simply rely on clichés – do your research, be highly mindful of Chinese New Year symbols and your brand, and think outside the box!
Chinese New Year 2019 is a huge opportunity for retailers. To help you get ready for Chinese New Year 2019, we've put together a cheat sheet with insider tips for planning a successful campaign. Download it now!