The Chinese digital landscape is the most vibrant and fast-changing in the world. And there's hardly anyone that understands the dynamics of the shifting digital ecosystem better than Sidney Song, Chief Data Officer at Publicis Media. At the inaugural Access China Summit, he delivered an international keynote presentation about the most important ways to improve the quality of Chinese website traffic and new opportunities for marketers looking to reach Chinese consumers online.
This blog post summarises some of the key tips for Western marketers from Sidney's presentation:
1. Invest in emerging advertising channels to drive relevant traffic to your Chinese website
2. Dealing with website traffic fraud
3. Understand your data
Invest in emerging advertising channels to drive relevant traffic to your Chinese website
"While the Chinese internet population is still growing, the overall growth rate is not as high as it used to be", Sidney said. "But that's no reason for businesses to be concerned. The Chinese digital ecosystem is always evolving, opening new ways for marketers to reach online consumers." According to Sidney there are three very exciting and fast growing new channels emerging that marketers should tap into to drive relevant traffic to their Chinese website: content feeds, social media and online celebrities.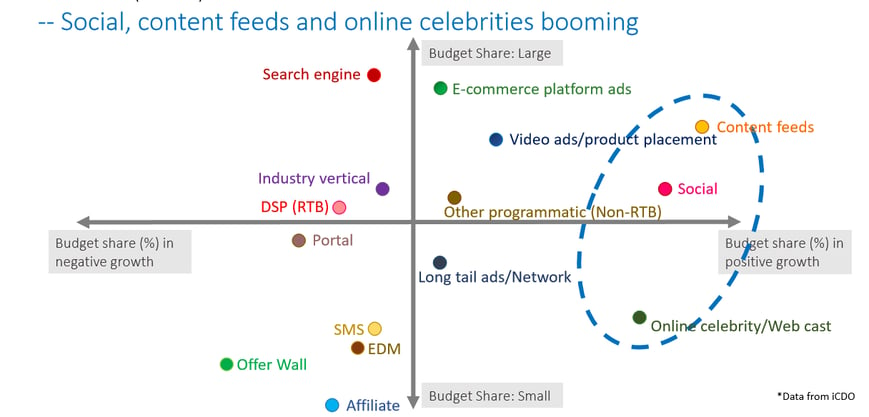 Chinese content feed ads on the rise
The expected growth rate for content feed ads in China is over 50% per year, with overall spend on content feeds projected to exceed AU$17.19 billion (91.35 billion RMB) in 2018. This means that spending on content feeds ads will soon be on par with the current spend on search ads in China. It's no surprise then that more and more content feed providers and apps are emerging. Right now, news aggregators Toutiao and Yidian Zixun are the most popular news apps in China. Search giant Baidu is also developing its own content feed product. "International marketers should keep a close eye on the content feed sector and test the efficacy of content feed ads for their own campaigns, Sidney recommended.
Social media advertising to become more attractive
The growth rate for social media advertising in China is also high with a 50% increase year on year. Yet, the overall ad spend isn't as big as for content feed or search ads.
"The reason for the slower increase in advertiser spend is that Chinese social media platforms are still looking at the best ways to monetise their traffic", said Sidney. "While WeChat has a lot of users and their advertising options aren't bad now, there's still a lot of room for more. Weibo might have improved a lot in recent years, but they still have a lot to do to be attractive to advertisers." International marketers should test new social media ad formats as they emerge to stay ahead of the competition and benefit from cheaper rates in the launch phase.
Leveraging the selling power of online celebrities
"Online celebrities are extremely popular in China, but the spend is not yet huge considering how well online celebrities do at making money for themselves – and in turn the products and brands they are promoting", Sidney analysed. "Online celebrity is a great channel to boost Chinese ecommerce sales."
The opportunities for collaboration are limitless and there are specific channels solely focused on facilitating interaction between online celebrities and Chinese consumers. For instance, Taobao has a dedicated channel for online celebrities doing webcasts. Huajuan is a popular video shopping app for online celebrities.
All in all, digital markets in China have more channels at their disposal than ever before. The bad news is that if there are more channels, there's also more opportunity for fraud.
Dealing with website traffic fraud
As digital marketers, we rely heavily on website analytics to assess the performance of our initiatives. Yet, when it comes to quality and relevance, not all traffic is created equal. This is especially the case in China.
"In China, 40% of all app advertising traffic is confirmed fraud, 35% is suspicious fraud and only 25% is considered clean", Sidney explained. "As you can see, getting lots if app traffic isn't ideal in China." And the same thing could be said for traffic from vertical sites of which more than 40% of traffic is considered fraud. DSP is not faring much better with at least 30% of traffic being confirmed fraud.
Fraud in China also has a dimension that marketers in the West aren't necessarily accustomed to. "In Western countries, all fraudulent traffic is bot or computer generated", explained Sidney. "In China, we have humans generating this kind of web traffic fraud, because we have a lot of labourers looking for easy ways to make money." For instance, it isn't uncommon to hire a person to download an app or click on an article on 200 different mobiles. Protecting yourself against human fraud is very difficult.
The issue of traffic hijacking and cookie stuffing is also more complex in China. "Many people believe that Chinese telecom carriers or their subsidiaries are involved with this kind of fraud", according to Sidney.
"In 2015 Chinese publishers were so fed up with this kind of fraud that they published a joined declaration asking all Chinese advertising vendors to stop cookie stuffing, explicitly mentioning telecom companies", Sidney told the audience. "The issue has got a bit better since then, but it's still an issue. That's why affiliate marketing is not that popular in China – it's too easy for the traffic to be hijacked or cookie stuffed."
Understand your data
So how can marketers distinguish quality, relevant Chinese web traffic from fraud? "Focus on deeper engagement, not superficial results", advises Sidney. "Did the visitors click on certain buttons? Is their bounce rate high? Sometimes we need to investigate even further to understand the micro behaviour of users. Heat maps will provide some insights into this." While this level of analysis can take some time, it's one of the most reliable ways to ensure you're attracting quality traffic to your Chinese website.