According to Global Rev Gen's executive director Rob Brown, there are three big reasons why foreign companies failed in China, which he revealed during his presentation at the Access China Summit 2017.
In part one of this three-part series, we revealed the first reason: "red dragons". This was the term Brown used to describe the extent to which power and control are wielded in China, by both the Chinese government and local competitors, who will go to extreme lengths to preserve sovereignty and win market share. So influential are these mechanisms of power, that misunderstanding and underestimating them brought down Uber, Google and Facebook.
In part two, we'll be covering the second category: "red ink".
Red ink: local knowledge and respect
In China, red ink carries a special significance. It is the colour of an official company chop, which is a necessity when it comes to doing business in China, as it is used to legally authorise documents, much like a signature in the West.
Red ink is also a symbol of death, a belief that harkens back to a time when criminals on death row would have their death sentences signed in chicken blood. For this reason, it is considered taboo to write a person's name or a letter in red ink.
It is this kind of local knowledge that non-Chinese companies tend to neglect when trying to enter the Chinese market; they tend to assume Chinese consumers are like consumers in every other market they have entered. These kinds of assumptions, however, are akin to signing their own names in red ink, as we'll see in these three case studies.
eBay
In 2002, eBay entered the Chinese market by purchasing an existing Chinese company called EachNet, at the time China's top e-commerce site, for $150 million, thus creating eBay EachNet.
In 2003, however, local competitor Taobao – Mandarin for "digging for treasure" – entered the market. Run by the Alibaba Group, with now legendary founder and CEO Jack Ma at the helm, Taobao got a running start by allowing users to post their listings for free, setting them apart from eBay, which charged users.
To counter, eBay started an aggressive campaign in an attempt to dominate the market, signing exclusive advertising rights with major portals Sina, Sohu and Netease with the intention of blocking advertisements from Taobao; posting ads on buses and subway platforms; and injecting a further $100 million into its China operations.
While these tactics had worked in other markets, they proved to be missteps in China. Knowing that small business owners would much rather watch TV than go online, Ma invested heavily in advertisements on the major TV channels.
Jack Ma also had a deep understanding of the Chinese online shoppers, which was reflected in Taobao's ecosystem. For example, Taobao offered a voicemail to mobile phones function, based on the understanding that Chinese consumers were far more mobile-savvy than computer-savvy.
Another crucial difference was Taobao's instant messaging system that allowed buyers and sellers to communicate throughout the process. This facilitated the building of "swift guanxi", loosely defined as "a close and pervasive interpersonal relationship … based on high-quality social interactions and the reciprocal exchange of mutual benefits". Ma understood relationship-building was a fundamental part of the buying and selling process in China, helping to establish trust between the parties – this was a cultural difference eBay simply didn't understand.
Of Taobao's rise to prominence, Ma said, "eBay may be a shark in the ocean, but I am a crocodile in the Yangtze River. If we fight in the ocean, we lose—but if we fight in the river, we win."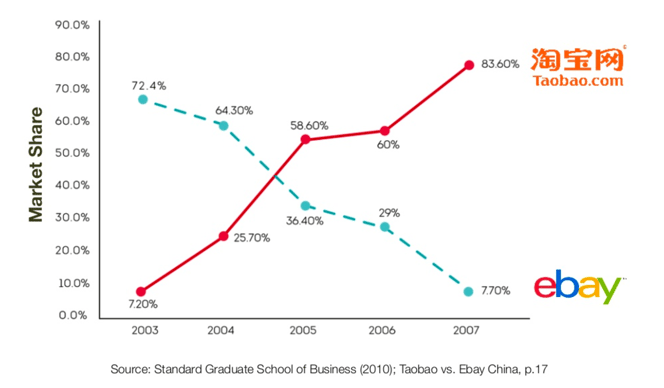 As Taobao's market share rose, eBay EachNet's share plummeted. In 2006, eBay finally admitted defeat, announcing it had purchased a 49 per cent stake in Chinese e-commerce company TOM Online, and would be closing down its China site as a result.
"We don't see it as a failure," said Meg Whitman, eBay's CEO, about the venture. "We see it as an evolution of our strategy here in China." eBay has since successfully repositioned to target small business owners in China who are looking to sell their goods to consumers abroad.
Home Depot
In 2006, Home Depot announced its foray into the Chinese market. "We have expanded in North America and see China as a chance to grow," Home Depot's president for international operations, Annette Verschuren, told reporters at the time. "We see great opportunities to grow very aggressively."
By all accounts, the signs were there. The middle class was expanding; home ownership was on the rise. So why did Home Depot shut its doors very suddenly in 2012?
One reason touted was that Home Depot has misread the country's appetite for do-it-yourself products. The availability of cheap labour meant people would rather pay someone to assemble things for them. As Home Depot spokeswoman Paula Drake put it: "China is a do-it-for-me market, not a do-it-yourself market."
This is only told part of the story, though – after all, Ikea, a famously do-it-yourself business model, had thrived China. So, what was the difference? Home Depot expected consumers to have a clear idea of how they wanted to decorate their homes and what they would need to do – a new ceiling fan, a certain paint colour for their walls, a faucet for the bathroom. Ikea instead showed consumers what Western-style homes looked like, with showrooms that gave consumers something to emulate. As author Helen Wang wrote, "Chinese consumers need to be educated as they have no role models. They are eager to learn but they need guidance. Companies that invest in educating the market can expect to reap handsome rewards."
A study has also suggested that Home Depot's failure to cater to women also contributed to their downfall. "In many cultures, women are the primary purchasing agent. Especially in China, women make the final decision in buying home décor products," said associate professor May Hongmei Gao. "After the one-child policy in China, women became so scarce that brides were given full control of how they wanted their house to look after marriage." By making the stores more appealing to women, and providing a "design and build service", Home Depot's story may have been different, said the study.
"If you want to make money in Asia, especially China, you have to satisfy the women," said Gao.
KFC
KFC certainly qualifies as a success story when it comes to Western companies that have managed to excel in China. It is now one of the biggest players in the restaurant chain market, with McKinsey reporting they had an 11.6 per cent share in 2016.
Like other companies, though, it has had to learn certain lessons through trial and error. While it opened the door to much fanfare in 1987, the infamous slogan "Finger lickin' good" had been translated to "Eat your fingers off" in Chinese. Franchises in Hong Kong also ran into strife when people complained about the flavour of the chicken. Purchased from China, the chickens had been fed with fish meal, which patrons said spoiled the flavour.
KFC overcame these blunders, though, and learned from them. Today, KFC China offers customers a mix of both Western and traditional cuisine, with menus offering congee, egg tarts and fried dough sticks, to name a few. Even the recipes are varied throughout the country to suit local tastes in that region. It has also successfully placed itself in more of a luxury space, as a place where families can gather on special occasions, which allows them to charge higher prices than local restaurants. In the past year, they have enlisted several celebrities, including boy band TFBoys, to endorse the brand, in a bid to appeal to the younger generation.
And no one can accuse KFC of not being creative or taking risks: last year, KFC launched chicken-flavoured nail polish in Hong Kong, in a bid to revive the slogan "Finger lickin' good" and bring more young people to the brand. While it certainly created a lot of buzz, it doesn't seem to have caught on.

How do non-Western companies combat red ink?
Don't make assumptions, says Brown. Do your research and seek local knowledge, in order to form a deep understanding of the local consumer. Failure to do so could result in some very expensive lessons.