Last week, the UK government announced plans to offer extended post-study work visas for international graduates. This news has had UK universities, who have long been campaigning for visa rules to be relaxed, cheering.
"This is terrific news," said Sarah Main, executive director of the Campaign for Science and Engineering. "Having had a meagre offer for the last seven years, the UK has just returned to an internationally competitive offer for undergraduate and postgraduate students. Some of the UK's biggest companies talk of the 'war for talent' in areas such as AI. The UK has just raised its game."
So what are the new rules, and what does it mean for the UK international student intake, particularly of Chinese students?
What changes have been made to post-study work visas for UK international students?
The UK government have extended the post-graduate work visa to two years, greatly increasing their chances of finding long-term employment after their studies.
This decision is a reversal of then–home secretary Theresa May's restrictive immigration policies imposed in 2012. May noted at the time that the two-year post-study work visa was "too generous", and drastically reduced the work visas to only four months.
The move was largely seen as being detrimental to international student enrolments, with numbers staying fairly flat in the years following these restrictions, while other destinations like Australia and Canada have seen impressive year-on-year growth in the same time period. Universities have since been lobbying for these visa rules to be relaxed so they can compete more effectively with these international destinations, whose generous post-study work visas have attracted many international students to their shores.
As well as helping UK universities compete on the international stage, this new change is also seen as a way to attract skilled migrants to the UK in the wake of Brexit.
The Department for Education (DfE) said the new immigration route would be available to international students "who have successfully completed a course in any subject at undergraduate level or higher at a higher education provider with a track record of compliance, and have tier 4 [visa] at the point the route is introduced". There will be no cap on the number of applicants.
The DfE said the route would allow students to look for work at any level, and allow them to later apply for longer-term work visas. "Those on the route will be able to switch on to the skilled work route if they find a job which meets the skill requirement of the route," the DfE said.
This change will kick in next year, meaning universities can begin announcing these changes to potential applicants now.
What does this mean for the intake of UK international students?
When you look at the numbers, the imposition of post-study work visa restrictions in 2012 does seem to have had a marked effect, with the number of international student enrolments staying fairly flat between 2013–17. We therefore expect to see a big boost to international student numbers in the UK in 2020–21, when these changes come into effect.
| | | | | | |
| --- | --- | --- | --- | --- | --- |
| UK | 2013/14 | 2014/15 | 2015/16 | 2016/17 | 2017/18 |
| No. of international students | 435,520 | 436,600 | 438,010 | 442,375 | 458,490 |
| Year-on-year growth rate | | 0.25% | 0.32% | 1.00% | 3.64% |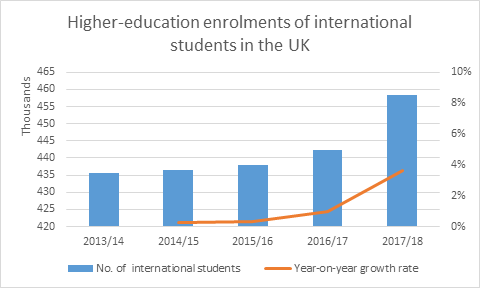 Source: HESA
Gavin Williamson, the education secretary, said: "The important contribution international students make to our country and universities is both cultural and economic. Their presence benefits Britain, which is why we've increased the period of time these students can remain in the UK after their studies.
"Our universities thrive on being open global institutions. Introducing the graduate route ensures our prestigious higher education sector will continue to attract the best talent from around the world to global Britain."
How will Chinese students in particular react to these changes?
The data shows that post-study work opportunities are a highly important consideration for Chinese international students. Indeed, research for our latest whitepaper The Learning Dragon revealed that, in 2018, the most important factor when it came to deciding where to study was future employment prospects. This also factored largely into their choice of subject and institution.
This is likely because overseas work experience is seen as a significant differentiator for returning graduates. As the employment market in China gets more competitive, with more students than ever venturing overseas for their studies, graduates no doubt want to be able to set themselves apart from their peers as much as possible.
This announcement may also have come at a particularly beneficial time, with applications from Chinese students to study at UK universities having risen 30% since last year. Commentators have suggested this is due to increasing political tensions between China and the US, which, at least for the time being, is the number-one international destination for Chinese students. These tensions have made the US a less appealing study destination, and encouraged students to look to other countries.
| | | | | | | | |
| --- | --- | --- | --- | --- | --- | --- | --- |
| UK | 2011/12 | 2012/13 | 2013/14 | 2014/15 | 2015/16 | 2016/17 | 2017/18 |
| No. of Chinese international students | 53,525 | 56,535 | 58,810 | 58,845 | 62,105 | 66,415 | 76,425 |
| Year-on-year growth rate | 19% | 6% | 4% | 0.06% | 5.54% | 6.94% | 15.07% |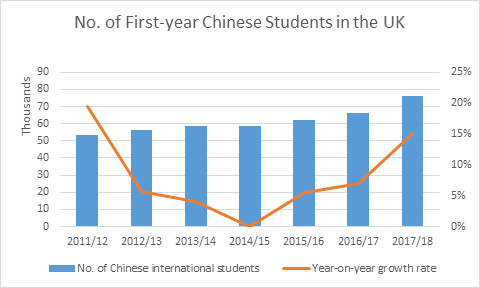 Source: UK Council for International Student Affairs
The attractive post-study work possibilities, coupled with a cooling relationship between China and the US, means the UK is well positioned to boost their Chinese international student intake, provided they can effectively communicate the benefits of their world-class institutions to this demographic.
To fully maximise this opportunity, universities should be closely examining their marketing strategies, and at the very least ensuring their website and social media assets communicate these new visa changes to prospective students.
Universities may also want to develop content around this area ­­– if, for example, one of your schools or departments has a particularly high graduate employment rate, this is certainly data that should be flaunted. You could also demonstrate how certain courses provide real-world training for students, ensuring that graduates are well prepared to enter the workforce, or share what type of assistance the university offers graduates who are looking for employment, to help ensure they find work as quickly as possible.
Is your UK institution poised to reap the benefits? Contact us today to find out how Sinorbis can help you attract Chinese students.
Want to learn more about Chinese student recruitment? The latest edition of our education whitepaper The Learning Dragon takes in-depth look into the key trends among Chinese international students. Download it now.