In recent years, the spectre of COVID travel and venue restrictions has pushed Chinese consumers online for fun and entertainment. And in 2021, some forward-thinking brands have taken advantage of this next evolution of the web to boost the reach of their digital marketing campaigns in China, with online gaming and KOLs being the most popular distribution channels.
Play is serious business, especially in China. Despite new online gaming and entertainment regulations cooling some activity in the sector, its sheer size continues to lure brands looking to connect with the Chinese consumer. PwC estimates total revenue from China's entertainment and media industry will reach US$436.8 billion by 2025, with a compound annual growth rate of 5.1% (well above a global rate of 4.6%).
While KOL (Key Opinion Leader) marketing continues to dominate, foreign brands are getting great results from entertaining, omnichannel approaches that appeal to consumers with a little time to play online.
With these developments in mind, here are our three favourite Chinese digital marketing campaigns of 2021.
Moschino stages a Super Mario inspired e-treasure hunt
Moschino broke the KOL campaign mould in 2021 with a WeChat mini-game promoting its Chinese New Year capsule collection. The player submitted their name, mobile number and email address to access the game. Once inside, they were greeted by a virtual cartoon version of Moschino's creative director Jeremy Scott. The main protagonist, a cartoon ox, also featured in Moschino's Year of the Ox red-and-gold dominated capsule collection. The game had three levels: Super Mario-type treasure-hunting missions on "Mooschino" runways in Los Angeles, New York and Milan.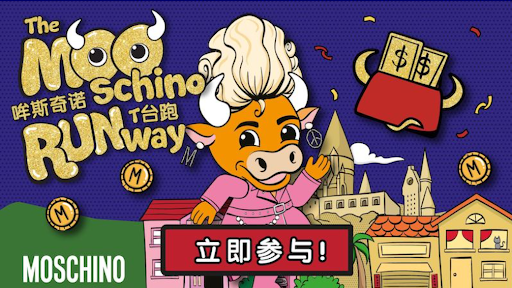 High scorers stood to gain real-world prizes. The top 30 players won limited edition Moschino Mahjong sets. Players could also collect shopping tokens redeemable within Moschino stores in China. Vogue Business rated Moschino second place in percentage growth of luxury brand WeChat searches during CNY (coming in behind heavyweight Lanvin, which utilised Chinese KOLs and celebrities to generate online buzz).
Apple reimagines a Chinese legend
Technology giant Apple was betting people had a little more time than usual online, in this case, to watch a 12-minute mini-feature film shot entirely on its iPhone 12 Pro Max phone. Another Chinese New Year campaign, the film Nian is a fresh take on a traditional monster.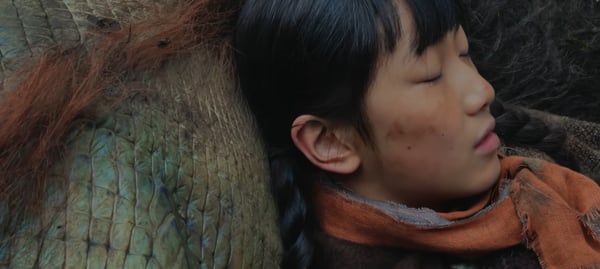 According to legend, the Nian comes out of his hiding place to eat children. Red lanterns, noisy drums and fireworks scare him off. However, in Apple's film, made by director Lulu Wang and the team behind Golden Globe-nominated film The Farewell, the young Ah Ting befriends the misunderstood Nian monster. The film deals with coming of age themes and is an analogy for overcoming the fear of venturing into the unknown as you grow older. It's gorgeous cinematography also demonstrates the product it's promoting: the iPhone 12 Max Pro.
The film picks up on two trends noted by Edelman China CEO Mark Wang at the start of 2021: a Chinese consumer with more time for high-quality entertainment online and a desire for content that connects emotionally.
Clear partners with Honor of Kings
Last but not least: Clear, a haircare brand perhaps best known for its antidandruff shampoo, struck a deal with esports mobile game Honor of Kings. Esports are becoming an increasingly popular forum for reaching young consumers, particularly men. Around 70% of China's estimated 400 million gamers are male.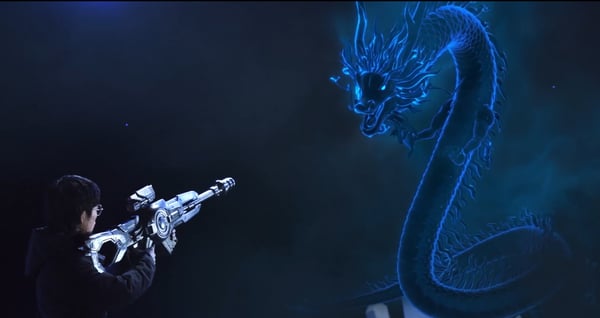 Clear's partnership with King Pro League (KPL), the esport tournament, included a barrage of Clear-branded KPL content: special videos featuring top KPL Players, a so-called 'Clear Battle Ranking' giving odds on a players success, and a limited edition Clear Dragon haircare set, which featured a bottle of shampoo with a metal dragon head on top that shared a likeness with the dragon trophy the professional esports players win during the tournament.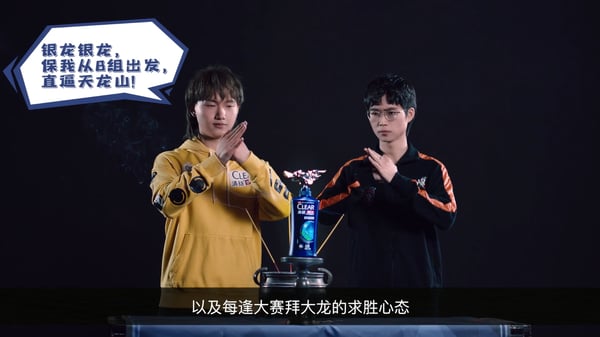 All in-game content was integrated with WeChat, Weibo and Kuaishou to drive traffic to the JD e-commerce app. The campaign is credited with generating a 37% increase in young male consumers in China and 4.7 billion impressions.
So what can we expect for digital marketing in China in 2022?
It's likely that, with COVID regulations still restricting some travel, the trend toward staycation spending will continue, which means more time on entertainment platforms. KOLs aren't going away any time soon, but Bohan Qiu, founder of the pivotal BOH PROJECT agency, sees them being overshadowed by the "COL": the Cultural Opinion Leader. Either way, with plenty of foreign brands investing in their digital presence, and COVID disruptions accelerating consumer behaviour changes, we can expect it to be an interesting year for digital marketing in China.
Are you looking for inspiration to take your digital marketing campaigns in China to the next level? Our Chinese New Year Marketing Tips provides useful tips, including information on how to develop a creative theme and how to avoid some of the most common cultural pitfalls.