As the higher education sector continues to grapple with the COVID-19 crisis, education institutions everywhere are learning to adapt to a new normal, whether that's pivoting to predominantly online learning, implementing safety measures around campus or supporting staff and students working and studying from home.
Exacerbating these challenges is the sharp drop in international students, which has hit universities' finances hard. This has necessitated some difficult decisions in terms of where to reallocate funding in order to maintain operations. Some institutions have even had to take the drastic step of laying off staff or closing campuses altogether.
In this era of uncertainty, many education institutions are understandably concerned about what the future holds in terms of future recruitment. It is crucial to understand how international students are responding to this global health crisis, and how it is impacting their study abroad plans, in order to understand how to tailor your recruitment efforts to better inform and support prospective students.
In their whitepaper How COVID-19 is Impacting Prospective International Students Across the Globe, QS surveyed more than 19,000 students from China, India, the US and the EU. As China and India represent the two biggest international student cohorts in the US, Canada, Australia and New Zealand, we will be focusing on their responses in this blog post.
So how has COVID-19 impacted the study abroad plans of Chinese and Indian students?
How has coronavirus affected Chinese and Indian students' plans to study abroad?
In response to the question 'Has coronavirus affected your plans to study abroad?', around 66% of Chinese students and 57% of Indian students said 'Yes'.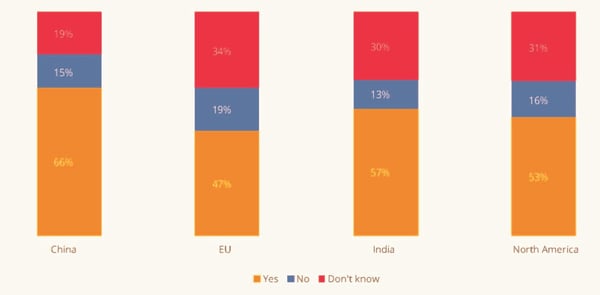 However, when asked 'Which of these best describes how the coronavirus has changed your plans to study abroad?', around half the students (48% of Chinese students and 54% of Indian students) responded 'I now intend to defer/delay my entry until next year', while only a small minority (4% of Chinese students and 7% of Indian students) said 'I now no longer want to study overseas'.
This is an encouraging result, showing that students still want to study overseas and are primarily choosing to either delay or defer their studies to the following year, suggesting that enrolment results next year may actually be more promising than recruiters are anticipating in this current environment.
Only 6% of Chinese students and 7% of Indian students responded with 'I now intend to study in a different country', indicating the coronavirus crisis is doing little to sway students' opinion about their preferred host country.
The remaining students (42% of Chinese students and 32% of Indian students) opted for 'None of these' or 'Other', which shows many students are finding alternative options to their study abroad plans, such starting their courses online or at local institutions.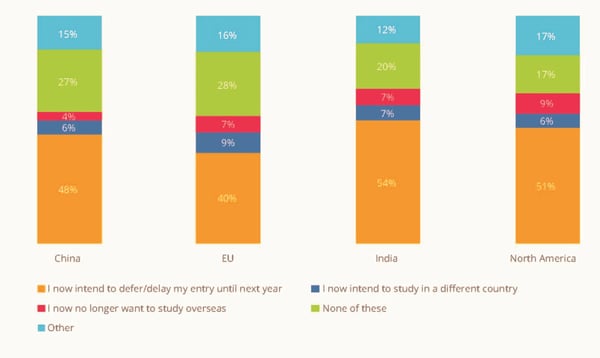 How interested are Chinese and Indian students studying their degree online because of the coronavirus?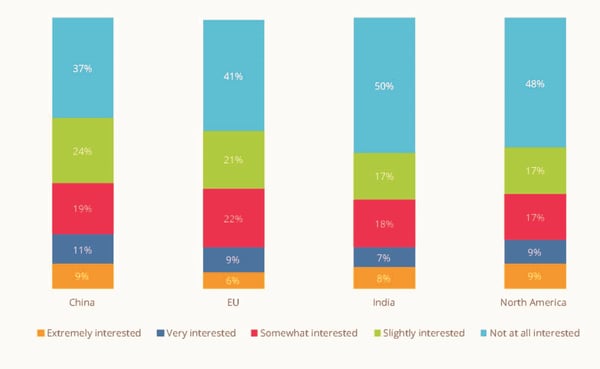 The survey shows that Chinese students are slightly more receptive to online learning than Indian students, with 37% of Chinese students saying they were not at all interested in studying their degree online compared to 50% of Indian students.
But while 'not at all interested' was the main response for both cohorts, around 63% of Chinese students and 50% of Indian students expressed some degree of interest in studying online, showing there is a reasonable demand for online offerings.
There is also scope for education institutions to improve messaging around online learning in order to communicate the benefits and show students how degrees are being effectively translated to the online environment. Students may also need to be informed about changes in visa rules introducing more flexibility around online learning – the US, for example, is allowing international students to enrol in hybrid programs with a mix of in-person and online classes, with many advocating that online-only courses should also be permitted, while Canada is also enabling students to begin their studies online while they are still abroad and have that time count towards their Post-Graduation Work Permit (PGWP) eligibility. Australian universities are also offering free online courses to students anywhere in the world – a great way to demonstrate what students can expect from an online offering and perhaps convert a few of the sceptics.
What should universities be doing to limit the impact of the coronavirus?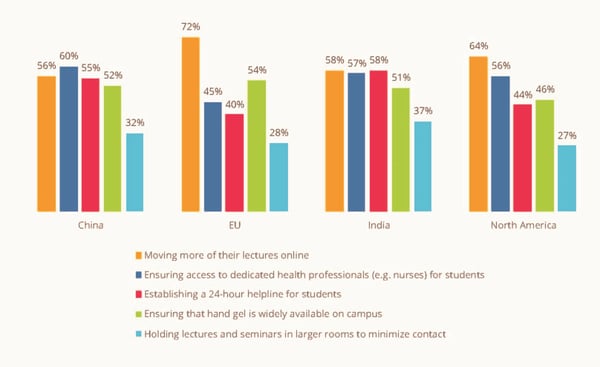 When asked what initiatives they think institutions should implement to limit the impact of the coronavirus, students (who were allowed to pick multiple options) picked a wide range of options, including moving more lectures online, ensuring access to healthcare professionals, establishing a helpline for students, ensuring hand sanitiser was widely available and holding lectures and seminars in larger rooms to allow for social distancing.
There was a fairly even spread across all the options for Chinese and Indian students, with the exception of holding lectures and seminars in larger rooms, which was less important to students. This indicates that students from China and India expect institutions to implement a range of measures to address the spread of the coronavirus.
What information do Chinese and Indian students need as a result of the coronavirus?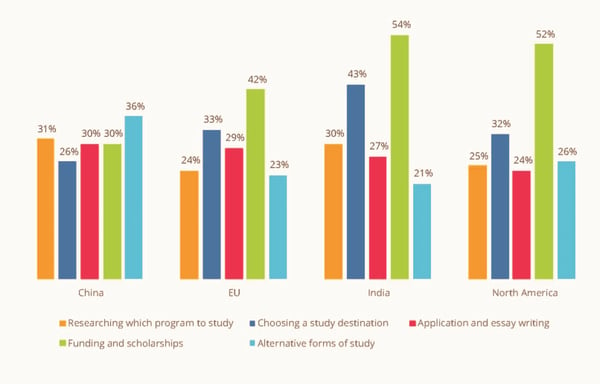 When asked what information they need from institutions as a result of the coronavirus, Chinese students gave a fairly even spread across all 5 responses: researching which programs to study, choosing a study destination, application and essay writing, funding and scholarships, and alternative forms of study. Institutions should therefore provide a variety of informative materials to assist them during the admissions process.
More than half of the Indian students surveyed, on the other hand, selected funding and scholarships – by far the most popular option. This highlights the financial pressures Indian students in particular may be facing during this challenging time.

Preparing for future recruitment
The good news is that the indications show that Chinese and Indian students' desire for a study abroad experience has not waned, and many students hope to resume their studies as soon as possible. While it is difficult to predict what circumstances will be like next year, there is hope that, if things improve and international travel becomes possible once again, Chinese and Indian international students will return.
In the meantime, universities can ensure Chinese and Indian students' concerns are addressed in their brand strategy and messaging in order to help boost their confidence. Universities should, for example, try to find ways to reduce students' ambivalence about online learning, and to inform them about the measures they are taking to protect students' health and safety. They should also ensure students can easily find the information that's important to them on the university's website and social media, such as information about how to choose a study destination and available scholarships and funding.