Baidu trend data reveals Chinese students are showing an increasing interest in Artificial Intelligence (AI) and related big data topics, highlighting a pivot from humanities and social sciences to engineering.
The Baidu Hot Search: Big Data on the 2022 College Entrance Exam reveals search trends related to the 2022 college entrance exam. According to the results, AI is the hottest major for students looking at undergraduate degrees and has been for the last three years running. Mechanical engineering comes in second place, while electrical engineering and automation and big data technology come in third and fourth consecutively. Clinical medicine comes in fifth, an unsurprising result post-COVID. Trends do not, however, equal the whole. For context, Chinese students planning global study in 2021 primarily majored in engineering (23%), management (14%) and economics (14%), according to a survey by New Oriental.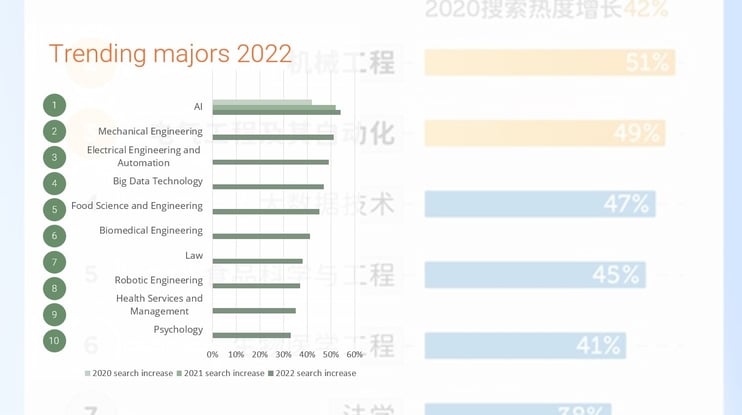 Changes to the top five trending topics reveal a significant shift in preferences. None of the 2013 trending searches Financial Management, Marketing, English, Business Administration and Law, all subjects related to business and trade, make the cut in 2022. In an article in a China AI publication, translated by Jeffrey Ding, author Wang Yu writes that there was little popular understanding of engineering between 2013 to 2016. However, "2017 was a turning point. In this year, the field of artificial intelligence entered the public's field of vision, and its ranking has steadily improved… [the increasing popularity of engineering demonstrates] that the trend of career choice in the society is increasingly "realistic," and parents of students are gradually favouring cutting-edge technology."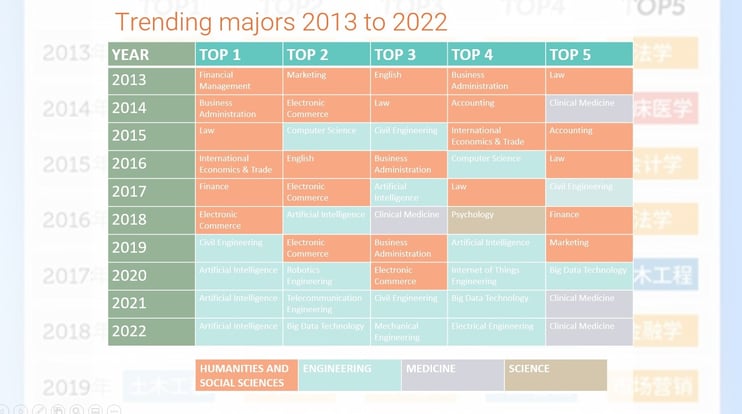 Changes within China
Interestingly, Yu's article includes criticisms of the rush by some Chinese institutions to develop AI degrees and qualifications and encourages students looking to explore their own interests more fully and increase their knowledge of AI before choosing the major. Yu also delivers insight into how an institution with lower academic rankings, Hangzhou Dianzi University, is able to produce competitive graduates, by developing practical work experience opportunities for its students. The lower academic prestige, "does not have to become a hindrance, but instead makes enterprises pay more attention to the practical experience of students."
China's innovation drive
The interest in engineering is unlikely to wane soon. China's focus on developing tech capabilities was a key platform of its development blueprint, announced in its 14th five-year plan last year. The high-tech fields highlighted for attention include artificial intelligence; quantum tech; semiconductors; neuroscience; genetics and biotech; clinical medicine; and deep space/sea/earth exploration. Firms dealing in big data, AI, the internet of things, robotics, cloud computing and clean energy are setting up at an unprecedented pace in China's interior. The rapid growth in these cities is closely connected to local-government planning and the offer of generous tax and land incentives.
How student preferences impact marketing
So, what does this mean for international student marketing and recruitment, and universities with a strong Chinese cohort? The most obvious response for recruiters and marketing teams will be to spend more energy and effort highlighting the new fields of interest. The coming boom demands more expertise than China currently has. While the country is also rolling out training and education programmes, and encouraging university and industry collaboration, but there will still likely be a shortfall. Some experts believe there is potential for teacher training, or closer partnerships between Western and Chinese universities.
It's important to keep in mind the fundamental drivers behind why Chinese students seek international education. These forces have remained relatively constant for decades: parents and students looking for a quality education can find an alternative route to the hyper competitive school system, and the infamously difficult gaokao university entrance exam, in global providers.
There's also fierce competition between graduates for white-collar jobs. In 2021, a record 10.76 million college students graduated – 1.67 million more than the previous year – adding pressure to an already hyper-competitive job market. Students are increasingly seeking an edge in the market with postgraduate qualifications. A total of 4.57 million people applied for the postgraduate entrance examination in 2021 – 800,000 more than the year before.
Meeting student needs
At Sinorbis, we recommend marketers and recruiters consider the specific concerns and interests of Chinese students when creating content and marketing material. There are a number of resources available to start developing these insights (including those we develop at Sinorbis). However, China's Gen Z international student cohort is not monolithic, and neither are higher education institutions. Understanding your unique value proposition with Chinese students is critical to successful long-term China strategy. You can develop this insight by surveying your current students and alumni and gathering intelligence from your marketing activity results and metrics.
Yu's article suggests that most undergraduate students have only a limited understanding of their chosen major. This notion is supported by survey results from the Chinese Ministry of Education showing that nearly 70% of students know very little about their chosen major. Creating content to educate and support students to make the right decision about what, not just where, they are studying may help them make better choices and lead to better engagement in the long-term. This concern for a student's engagement across their full study journey has the potential to create a virtuous circle, when engaged, supported students champion your university at home and with friends, attracting more high-quality students to your university.