As important as Christmas is to Western consumers, the Chinese Lunar New Year is like Christmas on steroids. In 2019, Chinese consumers spent $149 billion across the Chinese New Year holiday according to China's Ministry of Commerce. This sum is expected to be exceed $156 billion in 2021. So, it makes sense, of course, that businesses would want to cash in on this highly lucrative holiday in order to build brand awareness, cultivate a relationship with customers and drive conversion. Indeed, Chinese New Year 2021 will be more important to retailers than previous years due to the impact of the COVID-19 pandemic. –What's more, evidence shows that Chinese New Year campaigns are growing longer, with shopping sprees starting 2–3 weeks before Chinese New Year, and continuing around 3–4 weeks after. For marketers to really capitalise on the holiday, therefore, they need to be on top of their marketing campaigns as soon as possible.

But the days of simply making things red and gold, and mindlessly slapping a zodiac symbol on the product or on marketing collateral, are long gone. Chinese consumers are more discerning than ever, and the last thing you want is for your marketing campaign to be the subject of widespread mockery.
To help you make the most of this crucial time of year, and help you avoid costly cultural missteps, here are 5 creative Chinese New Year 2021 marketing ideas.
Provide valuable content

Showcase the values and traditions of the holiday
Create a social media campaign that encourages user-generated content
Drive user interaction with gamification
Be original with imagery used in marketing campaign
1. Provide valuable content
Chinese New Year is a highly stressful time for many people. The house needs to be thoroughly cleaned and decorated; new clothes and gifts for relatives need to be purchased; food needs to be bought and prepared; and travel needs to be organised and booked. Not to mention there's the ordeal of the trip home itself, which entails fighting the huge crowds during chunyun, the biggest annual mass migration in the world.
Anything you, as a brand, can do to make life just a little easier for your customers during this busy time, therefore, will be hugely appreciated and win you a lot of brownie points. Consider creating helpful Chinese New Year content such top tips, how-to guides or online tutorials that will help smooth preparations.
2. Showcase the values and traditions of the holiday
The Chinese Lunar New Year is not just about unfettered spending. It's also about travelling home to be with loved ones, getting back to our roots, and sharing our wealth with others who might be less fortunate than us. This is the perfect opportunity, therefore, for you, as a brand, to show what values you champion, and to connect with your customers on a deeper level.
One example of a campaign that did this well was Tiger Beer's "Reunion Project", which was launched for Chinese New Year 2018. The campaign kicked off with a touching video featuring 65-year-old Singaporean David Lee, who is writing a letter to his three adult children, who all live abroad, and telling them how he wishes they could be home for Chinese New Year.
Tiger then launched a website where consumers were able to nominate their loved ones for a trip home in time for their family reunion dinners. The lucky winners won travel vouchers to help them with the flight home.
While purchasing flights for your customers might not be feasible, your brand could similarly tap into the values that are important to the season, such as spending time with family and charitable giving.
3. Create a social media campaign that encourages user-generated content
In a landscape where there are over 1 billion monthly active WeChat users, engaging them on social media seems like a no-brainer. Micro-videos and live streaming remain huge trends in China, with Douyin, one of the most popular Chinese short video apps, now boasting more than 300 million domestic monthly active users and more than 150 million daily active users as of June. So why not tap into users' love for creating their own content?
Michael Kors has taken full advantage of the short-video craze. When the brand first launched in China in November 2017, it launched a "hashtag challenge" (where users are invited to compete for the most popular video) on Douyin. The hashtag in question was "city catwalk" – in the end, around 30,000 users posted videos of themselves doing catwalks with Michael Kors products.
Brands have even benefited from social media crazes they didn't even initiate. Popular hot pot restaurant Hai Di Lao had diners creating DIY dishes at their branches, and posting short videos of their creations on Douyin under the hashtag "life hacks". The videos went viral, prompting thousands of others to record their own versions. Diners were even specifically requesting the "Douyin Dish", which waiters would bring out, no questions asked.
4. Drive user interaction with gamification
Games are a great way to drive user interaction (after all, who of us has not wasted several hours playing Candy Crush?), and Chinese New Year and the iconography connected with it make it perfect fodder for a fun and visually appealing game.
In 2015, Alipay released an in-app feature known as "Five Blessings" in the lead-up to Chinese New Year. It became such a huge sensation that the feature has been brought back every year since. The idea is that users use the app to scan 福 (good fortune) characters they come across in order to collect unique cards.
Collect five cards to get a set; the more sets you get, the bigger the red packet you would receive for Chinese New Year. This year, a whopping 150 million people partook in the game.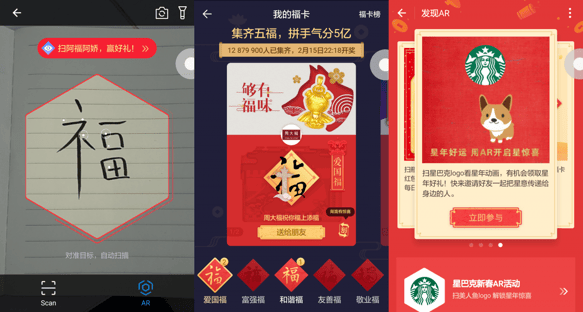 You might not have the budget for a full-blown app, but there are other ways to gamify your marketing. For example, could you run a competition to name a new product? Could you include scratchies in every product sold during a promotional period? Get creative!
5. Get creative with imagery used in marketing campaigns
While red and gold are still intimately connected with Chinese Lunar New Year, consumers are starting to get fatigued by the onslaught of marketing and advertisements with red and gold splashed all over it. If the imagery and colour scheme are not used thoughtfully, it runs the risk of making your marketing collateral unmemorable, or, even worse, completely jarring, if they don't fit with your company's branding.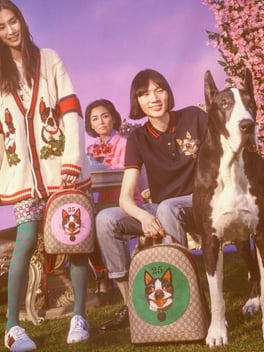 In 2018, Gucci gave the zodiac symbol of the dog a fashion twist with a Chinese New Year capsule collection featuring designs based on creative director Alessandro Michele's two Boston Terriers. The collection was fun, full of personality and completely original.
The lesson here is to think outside the box when it comes to creating your marketing collateral, while also ensuring you stay faithful to your brand.
We hope that these ideas will help you think creatively about your upcoming Chinese New Year marketing campaigns, and save you from any potential embarrassment.
The Chinese New Year is a huge opportunity for retailers. To help you make sure you're fully prepared, we've put together a Get ready for the Chinese New Year checklist, so you don't forget a thing. Download it now!