Moving abroad to study is a huge and costly undertaking. As such, it requires a great deal of careful research beforehand. For marketers, understanding when and how Chinese students and their families prepare for this significant change is crucial in helping to develop highly impact campaigns.
Popular topics during the preparation process
When students are preparing to study abroad, one of the most important considerations, unsurprisingly, is the application procedure for their preferred institutions. Interestingly, however, in 2018 the most important factor was future employment possibilities in their prospective destination. This signals that postgraduate work is a key factor for students. As the employment market in China gets more competitive, with more students than ever venturing overseas for their studies, graduates no doubt want to be able to differentiate themselves further from their peers with international work experience.
Other important considerations are how to select the best institution, how to select the best major, and how to prepare for entrance exams. Education marketers should therefore consider including these topics in their content marketing strategies.
Who makes the decision to study abroad?
When it comes to the big decision of whether or not to study overseas, students wield a huge amount of control. In 76% of cases, the student was directly involved in the decision, whether they made it alone or jointly with their parents, while in 23% of cases, the decision was made by the parents alone. This is reflective of the increasing independence of China's millennial generation.
Education marketers, particularly those from colleges or universities, therefore, need to be mindful about ensuring any messaging appeals predominantly to students.

When preparation begins
The planning period typically begins well ahead of students' departure, with around 60% starting to make plans 1–2 years in advance. This is therefore the key period for marketers wishing to target Chinese students in enrolment campaigns.
Preparation period for the relevant admission exams

Preparation period for launching the application

When students tend to look for information
Once students have got over the hurdle that is the intensive Gao Kao in June, they then start to set their sights on higher education. This is reflected in the search volume for all key destinations, which increases up to June, and then peaks between July and September.
For the US, the search volume peaks in August, because the majority of students (local and international) prefer to start their US studies in the fall semester (which begins in late August), as there are more courses on offer as well as more opportunities for obtaining financial assistance.
There is also another peak of search volume in October.
Monthly search volume for key destinations (desktop & mobile), 2018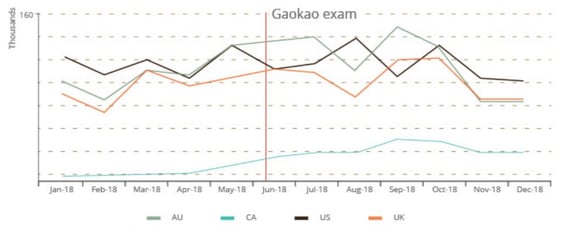 Where students look for information
Chinese students typically use a wide variety of channels to source information about their destination and their course of study. Marketers need to understand that the institution's official website is usually not the main port of call at this early stage in the decision-making process, with only about a quarter of students citing it as a key research channel (though this may be because few international institutions have Mandarin-language websites localised for this target market).
The main port of call for information for students is education consultants and agencies, with more than half of students citing these as a key source. Indeed, students are more willing to pay for professional advice, which is viewed as more reliable, than to ask for guidance from friends and relatives who have had experience studying abroad.
Other important sources of information are social media (predominantly WeChat) and education exhibitions or workshops. Of these, education exhibitions or workshops were rated as the most effective, meaning they had the greatest influence on students' decisions regarding what and where to study, followed by WeChat and then the institution's website. This underlines the importance of having a strong web and social media presence in China.
Marketers will need to test for the optimal channel mix in order to reach their target audience. They may find that a well-rounded marketing strategy, including event marketing, content marketing and social media marketing tactics, will produce the best results.
Key research channels to source information, 2015 (before official website)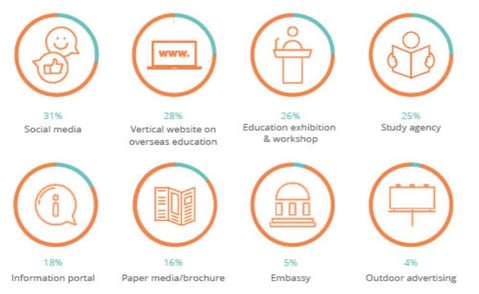 Where students come from
More than 60% of Chinese overseas students come from north and east China, with the biggest sources being Beijing, Shanghai, Shandong, Guangdong and Jiangsu provinces.
We're also seeing increases in provinces like Zhejiang, Hebei, Henan, Shaanxi and Hubei. Moving away from the coastal areas further inland, the number of families with children studying overseas steadily decreases.