At China's fifth plenum of the Chinese Communist Party's 19th Central Committee, held in late October, the Chinese government unveiled its first glimpses of its next five-year plan, the 14th plan since the 1950s. China's five-year plan serves as an economic and social roadmap for the next five years, plotting out the country's strategies and specific goals for growth. As such, it is worth paying attention to, as it clearly lays out the government's priorities and shows in which direction this fast-moving economy is heading.
While the five-year plan won't officially be released in its entirety until March, these first hints give a good indication of what type of policies might be included – and what businesses should expect in the coming months and years.
A look back at the 13th five-year plan
So just how closely does China adhere to its five-year plans? Let's take a closer look at the previous five-year plan and see how they measured up.
One main priority for China was drastically reducing the number of citizens living in poverty, as well as continuing to grow the country's GDP to move China closer to becoming a developed economy. While they didn't quite reach their goal of lifting 55.75 million people out of poverty, they got pretty close, with a still impressive 50.2 million. They also beat their goal of increasing their average GDP growth by more than 6.5%, achieving an average GDP growth of 6.7%.
The 13th plan also saw the implementation of the Made in China 2025 policy, a policy aimed at making China a global leader in high-tech manufacturing. From 2016 to 2019, China's industrial added value rose from 3.7 trillion US dollars to 4.7 trillion, with an average annual growth of nearly 6%. In 2019, China's manufacturing industry's added value reached four trillion US dollars, accounting for more than 28% of the global total.
"Since the beginning of the 13th Five-Year Plan period, China has made significant breakthroughs in a batch of critical technologies and products, such as the landing of Chang'e 4 on the moon, the successful launch of the Long March 5 rocket, Tianwen-1 flying to Mars, and Beidou Navigation Satellite System, the Antarctic expedition of icebreakers Xuelong and Xuelong 2, as well as new materials for C919 large passenger aircraft and glass substrate for panel display," says Wang Zhijun, China's vice minister of industry and information technology.
The Chinese AI market has also exceeded 50% annual growth, furthering the country down the path to "cultivate an artificial intelligence industry ecosystem" as the 2015 plan had hoped. Overall, China climbed to 14th place in the Global Innovation Index, a 15-spot jump since 2015.
In the table below, you can see the high level of success China has had in meeting its five-year plan goals: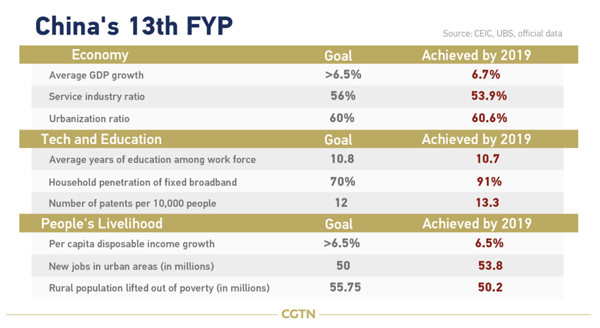 What's in store for China's 14th five-year plan?
Continuing progression to a 'moderately prosperous' economy
As with the previous five-year plan, China's GDP growth rate goal is expected to be ambitious. But while the last plan sought to achieve "medium to high growth" in order to build a "moderately prosperous society", officials have given signs that the focus in this plan will be more on "high-quality growth", as opposed to "high-speed growth".
The committee "said that China's GDP per capita should match the level in moderately developed countries by 2035," economists at Australia and New Zealand Banking Group, led by Raymond Yeung, wrote in a note. "Although no specific figures or names were mentioned, a reasonable expectation is that China will aim to reach GDP per capita levels similar to that of South Korea, Israel, or Spain over the next 15 years. The GDP per capita of these countries are $35,000-40,000 in today's prices, compared with China's $10,261 in 2019."
Technology as a national strategic pillar
In order to achieve this "high-quality growth", technology will be a key area of development for China, with the plan expected to emphasise the domestic development of chips and semiconductors for computers and smartphones — China's biggest single import by value — next-generation telecoms, artificial intelligence, autonomous vehicles and other fields.
Officials said "making major breakthroughs in core technologies in key areas, China will become a global leader in innovation," according to the communique published by Xinhua.
This strategy is possibly in response to the increased pressure China has felt as a result of the trade wars with the US, as well as China's heavy reliance on tech and products from places like the US, Japan and Europe. As well as looking to be a global leader in key areas of technology, China is also looking to become more self-sufficient and less dependent on foreign input.
"We think China may target a higher spending in R&D (possibly 3% of GDP by 2025) and education in the new five-year plan," UBS economists Wang Tao and Ning Zhang, wrote in a note. "In light of tech restrictions, China may allocate more resources to fundamental and frontier research, and technology bottleneck areas."
On its digitalisation plans, "we think China will invest more in its 'new infrastructure' including 5G networks, AI and data centres in the new five-year plan", the economists said.
Opening up the economy
Past plans have promised increased opening up of the economy and more foreign access, and in line with this, China has been gradually relaxing its control over the currency and capital flows, including taking steps to liberalise the yuan following its recent appreciation.
This plan is expected to be no different. One crucial difference, though, is they are expected to provide a progress timeline this time around.
"The fifth Plenum called for international collaboration through high-level opening up," Barclays Plc economists led by Chang Jian in Hong Kong wrote in a note. "The communique called for promoting trade and investment liberalisation, advancing the 'Belt and Road' high-quality development, and actively participating in the reform of the global economic governance system."
These commitments are in line with recent comments from President Xi Jinping, who says China must actively cooperate with all countries, regions and enterprises, including the US.
More domestic consumption
Alongside this "opening up", officials have also cited charting a course that draws on domestic resources and consumption in order to achieve more sustainable "high-quality" growth.
The committee called this strategy "dual circulation", a phrase that appeared a couple of times during their communique – though what exactly this means or entails remains unclear. According to the statement, the nation needs to "smooth the domestic circulation, facilitate dual circulation at home and abroad, comprehensively promote consumption and expand room for investment".
This suggests that, just as China's wants to decrease its reliance on foreign technology, it also wants to decrease its dependence on international consumption and raise domestic demand, again as a means of achieving sustainable growth.
Net-zero emissions by 2060
Just a few weeks before the plenum, President Xi Jinping made an astounding announcement at the UN General Assembly, pledging to reach carbon neutrality by 2060. As the world's biggest carbon emitter, China will need to take some drastic steps in order to reach this ambitious goal, and we expect to see the first few steps towards sustainable consumption laid out in the next five-year plan.
The committee called for a significant green transformation of production and people's lifestyles, aiming to peak and then gradually lower its total emissions over the next few decades.
The committee also said it would seek a reasonable allocation of energy resources and improve efficiency, and they also vowed to speed up modernisation of the farming industry, ensure national food security and improve agricultural quality and competitiveness.
Planning ahead
Understanding China's priorities over the next few years allows businesses to react fast and shift their focus in response to the changing market.
Having well-established digital assets means businesses can update branding and messaging quickly so that it's up to date with the current economic situation and speaks to China's strategies and goals. To build your China digital presence on solid foundations, contact us today.