During the morning of Tuesday 31 May 2016, Sinorbis hosted its official launch event in the heart of Sydney CBD at Merivale's event venue, Fourth Floor. Guests, who included clients, investors and media representatives, mingled over delicate sweets and treats, and I'm sure I heard someone say something about a dragon….


To business, and kicking off the event, our CEO and Founder Nicolas Chu introduced Sinorbis. The name comes from the Latin words Sina and Orbis, meaning China and the world: we connect China to the rest of the world!

Nicolas explained that Sinorbis came to life because of:
The rise of the Chinese affluent and upper middle-class "who are increasingly looking outside of China for quality products and services",
The size in growth of the China digital space, which is in many ways bigger than the US market,
The difficulty of doing business in China for Western companies and organisations.
How do Western countries break into this huge market?
Nicolas says that basic principles for building a successful online business in China would include:
Understanding that the market in China is totally different to other countries with different buying behaviours,
Adapting your business model for this market,
Investing to build a profitable and sustainable business in a highly competitive market.
COO, Dandan Cheng discussed China's new generation of modern digital consumers, highlighting key insights from the new whitepaper Stoking the Dragon: Unlocking China's New Generation of Digital Consumers. As highlighted in our paper, the lifestyle and spending patterns of this new generation, born in the 80s and 90s, are sophisticated, they are college students, they travel overseas, they are emotionally attached to brands and they aspire to own more and buy more.
What is this new generation of Chinese consumers looking for?
Research, and exclusive data from Chinese search engine Sogou, indicates that Chinese consumers want:
Health foods and supplements: online searches in 2015 for premium food and health related products increased significantly. Searches for Australian and New Zealand health supplements increased 232% compared with 2014 and milk products by 95%.
Travel: Australia was the most popular long-haul destination for Chinese travellers. The number of searches for travel to Australia increased by 201% year on year in 2015, compared with 35% for the US and 17% for Europe.
Australia is the most popular long-haul destination for Chinese travellers
Real estate: Australia is one of the top destinations for Chinese wanting to invest in offshore real estate. Data from Sogou demonstrates a Chinese preference for Australian real estate, with the number of searches in 2015 being 17% higher than for the US, four times (417%) higher than Canada and eight times (830%) higher than the UK.
Education: China is the number one source country for Australian universities, and Chinese students account for 36% of international student enrolments in higher education. Australia also had the largest increase in Chinese online searches for overseas education in 2015. Sogou data shows the search volume for Australian universities rose by 33% year on year in 2015, compared with 9% for the US and 19% for both the UK and New Zealand.
China is the number one source country for Australian universities
For detailed analysis, research and data on this new generation of Chinese consumers, you can read the full white paper-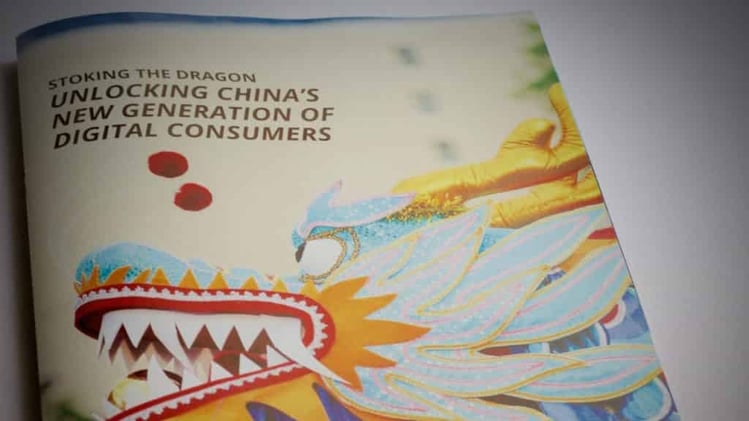 Stocking the dragon: Unlocking China's new generation of Digital Customers
With that, Sinorbis was officially launched, and there was an orchestra of bottles popping and glasses clicking as guests, along with the Sinorbis team, toasted with a glass or two of bubbles….
Related Coverage
ABC's Peter Ryan talking to Nicolas Chu, Allen Qu & Dandan Cheng at the launch of event