China is Australia's biggest trading partner, representing 28% of Australia's export market. While trade and investment relationships have been strong for many years, the enactment of the China Australia Free Trade Agreement in 2015 has boosted trade relations even further.
The Chinese market remains, therefore, a huge opportunity for Australian business looking to export goods and services overseas.
But while China's economy continues to grow, this growth has started to slow, due to the economy becoming more advanced and investment-led growth giving way to a more consumer-oriented economy.
There are also fears that China's economic growth will be further impacted by recent political events, such as Brexit and the current trade conflict between US and China, with the US imposing tariffs totaling over $250 billion.
That being said, per capita income is predicted to continue to increase rapidly, exceeding US$12,000 by 2022. Exporters can further mitigate risk by capitalising on these 5 major trends in Australian exports to China.
An ageing demographic
As the birth rate and population continues to fall, and life expectancy continues to rise, China's population is ageing rapidly. According to Austrade, by 2020, there will be 248 million Chinese people aged 60 years and over – around 10 times the current population of Australia.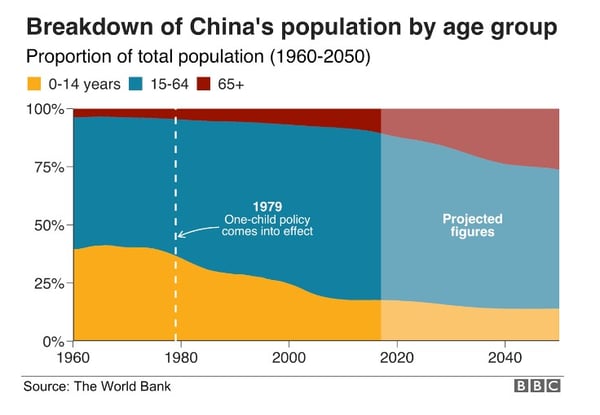 These citizens require accommodation, medical care, health products and qualified carers – much of which Australia can potentially help provide. Austrade has particularly highlighted aged-care training as a big opportunity for Australia, noting the huge shortage of aged-care workers in several provinces in China. Sichuan, for example, has a shortfall 800,000 aged-care workers.
High demand for premium products
In 2001, China was the world's 12th largest buyer of imported foods. By 2016, they had leapt to second place, after the US, with total imports exceeding A$130 billion. As China's middle- and upper-classes continue to grow, the demand for premium products is only expected to increase.
China, for example, is Australia's top market for wine exports, accounting for 33% of total Australian wine export value. Australian wine is also very well regarded in China, with only France exporting more wine into the country.
When it comes to food, quality, safety, freshness and taste are paramount, with sophisticated cold chains and a sharp increase of flights between Australia and China meaning Chinese consumers can purchase fresh Australian produce almost on-demand. According to data from Austrade, seafood exports, for example, grew by 320% between 2016 and 2017. Other agrifood sectors, such as fruit and vegetables, meat and livestock, and dairy have also enjoyed double-digit growth over the same period.
As disposable incomes continue to rise, expect to see this penchant for premium products only increase.
An increasing focus on health and wellness
While Westerns tend to use conventional medicine to treat illness, Chinese consumers tend to use natural remedies and complementary medicines (such as acupuncture). They are also more likely to take preventative measures, such as eating healthy foods and exercising.
We're seeing this focus on health and wellness continue to rise – even President Xi Jinping has put health at the centre of the Chinese Government's agenda, saying it is a prerequisite for people's all-round development and a precondition for economic and social development. This increasing focus is also linked to the ageing population, as the Chinese elderly seek to improve their quality of life post retirement by looking after their health.
As a result, people are opting for healthier food options, with Australian organic produce seeing an increase of 55% in per tonnage exports in China in 2017. Euromonitor also found that vitamins and dietary supplement sales grew 9.4% to RMB135.4 billion in 2017 and are forecast to grow 8.4% annually to 2022. They also found that sports nutrition products grew 47% to RMB1.4 billion and are forecast to grow to RMB3.9 billion by 2022. Sales of weight management and wellbeing products also grew 7% to RMB11 billion and are forecast to grow to RMB19.2 billion by 2022.
Australia has a competitive advantage in this area, as the Chinese consumer associates it with a healthy, active lifestyle; safe, nutritious food; and clean water and air.
More demand for baby and infant products
In 2015, China ended its one-child policy to help slow the pace of an ageing population. While this measure may not be having as big an effect as the Chinese government had hoped, it is having some effect, with China's National Health and Family Planning Commission reporting that the birth rate went from 1.6 to 1.7 births per woman in 2016. It might seem like a miniscule increase, but this equates to 2 million more births each year, which in turn will increase the demand for quality baby products, thereby having a significant effect on the export potential.
Coupled with the rising number of high-income families, and a growing knowledge of children's care, we expect spending in this area to continue to grow. This is supported by the data – sales of baby and child-specific products grew 13% to RMB17.1 billion in 2017. The market is forecast to grow an average of 13% over the next five years, with annual spending to reach RMB30.9 billion by 2022.
We also don't expect the fervor over baby formula to wane any time soon – China will continue to import large quantities due to safety concerns about domestic products. Euromonitor reports sales of baby food in China grew 9% in 2017 to reach RMB146 billion and are forecast to reach RMB196 billion by 2022.
The focus on health and wellness and demand for premium products is also having an impact here, with organic milk formula recording growth of 30% in 2017.
Services have potential
China is Australia's largest services export market, with the value of services exports to China increasing by an average of 18.6% per annum since 1996, according to DFAT.
Over half of the total value is attributed to 'education-related travel services,' which is of course linked to the steady increase in Chinese international students. 'Other personal travel services' also accounts for a significant portion, making up around 30% of all exports. This is due to the increase in Chinese tourists visiting Australia.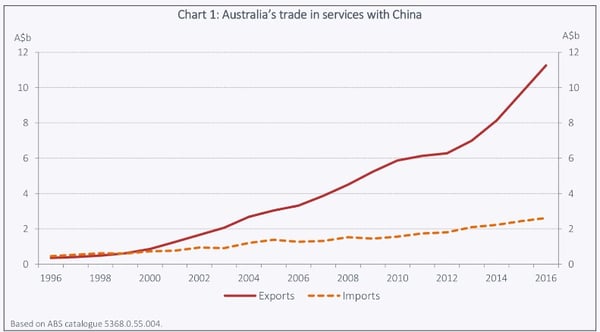 There is certainly potential for services outside of travel, however, with areas such as 'business services', 'financial and insurance services', 'professional services', and 'personal, cultural and recreation services' all experiencing growth over the past decade.
As you can see, Australian exports to China are on the up and up. If you were thinking about getting in on the action, now might be the time!