China's massive consumer population looms large when it comes to global marketing opportunities.
Renowned investor Warren Buffet summed this up best with his prediction that, "The 19th century belonged to England, the 20th century belonged to the US, and the 21st century belongs to China..."
However, critical to breaking successfully into China's massive consumer market is the adoption of a global mindset.
This is best reflected in a business's ability to adjust to the culture and language of the country being expanded into, embracing awareness and local personalisation in marketing strategies and in doing so engendering strong cross-cultural engagement.
While there are many successful stories of Western companies gaining a firm foothold in China, alongside these are China marketing localisation misfires.
Often at the heart of these misfires is a fairly simple pitfall that could have easily been avoided - being aware of the cultural nuances of language.
Here are three examples that perfectly (and humorously!) illustrate this.
3 China marketing misfires: Nike, Burberry and KFC

KFC: 'Eat your fingers off'

As China began opening up and engaging with Western businesses during the 1980s, legendary fast-food chain KFC was quick off the mark… but maybe too quick.
The slogan - "Finger-lickin' good" - has been a centrepiece of its brand awareness since the 1950s. Unfortunately for KFC the slogan did not translate well, reading to hungry Chinese consumers as "eat your fingers off".
Additionally, a little more cultural market research would have revealed that, unlike some Western consumers, Chinese don't lick their fingers as a sign of having enjoyed their meal.
Luckily for KFC, the product eventually hit it's mark, and remains popular to this day.
Nike's China marketing 'misstep'
As one of the most well-known footwear brands in the world, any business pundit would expect Nike to be a "shoe-in" when it comes to successful China marketing.
But in 2015, Nike inadvertently misstepped when it released a pair of limited-edition trainers that were an attempt to bring Chinese attributes to the product and show cultural awareness.
Offering the option of having Chinese characters sewn into each shoe - "fa" (getting rich) for the left and "fu" (fortune arrives) for the right - what the Nike marketing team did not anticipate was the shoes sitting next to each other where the two characters combined translated to "getting fat".

When the Weibo promotion rolled out, Chinese netizens showed no mercy, with many ridiculing the campaign and taking aim at Nike's misunderstanding of Chinese culture.
Burberry: "What the Fu…?"
As a greater proportion of Chinese people have seen their wages and standard of living improve in a healthy Chinese economy, luxury brands have found their products in demand.
Burberry is no exception, but, as with Nike, their marketing executives had to learn their China marketing lesson the hard way.
To launch the 2015 Chinese Lunar New Year, Burberry released its classic print scarf with "Fu" printed in bold red on one end.
After the release, Weibo users were quick to point out the cultural errors Burberry had made.
Besides basic fashion design issues, such as finding the character jarring against the pale print of the scarf and the font being 'ugly', the character "Fu" sat upright when worn, something Burberry might have anticipated as being an issue had they been more across Chinese language and culture given the character needs to be presented upside down to hold its intended meaning. As one Weibo commenter aptly exclaimed, "What the Fu?".
.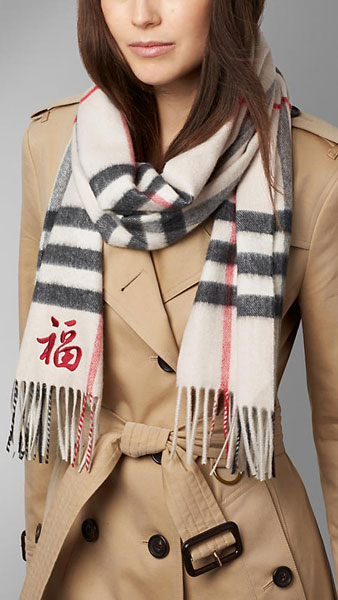 How to avoid epic China marketing translation fails
So, what could these brands have done to avoid their epic translation and cultural fails?
Keep it simple
While the best marketing campaigns are the product of complex strategies that weave together a marketing narrative masterpiece, keeping it simple, at least initially when you begin your China marketing, is a great rule of thumb.
Avoid analogy or euphemism
Our globalised world means that many of us are regularly exposed to cultural nuances that can be lost in translation. In line with keeping China marketing campaigns and the language used simple, avoid the overuse of analogy, metaphor and euphemism to avoid pitfalls such as those illustrated above unless you have a native Chinese speaker or translator involved with the project who can help steer your strategy around any issues.
Get a Chinese native speaker to produce content and translate copy.
While it will add to cost, having a Chinese native speaker to help produce your China marketing content might be the best investment you'll make. The cultural and social awareness they can bring, linked to their innate linguistic skills, will both act as a safeguard against the kinds of errors Nike, Burberry and KFC made and, even more importantly, help create genuine, persuasive and culturally appropriate campaigns that can cut through to consumers rather than cut up your brand reputation.
A native Chinese translator will also bring a human touch to your strategy that will pick up translation errors a non-native won't necessarily spot, enable you to tweak copy for regional language differences and, maybe most importantly, help you avoid 'white-washing' content.
Sinorbis can assist in setting up your china digital marketing assets
From a China-optimised website to SEO strategy and management to setting up a verified WeChat account, Sinorbis has the know-how and China digital marketing tools to help run a successful campaign via our 4-phase approach.
Contact us today and discover how we can help you build and implement a successful China digital marketing strategy.