The first week of October was "Golden Week" in China, a period where National Day and the Mid-Autumn Festival converged to give Chinese travellers a generous eight-day holiday. This year, more than 637 million people travelled over Golden Week, generating around 466 billion yuan (US$68.6 billion) in tourism revenue. Across the country were astounding scenes of attractions and transportation hubs heaving with crowds of mask-clad tourists.
While not quite at last year's numbers – in 2019, around 782 million Chinese tourists travelled during the same period – it is still a remarkable recovery, proving that COVID-19 has not diminished people's desire to explore. Indeed, according to data from McKinsey & Company, hotel occupancy, subway trips and domestic flights are almost at pre-pandemic numbers, while railway has also seen a strong recovery.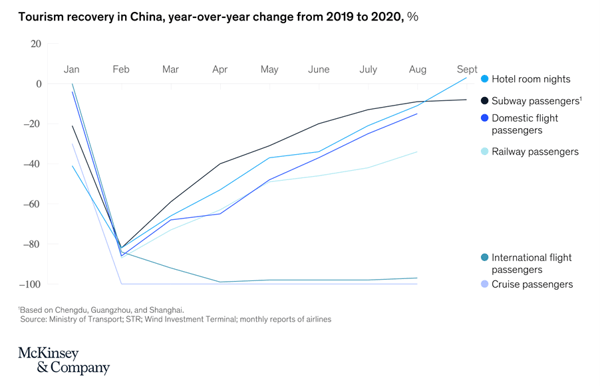 So what can be learned from China's travel recovery?
Before we get into the lessons, it's important to note that traveller confidence is key. Thanks to China's stringent measures, they have been able to get and keep coronavirus at very low levels, giving Chinese tourists the assurance needed to be able to brave these large crowds. These lessons, therefore, will likely be more effective in countries that have had similar success in managing the virus, such as Australia and New Zealand. Those countries still suffering from outbreaks, like the UK and US, will need to concentrate first on building traveller confidence before attempting these strategies.
1. Use discounts, presales and packages to incentivise travellers
One of the most remarkable travel recovery stories in China has been the airline industry. While the industry has been crippled in most other countries, in China, domestic airline travel has already returned to 2019 levels.
This is largely thanks to aggressive price promotions and attractive packages. Airfares fell an an average of 40% from January to June, while China Eastern Airlines offered unlimited-flight passes, such as "fly at will on weekends", where customers paid 3222 yuan (US$550) to fly as many times as they liked on weekends for the remainder on 2020, and "fly at will on mornings and evenings", targeted at business travellers. Not only do these types of promotions help boost cash flow, but they also drive app downloads and loyalty program numbers (as you usually have to join the loyalty program before purchasing the package).
Hotels have also offered similar deals for weekend stays and for dining: IHG offered a 30% discount for its loyalty members on weekend bookings; Acor offered a "stay at will on weekends" package and a 99 yuan (US$14) package that can be redeemed for breakfast, lunch, or high tea; and Marriott offered a 388 yuan (US$57) package for 31 days of breakfast at hotels.
As well as offering good discounts, travel companies could also consider partnering with other companies to provide attractive all-in-one packages. Hotels, for example, could partner with local tour companies or activity providers to provide bespoke experiences, further enhancing their offerings.
2. Target high-end consumers
With international borders still closed for the most part, travellers that would have been spending that money on international travel are now looking to explore their own country. This means domestic high-end leisure trips are booming.
This is exactly what we've seen in China – occupancy rates at luxury and high-end hotels were back at 85% of 2019 figures by the end of August, representing a significantly faster recovery rate than that seen by mid-range and budget hotels. In September, the average price for five-star hotels on leading online travel platforms was up 10–15% year over year for trips over Golden Week. Trips to destinations in Western China and Hainan Province – which boast beautiful scenery, outdoor activities, and beach resorts – have also seen significant growth.
Travel companies could consider what deals and experiences might attract these high-end consumers. Hotels in Shanghai, for example, have launched an "afternoon tea in the cloud" experience, a high tea designed to attract affluent young consumers.
3. Target young consumers
In the beginning, China's travel recovery was largely driven by young travellers – Millennials and Gen Z – due to the fact that they were less impacted by the coronavirus. According to local travel booking platform Trip.com, those born between 1990 and 1999 accounted for 57% of travel during the May Labour Day holiday in 2020, a significant increase from 21% during the same holiday period in 2019.
Again, travel companies could consider what deals and experiences might draw a younger crowd, whether that's Instagram-worthy scenery or exciting/fun/adrenaline-inducing experiences like scuba diving or paragliding. Many in the travel industry are also shifting their marketing focus to emerging social media platforms and experimenting with new content forms in order to engage this demographic – more on this below.
4. Encourage staycationers
Due to restrictions not just on international travel but also cross-province travel in China, local and short-haul trips became quite popular post-lockdown. According to navigation app Amap, users making short road trips increased 50% from June to August, while a survey by McKinsey & Company found that of the travellers surveyed in August, 73% had undertaken a leisure trip in the local area, while 31% had undertaken a short-haul trip (one or two nights, or fewer than three hours away).
There's opportunity, therefore, to entice travellers from around your area to explore their own backyard and be a tourist in their own city or region.
Self-guided and self-driving trips have also proven very popular in China, with the same McKinsey & Company survey showing that 58% of respondents would "likely" or "definitely" choose a self-guided trip for their next leisure trip, while 56% would "likely" or "definitely" choose a self-driving trip. Travel companies could therefore look at ways to inspire travellers to undertake short trips closer to home. Airbnb in China, for example, launched a series of "48 Hour" livestreams on WeChat each weekend where viewers could watch KOLs and influencers experience a particular area, in order to provide travellers with short-trip inspiration.
5. Boost social media presence
As mentioned, social media is an important way to engage with various key demographics, such as young travellers or staycationers.
In China, we've seen travel companies use social media in innovative and creative ways in order to target young consumers in particular. Trip.com, for example, launched a series called "Boss Livestreams" on WeChat, hosted by chairman James Liang, during which he'd wear costumes while introducing hotels and travel destinations. The entertaining content and heavy promotions drew a huge following which grew from 9.8 million in April to 16 million in June.
Local hotel group Huazhu took to Douyin to promote its high sanitary standards, sending its housekeepers to clean at a picky Shanghainese grandma's apartment. Huazhu's HanTing Inns invited influencers from Bilibili (an up-and-coming video platform popular with young people) to hotels and offline pop-up exhibitions to experience smart technologies and create vlog content.
Even if recovery still seems like a long way off, it's crucial to maintain communication with customers so that, when circumstances change, you're prepared to capitalise and jump quickly on any opportunities. Social media is an excellent means of keeping people informed about what's going on in the area, providing travel advice and inspiration, sharing deals and promotions, and fielding direct queries from travellers.
6. Augment experiences digitally
Coronavirus has changed many things about how we travel, with people opting for self-guided trips over tours, and cleanliness expectations heightened. In order to draw travellers to their destination, Chinese travel companies have turned to technology to augment their experiences.
Huazhu Hotels, for example, have provided contactless check-in and check-out services, via their app or kiosks, since January, in order to limit human contact. Some of their hotels even use robots to deliver room service and outside deliveries to their customers. Many attractions are also providing self-guided audio or video tours through apps, while some cruise lines have launched livestreaming channels to highlight cultural experiences.
7. Be prepared to move quickly
If 2020 has taught us anything, it's that you have to be prepared for just about anything. With things changing rapidly week to week, travel operators need to be poised and ready to pivot towards different markets and adapt to different situations. In Australia, for example, where some state borders are still closed, travel operators would be wise to prepare for the event they do open (likely in the next few weeks) and engaging tourists in those areas now.
The agility of Chinese travel operators is no doubt one key factor in China's fast travel recovery. China Eastern Airlines "fly at will on weekends" package, for example, encourages customers to fly as soon as they can, and gives them the flexibility and peace of mind to be able to change plans quickly if they need to. If there's an outbreak in one province, customers can simply fly elsewhere. When travel bubbles open with other countries, Chinese travel companies will no doubt be ready to jump on the opportunity.
Ready your digital assets
If China's numbers remain low, international borders may soon start to open up to Chinese travellers. If you're not ready to pounce on this opportunity, get in touch. We can help you ready your digital assets, such as your website and WeChat account, in order to target and engage this important demographic.