The Chinese search engine is a vital tool that must be understood and mastered by any company wishing to tap into the Chinese market. In this post, we will address the most important factors marketers need to consider to develop an effective China SEO strategy.
Before we develop a strategy, we need to define the goals the company wants to leverage the search engine to achieve. Basically, search engines help users find information, and through search engine results, to further click into official website/pages to reach the information which they need.
There are three main goals that can be achieved via a search engine:
1. The website can be indexed by the search engine
2. The website can achieve top ranking on the search engine results page for targeted keywords
3. Attract more visitors to the website via search engine results
The fundamental algorithms of Chinese and Western search engines are similar, however there are some differences worthy of your attention in order for your search engine strategy to be fit for Chinese digital eco-system.
Firstly, from an SEO perspective, unlike typical overseas websites which build inbound links from only a couple of external websites with high authority, in China both quality and quantity of Chinese website content and inbound links have a great impact on search engine index and website ranking as well.
Secondly, concentrating only on SEO to attract traffic and improve the website's ranking is not good enough. Companies wanting the optimal results need to pay attention to both SEO and SEM (PPC ads) and find the balance point for budget allocation.
Lastly, Baidu has a lot of its own channels/products such as Baidu Q&A and Baidu Wenku, which is different from Google. Understanding how to leverage those channels into Chinese search engine strategy is also critical for a company.
With the understanding of above key differences from search engines in China, we share the following the key takeaways with our clients for each of these three goals:
Optimise your website to increase the page numbers indexed by search engine
To increase the number of page indexed by the Chinese search engine via SEO, we recommend our clients take the following actions:
Take the initiative to submit your sitemap to the Baidu webmaster tool. This can help the search engine to better understand your website structure and crawl your content.
Build up high quality, original content. Update your site with new, original, high quality content every day or on a frequent basis. Search engines in China favours original content especially for content published on a fixed quantity and frequency.
Deploy more links and anchor text on your website. To improve efficiency, the search engine won't crawl every page on your site. Instead, search engine spiders just crawl your pages from one link to another. By including more links and anchor text, especially pointing to new or updated content/pages, it will improve the chances of the search engine noticing those updates.
Static websites and shorter URLs are more suited to Baidu's requirements. Those two factors will affect the number of pages indexed by the search engine as well as the website's weight.
External link development. External links play a more important role for search engines in China than they do for Google. Efficient external link development speeds up the index and weighting of the website. Refer to our blog to better understand SEO link building

for your website.
Optimise your SEO keyword ranking and SEM (ppc ads) to improve your
website
ranking for targeted keywords
To improve keyword ranking, you need to increase the number of pages that can be indexed by the Chinese search engine and, based on that, further optimise your website SEO elements, such as external and internal links, title and description of your content, heading tag, etc.
Luckily, you can leverage an innovative SEO platform to help to monitor your website, discover any issues and learn how to fix them. For those pages already indexed by the search engine and to display to users who are searching for related keywords, you need to consider the click rate and bounce rate, and improve the overall user experience. In this way, your webpage will gain better ranking and your website weight will be further improve as well.
However, even if you optimise your organic search results to reach the 1st page of SERP, it is still not enough to effectively promote your brand, because the top 5 rankings on the 1st page of SERP are reserved for PPC ads.
So, in China, SEM (PPC ads) is a good way for you to increase brand exposure and attract traffic as well. But of course, the competition in SEM (PPC ads) is intense, especially for some industries such as health care and education. For those industries, the cost per click reaches dozens or even hundreds of yuan.
Usually, we will suggest that our clients don't focus only on one channel. The best practice is to effective allocate the budget both on SEO and SEM. With a two-pronged approach, traffic generation will achieve a more effective result.
Pay attention to mobile device, Baidu's own channels/websites and search engines beyond Baidu to attract more traffic
Mobile search volume exceeds desktop searches in China. So, for organic search result optimisation (SEO) or PPC Ads (SEM), we should pay attention to the mobile device. Some companies do not value mobile website building. They do not have a standalone mobile website nor is their desktop website responsive. In this case, the effect of both SEO and SEM will be greatly reduced.
In addition, China has a unique online ecosystem. Search engines in China have many diversified channels such as portals (Baidu News) and community (Baidu Baike, Baidu Q&A, Baidu Tieba). Users can find information from all channels in the search engine results. Users can discuss related topics on Baidu Q&A, Baidu Tieba and can also submit information such as a company or product introduction, research paper, etc on Baidu Wenku. Those Baidu owned channels/website hold the highest ranking on the SERP when searching for related keywords because of Baidu's high weight and authority.
When we provide proposals to our client, our recommendation will be to deploy positive brand information on those channels beforehand. This will help our client not only get good ranking for their positive brand voice, but also create a proactive brand-fence in the search engine.
Example of Baidu search result page when searching for Australia tourism "澳洲旅游"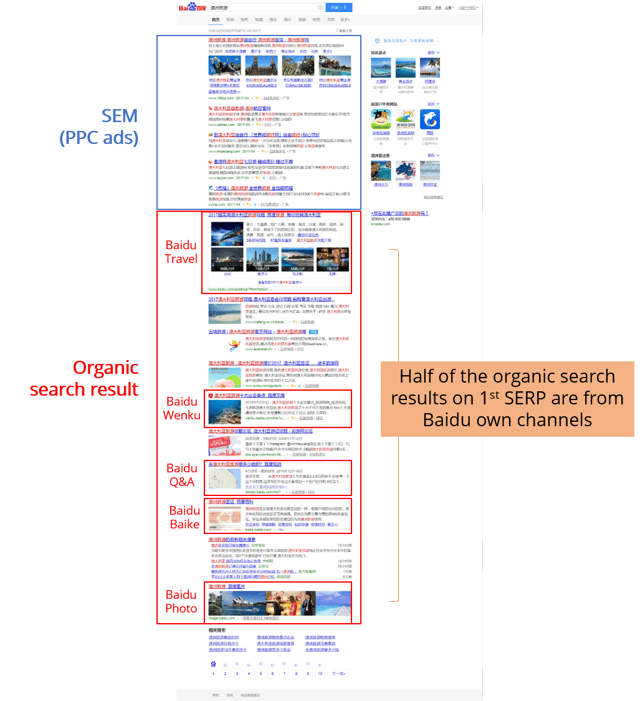 Last by not least, unlike Google that takes more than 90% of search volume in Western countries as a whole and about 95% in Australia; Baidu as the Number One search engine in China doesn't take the market share that high. At least 30% of the search volumes in China go to other core players led by Sogou. Moreover, as a rule of thumb, the ranking competition in other search engines is much less fierce than in Baidu and the PPC price there is cheaper than Baidu's by about 30%. So to develop a search strategy across multiple search engines may bring an optimal reach of your potential customers and a better cost structure.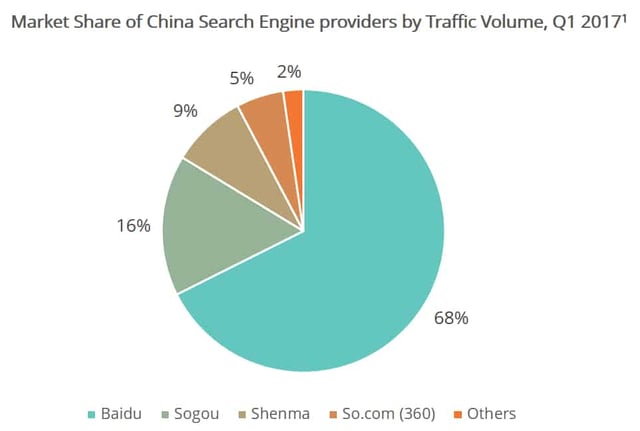 Chinese search engines do have unique rules. Understanding and developing a targeted Chinese search engine strategy is critical for every overseas brand hoping to tap into the China market. If your company wants to make its mark in China, take advantage of the Sinorbis platorm to change the way you market to China.
1 Traffic volume: Traffic to website/pages through search engines; China search engine market report, Q1 2017, Bigdata-research.