While large swathes of industry suffered from downturns caused by COVID-19, travel and tourism was amongst the hardest hit.
Prior to the pandemic, in 2019 global tourism and travel contributed US$8.9 trillion to world GDP, employing more than one hundred million people worldwide and the economic mainstay of a variety of local economies. Border closures wrought havoc on the sector, costing it nearly US$1 trillion, with the top five most revenue-affected countries being the US, Spain, France, Thailand and Germany.
How COVID-19 affected tourism in China
China's tourism sector did not escape this financial carnage. In February 2021, the Ministry of Culture and Tourism (MCT) released a report that detailed the state of the country's domestic travel industry in 2020.
With Chinese tourist numbers around the 2.8 billion mark, this represented a 52 percent fall from 2019, with urban residents curtailing travel more than their rural counterparts. In Q1 alone - during the biggest round of urban lockdowns - there was an 83 percent reduction in domestic tourists, with overall tourism spending decreasing by 61 percent from 2019 to 2020.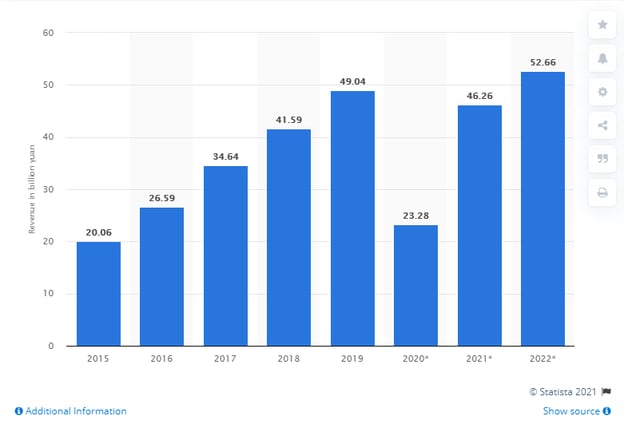 Green shoots of domestic tourism in China recovery
Year-on-year numbers stabilised during the rest of 2020, offering the first green shoots of recovery in domestic tourism in China.
As 2020 rolled over into 2021, Chinese authorities expected domestic tourism to approach pre-pandemic levels during China's busiest travel period, the Lunar New Year, but these hopes were dashed as outbreaks led to travel restrictions.
Despite this "hiccup", China's Ministry of Culture and Tourism anticipates a strong recovery in the coming year, with 4.1 billion domestic trips expected, correlating to more than US$500 billion in spending.
And one of the key indicators to assess whether the sector's recovery is on track was the recent 2021 China Dragon Boat Festival.
What is the Dragon Boat Festival?
For the uninitiated, the Dragon Boat Festival (端午节 or Duānwǔjié), also called the Double Fifth festival, is a traditional holiday celebrated on the 5th day of the 5th month of the Chinese lunar calendar.
China Dragon Boat Festival origins
The China Dragon Boat Festival has been celebrated in various forms for thousands of years.
The most popular story explaining its origins concerns the death of Qu Yuan (屈原), a poet of the Warring States period (approx. 475 to 221 BC); another possible explanation is linked to superstitions of the fifth lunar month being considered unlucky, with people in certain regions believing the dreaded five poisonous animals (五毒, wǔdú) started to come out of their winter hiding places at this time.
How the China Dragon Boat Festival is celebrated
Given it falls near the beginning of summer, the China Dragon Boat Festival tends to be celebrated outdoors on the banks of rivers and lakes where people watch its most well-known aspect - racing dragon boats (赛龙舟, sàilóngzhōu). Generally, the crew consists of 20 paddlers, a steerer and a drummer who sits at the bow of the boat beating rhythmically on a drum to lead the rowers, with the most common race length around 500 metres.
Eating zòngzi (粽子), a pyramid-shaped bamboo leaf-wrapped dumpling made of glutinous rice and stuffed with various sweet or savory fillings, is also common.
Analysts predictions prior to the festival - and what actually happened
As indicated, prior to the festival, domestic tourism in China had been heavily impacted.
For example, revenues at China-based online travel giant Trip.com Group (operator of Ctrip, Skyscanner and Trip.com) fell by 13% year-on-year to US$628 million. However, in line with government forecasts, the company saw a recovery in revenue through March 2021 as travel restrictions eased. As Trip.com CEO Jane Sun recently noted, "Despite the challenges in January and February of 2021 due to outbreaks of virus during the winter season, China domestic travel rebounded quickly in March and showed stronger momentum in April and May."
A positive sign of this momentum was a significant rebound in domestic tourism in China during the "Qingming" or "Tomb Sweeping" Festival in April. With over 102 million trips made, this pointed to a recovery of nearly 95% on 2019 numbers but was not reflected in a similar rebound in revenues, which hit 57% of 2019 figures at US$4.15 billion.
Director of Beijing Union University's Tourism Development Academy, Zhang Lingyun, put this primarily down to the dampening effects COVID-19 had on the incomes of many Chinese, predicting there would not be a full recovery in travel and tourism until at least 2022.
Prior to the 2021 China Dragon Boat Festival, industry experts believed the number of domestic trips in China would likely surpass that of 2019, while cautioning that tourism income was still likely to remain below pre-COVID-19 levels, recovering to 60-70 percent from the 2019 level.
China Dragon Boat Festival 2021
So, what happened during the China Dragon Boat Festival?
As predicted, the trend of Chinese locals maximising short national holidays continued. According to data released by the MCT, travelers made more than 89 million trips during the three-day holiday, an increase of 94.1 percent year-on-year and representing a recovery of about 98.7 percent of pre-pandemic levels.
China's railways, highways, waterways and civil aviation registered 124 million trips, with over 41 million daily trips on average during the festival. The number of trips had dropped 18.8 percent compared with the same period in 2019 but rose 52.5 percent compared with 2020.
Downside: Chaos at Mount Tai
While generally positive, the sharp rebound in domestic tourism in China did come with some minor downside.
Not expecting such a huge surge in popularity, Zhongtianmen, a scenic area of the Mount Tai cultural and historical park in Shandong, was forced to apologise for poor crowd management during the holiday weekend. Thousands of tourists were trapped for hours waiting for the cable car service to take them back down the mountain. As desperate tourists struggled to leave the area - skipping the line for the cable car by climbing over barriers, charging into the ticketing area and gathering around shuttle buses - their behaviour resulted in the entire system being crippled, adding further to the chaotic situation.
Conclusion
Along with its international counterparts, domestic tourism in China suffered dramatic falls during 2020.
However, data from the MCT showing massive rebounds during recent holidays on the mainland, particularly the China Dragon Boat Festival, bodes well for the ongoing recovery of the domestic tourism sector.
In the immediate future, short trips look likely to prevail and be the mainstay of this recovery, and while the country's tourism industry still needs some time to reach pre-pandemic levels, all signs point towards a return to pre-pandemic levels over the coming year.